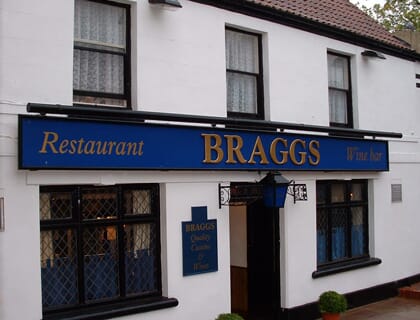 Shop Signs
Shop Front Signs
Looking for a new shop sign? Look no further than Shop Front Signs! With over 50 years of experience, we can provide you with the perfect sign to suit your business. We work with a wide range of customers, from big brands to small businesses, so we know exactly what you need. Contact us today for more information!
How much does a shop sign cost?
Shop signs can cost in the range of £350 – £2000. This price guide covers a variety of shop front sign designs and styles, of which there are many.  On this page we've provided more detailed information and price ranges for each style of shop sign, outdoor signage or window signs for your premises.  This list is of course by no means complete and there are of course many other types of store front signs which we manufacture but it should hopefully serve as a good starting point when looking for a sign company.
With regards to picking a sign maker, our advice is to look at their online reviews and see what customers are saying about them.
Our new sign manufacturing factory is packed with the latest sign making equipment, we've been established since 1971 and have made thousands of signs over the years. We're proud of our customer reviews on Google, and encourage you to read them.
Below you'll find a summary of the main types of shop front signs along with a price guide for a typical shop sign.
Please get in touch with us for an accurate quote.
Enquire Today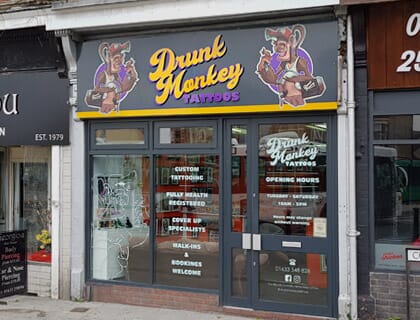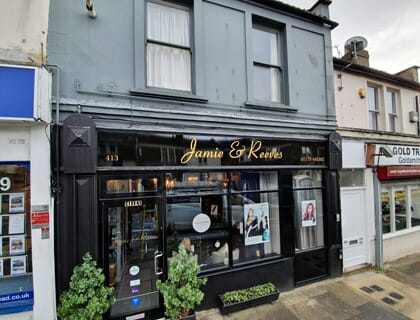 Flat Panel Shop Sign
Available in any size
A flat panel is, quite literally, a sheet of material fixed to the front of your premises with graphics to the face. It's a low cost way of ensuring your shop sign is advertising to people walking / driving past 24/7.
It is a form of outdoor signage of course and the materials we use are suited for use as such.
'Flat Panel' doesn't mean boring though and our graphic design team will ensure your shop front sign looks incredible for a long time indeed.
Price Guide: £350 – £800+
Information: A Guide to Shop Signs – Flat Panel Shop Signs
Shop Sign Letters
Made in-house to any design
Flat Cut Letters are cut from a sheet of material (acrylic / foamex / aluminium / s.steel).  They're a type of lettering sign which can be as complex as you like, remember we're here to help too.
They can either be fixed flush to the panel or on locator pegs which give the impression of the text floating above the panel.
The photo here shows the words "Drunk Monkey Tattoos" all of which are mounted onto pegs , hidden on the reverse of the letters.
The price you would expect to pay does of course depend on the complexity but the helpful guide below should give an idea.
Price Guide: £550 – £1000+
Information: A Guide to Shop Signs – 3D and Flat Cut Sign Letters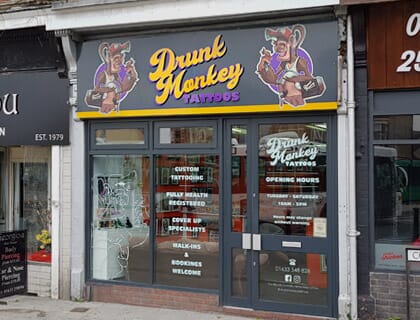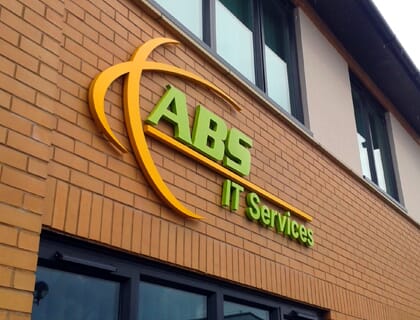 3D Letters
Perfect for illumination or stand alone
3d sign letters look like they're made from a solid lump of material but are actually hollow backed allowing for LED illumination to be mounted inside the letters.
When illuminated this gives a fantastic soft glow shining out of the back like a halo of light.
Material options are slightly more limited than flat cut lettering (acrylic / s.steel) but the aesthetics are outstanding.
Price Guide: £900 – £2000+
Information: A Guide to Shop Signs – 3D and Flat Cut Sign Letters
Folded Tray Shop Sign
Can be internally illuminated for extra impact
A very popular shop sign as there are many ways to enhance a folded tray beyond 'just' graphics to the face.
Stand Off Lettering (Built Up or Flat Cut).
Cut out Lettering, internally illuminated.
Flat Cut Lettering applied flat to face.
Mixture of the above.
Price Guide: £600 – £1800+
Information: A Guide to Shop Signs – Folded Tray Shop Signs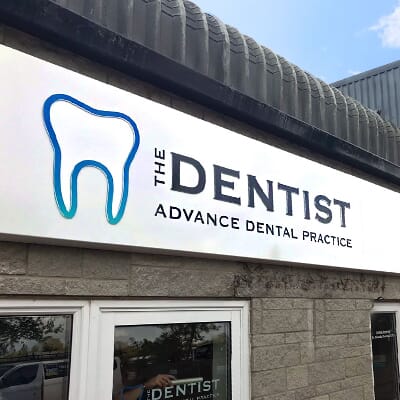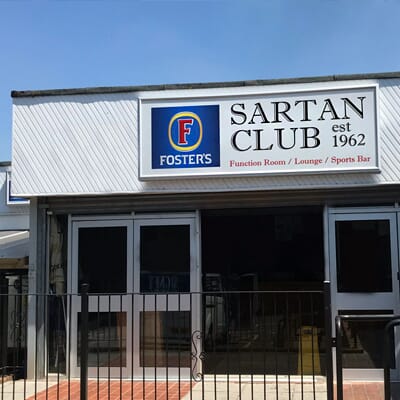 Shop Sign Light Box
Panel insert allows for sign to be updated
An aluminium frame (doesn't rust) with internal LED illumination (no bulbs to change & low running cost).
An acrylic panel with graphics to the front allows light through and diffuses the light so that no 'hot spots' are visible.
Both the frame and the panel can be colour matched to suit your requirements.
Price Guide: £1200 – £2000+
Information: A Guide to Shop Front Lightboxes
Pencil Light Illumination
LED illumination at low running costs
A pencil light down/up lighter is a tidy way of illuminating your shop sign without resorting to a lightbox.
The light comes from LEDs within a tube mounted either above or below the sign and shines back and across the face of the sign.
This avoids shedding light needlessly away from your premises.
Available in lengths to suit the width of any sign.
Price Guide: £380+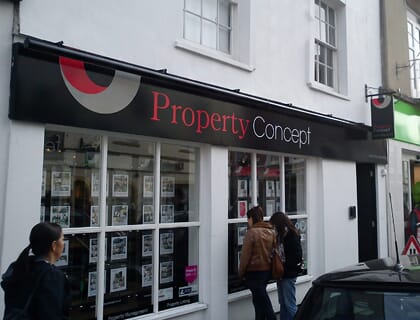 We'd love to hear from you
If you're looking to get started with a new project, or you want to discuss some options, get in touch with our friendly team:
Why choose Signet Signs?
We are a family run signage & thermoplastic marking company, established in 1971, and are proud of our long standing reputation for exceptional customer service.
Whether its shop signs or thermoplastic playground markings we promise to provide a transparent experience and to keep you fully informed every step of the way.
Family run business
We specialise in sign & playground marking
Highly experienced
Established in 1971, we're extremely experienced
Superbly equipped facilities
We use the latest machines & technologies, all in house
Case Study - Vintage & Vine.
A brand new shop front sign for Vintage & Vine
Featured Case Study
A brand new vintage.
The Shop Front Sign Brief. Vintage & Vine contacted us with a view to manufacturing and installing their new shop […]