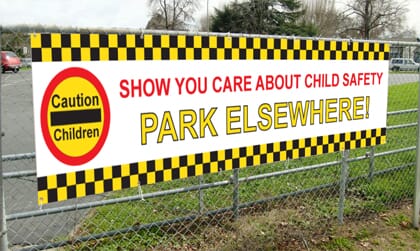 High Quality Banners
School Parking Banners
Most schools experience a lot of traffic congestion during drop-off and pick-up times. This can often lead to road safety hazards for both pedestrians and drivers.
School parking banners are a great way to help improve road safety in these areas.
Parking Safety Banners
We use heavy duty PVC for our parking safety banners as we believe in offering a durable material which isn't likely to rip easily. We also provide metal eyelets along the edges allowing you to easily fix the banner with rope / cable ties / screw fixings etc. Graphics are digitally printed to the face with fade and scratch resistant inks.
We offer eight different designs for you to choose from with a variety of sizes but can produce banners in any bespoke size you require.
Likewise, if you would like to change these designs in anyway please do not hesitate to contact us to discuss your requirements.
For your convenience our prices and order form are detailed below.
After completing the order form we will send you a colour proof and order confirmation to approve before we proceed with manufacture.
For your convenience, we also offer 30-day credit terms to all schools as standard.
Enquire Today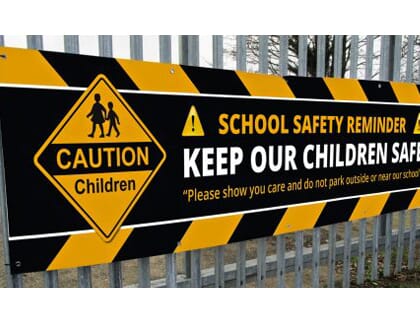 Helpful Information.
What happens after I've filled in the form?
Our art dept will amend the proof, adding in your details.
The proof and order confirmation will be emailed to you.
Once you've approved the proof we then begin manufacture of your banner/s.
Once manufacture is complete we dispatch via a national courier.
Do schools get credit terms?
Yes you do! All schools receive 30 day credit terms as standard.
How durable are the banners?
All of our banners are manufactured using heavy duty PVC. We also reinforced the edges by hemming.
Metal eyelets along each edge allows you to fix your banner with rope / bungee ball cords / cable ties etc.
How long do they take to manufacture?
Typically, we would expect to dispatch your order within 3-4 days.
Delivery will then be 1-3 days later.
Do you produce custom sized banners?
Absolutely! Please get in contact for a quotation.