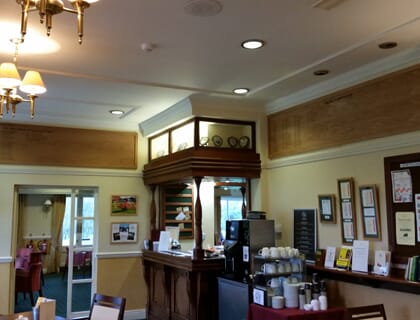 Wooden Honours Board
Wooden Honours Board
Honours Board Supplier
Wooden Honours Boards
As an honours board supplier, we manufacture our honours boards ourselves and thus can make any size or shape you require. Whether it's for a sports club, tennis club, golf club or school we've been making traditional honours boards for well over 50 years and have a wealth of experience at your disposal.
The most popular choice is a Light Oak veneered MDF honours board complete with / without a solid oak moulding (frame).  Text is usually applied in matt black pvc, the matt finish making it easier to read the text vs the glare from any overhead lights.
If your wooden honours board is ordered without a frame, the edge will be covered with veneer to ensure a professional look. Likewise the wooden boards can be stained or manufactured in a range of woods as necessary to suit your cricket club, tennis club, bowls club or golf club honours board.
When it comes to updating your honours board names in the future, we store the design files in our archives so that we can supply you with future updates at a low cost.
They're very easy to apply yourself and saves the cost of employing someone to sign write your boards each year.
Enquire Today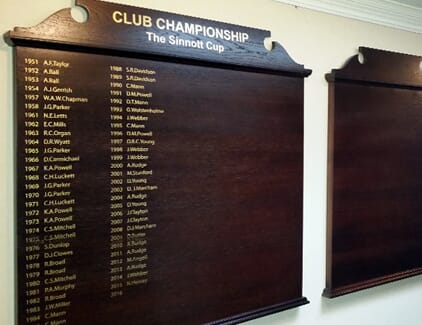 Can you copy an existing honours boards?
Yes we usually can. Please contact us for more information.
How much does an honours board cost?
Our price list is further down the page for standard designs.
Can you install the honours boards for us as well?
Absolutely! Please ask, and we'll happily provide a quotation to you.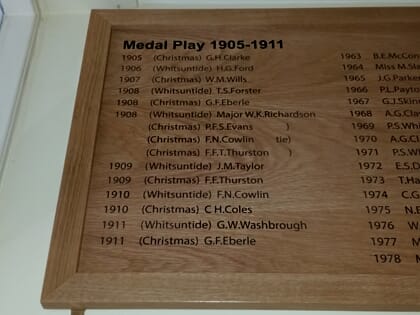 Wooden Honours Board Prices
As one of the longest standing honours board suppliers, we've put together a helpful guide to the commonly asked honours board questions we get asked.
Whats included within your honours board prices?

All the names, all the competition headers, any dividing lines.. basically every single bit of text you want on the board is included within the price.

Whats not included within your honours board prices?

Digitally printed logos.  These need a reasonable bit of work at our end and so there is a charge of £40+vat to have your logo on the board.

Can you produce bespoke wooden honours boards?

Yes we can.  Please contact us for more details. If you have a few photos of the bespoke wooden honours board, and the overall size that would be very helpful.

Is delivery included within your prices?

Yes. The price includes delivery to any mainland UK address.

What about future updates when we need more names next year?

You simply order the honours board names from us each year.  We send them to you and you can apply the names onto the honours board. There is a small cost for this.

Is it hard to apply the names each year?

Without wishing to belittle the skill of honours board suppliers, no it's not.  We supply them on an application sheet and it's simple to apply them.

We'd love to hear from you
If you're looking to get started with a new project, or you want to discuss some options, get in touch with our friendly team:
Why choose Signet Signs?
We are a family run signage & thermoplastic marking company, established in 1971, and are proud of our long standing reputation for exceptional customer service.
Whether its shop signs or thermoplastic playground markings we promise to provide a transparent experience and to keep you fully informed every step of the way.
Family run business
We specialise in sign & playground marking
Highly experienced
Established in 1971, we're extremely experienced
Superbly equipped facilities
We use the latest machines & technologies, all in house