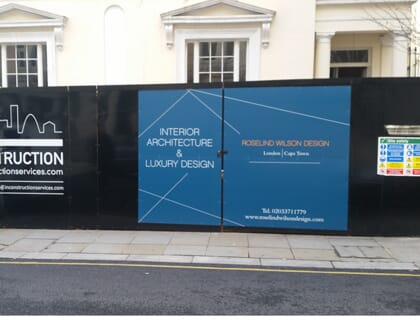 Site Signage
Site Hoarding
Looking at the progress of a new build is always fascinating, and with our building site hoarding boards, you can get a front-row seat! Our panels display photos of the project which is being built, so you can see how it's coming along every step of the way. They're perfect for keeping up morale among workers and passers-by, and make an excellent talking point for anyone who's interested in architecture or construction.
Site Hoarding
Site Hoarding signs have a mutitude of opportunities associated with them.  There are opportunities to promote your company brand, highlight the project & also to create interest in the project. At the same time, hoarding panels can help provide a greater degree of privacy & security.
All printed panels are laminated with a clear protective film to help assist with the removal of any graffiti which may arise.
Panels are fixed to existing plyboard frames and finished with header & kicker boards.
Enquire Today