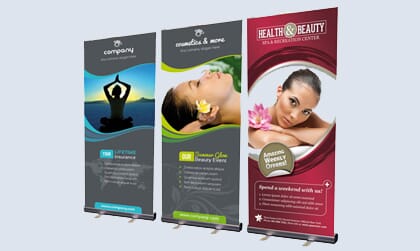 High Quality Banners
Pop Up Banners
Pop up banners are a great way to get your message across. They are low cost, reliable and easy to set up. Plus, they are a great way to make a big impact at events and conferences.
Pop Up Banners
Pop Up Banners are a superb way of creating a temporary display.
Its portable, is self-standing and with a printed graphic panel that retracts into a spring-loaded mechanism inside the metal case. When the time comes to use the pop up banner it can be easily pulled out from the base and is then supported on a collapsable pole.
They're cheap, incredibly easy to transport and store, yet have a large display area with which to grab your audiences attention.
Available widths, 850, 1000, 1200 and 1500mm wide.
Each banner comes complete with printed graphic, metal base stand and protective carrying case.
Available widths
850, 1000, 1200 and 1500mm wide.
Artwork
Designed by us or working from yours.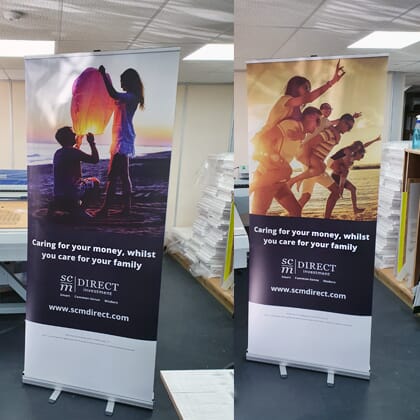 We'd love to hear from you
If you're looking to get started with a new project, or you want to discuss some options, get in touch with our friendly team:
Why choose Signet Signs?
We are a family run signage company, established in 1971, and are proud of our long standing reputation for exceptional customer service.
Whatever your signage projects requirements, we promise to provide a transparent experience and to keep you fully informed every step of the way.
Family run business
We specialise in the design, manufacture & installation of signs.
Highly experienced
Established in 1971, we're extremely experienced
Superbly equipped facilities
We use the latest machines & technologies, all in house