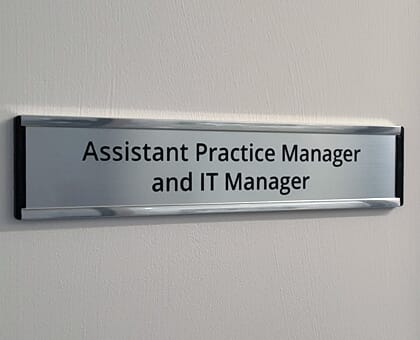 Internal Door Signs
Interchangeable Door Signs
Interchangeable Door Signs
Our Interchangeable Door Signs come in a range of frames and insert colours, each of which are purchased individually which allows you order the right number for your circumstances. Frames are 255 x 55mm with the inserts sized to suit.
Frames are aluminium polished silver or brass coloured, pre-drilled and with adhesive tape on the back.
Inserts are laser engraved laminate in a range of colours with contrasting text as shown in the image to the side.
Inserts slide in / out as required, or black plastic end caps can be ordered to secure the insert in place for permanent signs (see image at top of this page).
Delivery is £15 +vat per order to mainland UK.
When it comes time to order some more inserts, we will have your previous order on file so will ensure the layout matches that previously ordered.
Enquire Today