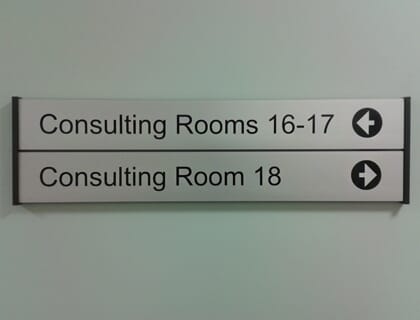 Wayfinding Signs
Directional Signs
No visitor should ever feel lost or unsure where to go.
Our wall mounted directional signs will help them find your way. With an easily understood way finding system pointing the way, they'll be confident they're going the right way in no time.
Your business is important to us, and we want to help you in any way possible. If you have any questions or concerns, please don't hesitate to contact us. We're here to help!
Wall Mounted Directional Signs
Directional Signs are a superb way of guiding visitors to your premises in the right direction.  This not only gifts a sense of confidence but also ensures visitors are less likely to become lost / wander into private areas and team members are less likely to be asked for directions.
We offer a number of solutions for our directional signs which are detailed below.
Enquire Today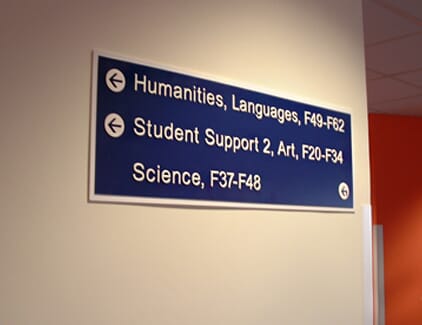 Looking for inspiration
Why not browse our Gallery pages? (Tip: It's under the Knowledge menu at the top.
Have you got questions?
We're just an email away. mail@signetsigns.co.uk
Looking for more information?
Please see our summary of options below.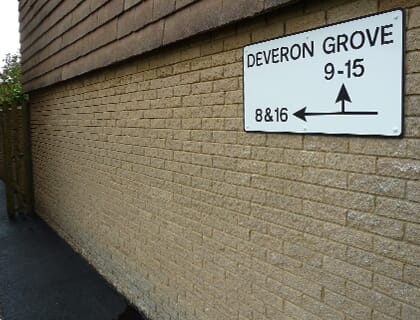 Printed Directional Signs
A digitally printed panel with a clear protective film to the face.  The film both protects the graphics from the elements & allows the sign to be cleaned without risk of damage to the graphics.
The graphics can be as complex or as simple as you wish but we would recommend taking into account the average user & the signs intended use.  There is little benefit to be had from an overly complex design which hinders rather than helps visitors.   The main message of the sign should be clear and easily read.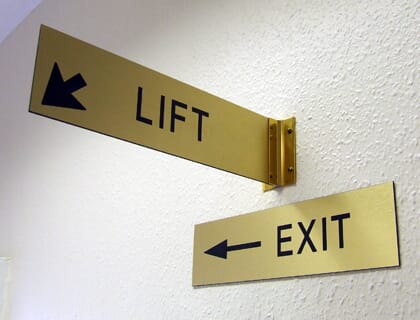 Projecting Signs.
The projecting signs are a simple yet highly effective means of communicating information in walkways & corridors.  They project outwards from the wall at 90 degress, displaying their information via both sides of the sign panel.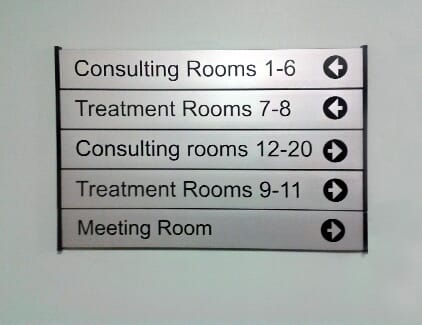 Slatz Signs
These signs are made up of ' horizontal panels'.  Each panel will hold information directing persons to a location.  For example, the top panel may direct persons to Rooms 1-10 whereas the middle panel directs them to Rooms 11 & 12. If this information were ever to change, a single slat (horizontal panel) can be updated rather than the whole sign.
A great wayfinding sign system for doctors / dentists / locations where the information being displayed is likely to change at some point.  A photo below shows this system, look for the silver sign with black text.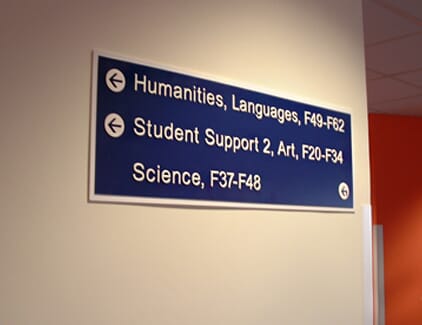 Braille & Tactile Signs
Tactile refers to the raised lettering. Braille is the sequence of raised dots.  Signs of this nature should be produced with a high level of contact between the background colour of the sign, and both the wall colour and text.  This helps visually impaired persons to identify the location of the sign.
We'd love to hear from you
If you're looking to get started with a new project, or you want to discuss some options, get in touch with our friendly team:
Why choose Signet Signs?
We are a family run signage company, established in 1971, and are proud of our long standing reputation for exceptional customer service.
Whatever your signage projects requirements, we promise to provide a transparent experience and to keep you fully informed every step of the way.
Family run business
We specialise in the design, manufacture & installation of signs.
Highly experienced
Established in 1971, we're extremely experienced
Superbly equipped facilities
We use the latest machines & technologies, all in house