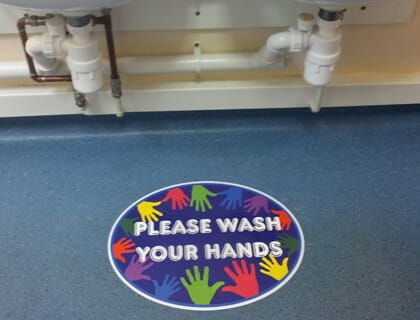 Floor and Stair Riser Stickers
Floor and Stair Riser Stickers
Floor and Stair Riser Stickers
Stair Riser Stickers are a wonderful way of adding colour and information to what would otherwise be a non descript set of stairs.
Whether it's scientific formula, as in the photo here, information or directional way finding details we can help you and provide them ready for you to apply.  If needed we can install for you as well.
All we need to know to provide a quote for you is the size of the stair riser, and how many you need.
Durable material
Protective film to face
Hi-bond adhesive
Enquire Today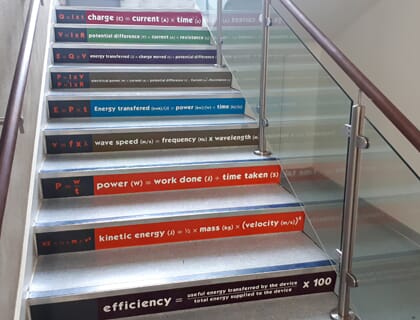 We'd love to hear from you
If you're looking to get started with a new project, or you want to discuss some options, get in touch with our friendly team:
Why choose Signet Signs?
We are a family run signage & thermoplastic marking company, established in 1971, and are proud of our long standing reputation for exceptional customer service.
Whether its shop signs or thermoplastic playground markings we promise to provide a transparent experience and to keep you fully informed every step of the way.
Family run business
We specialise in sign & playground marking
Highly experienced
Established in 1971, we're extremely experienced
Superbly equipped facilities
We use the latest machines & technologies, all in house