Healthcare signage for dentists
Dentist Signage for Professionals
A guide to the most common dental practice signs
A dentist surgery is a busy place and first impressions really do count, that's why it's important to get your dentist signage correct.
You want your patients to feel reassured that they are in good hands as soon as they walk through the door. One of the ways you can do this is by ensuring that you have high-quality signage throughout your surgery.
Here at Signet Signs Ltd, we understand the importance of quality dentists signage for businesses in the healthcare sector. We work closely with dentists & practice managers to ensure that we deliver the right solution for their needs.
The types of signage you will need for your dentists practice will depend on the size and layout of your premises. However, there are some essential signs that all areas should have. These include:
Reception Signs: Reception signs help patients to identify where they need to go when they first arrive at your surgery. They should be clear and easy to read from a distance.
Wayfinding Signs: Once patients have made their way to reception, wayfinding signs will help them to find their way around your surgery. They should be placed at key junctions and be clear and concise.
Fire Exit Signs: Fire exit signs are a legal requirement in all commercial premises. They should be placed near all exits and escape routes so that everyone knows where to go in the event of an emergency.
Door Signs: Toilet signs help patients to find the facilities quickly and easily. They should be placed near all toilets and clearly identify which ones are for men, women, or disabled users.
Signage Totem: A free standing sign with a big presence. Great for getting your message noticed.
High-quality signage is essential. It helps patients to find their way around, makes a good first impression, and ensures that everyone knows what to do in the event of an emergency.
Please feel free to contact us with as much information as you have, and we can then discuss the available options with you.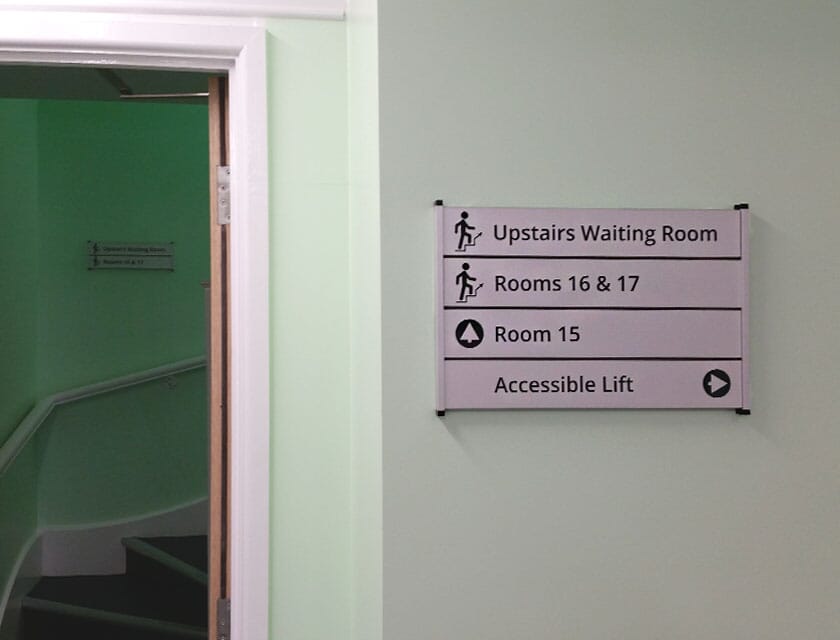 Different types of heathcare signage
What each type of signage means for patients
The benefits of great signage for your dental practice
If you're like most people, a visit to the dentist is not something you look forward to, sorry dentists!, but not knowing where to go or what to expect can make the experience even more stressful.
That's why wayfinding signs are so important in dental offices. This type of dentist signage helps patients find their way around the office and locate the reception area, waiting room, and restrooms.
Reception signs are also important in helping patients identify which dentist they need to see.
Directory boards typically list the names and specialties of all the dentists in the office, making it easy for patients to find the one who best meets their needs.
By taking a few moments to familiarize yourself with the different types of signage in a dental office, you can help make your next visit a little less stressful.
Healthcare signage for dentists
Examples of dental practice signs
A gallery of some of the common signs
Dental practice signs can be found in dental offices all over the country.
They come in all shapes and sizes and all have one thing in common: they help dental practices stand out from the competition.
From basic to boldly designed, these signs catch the eye of potential patients and help build confidence in the dental practice.
Below are just a few examples of dental practice signs that we have made for our clients.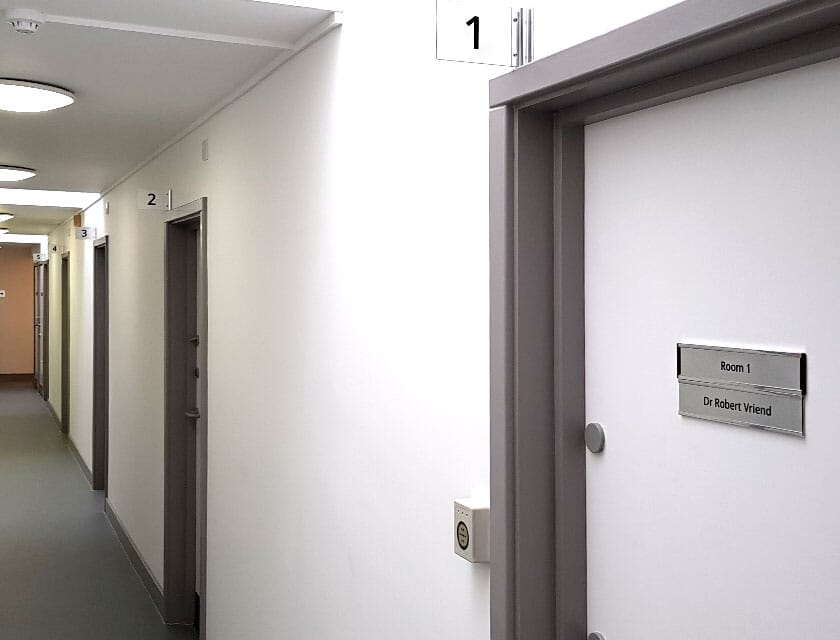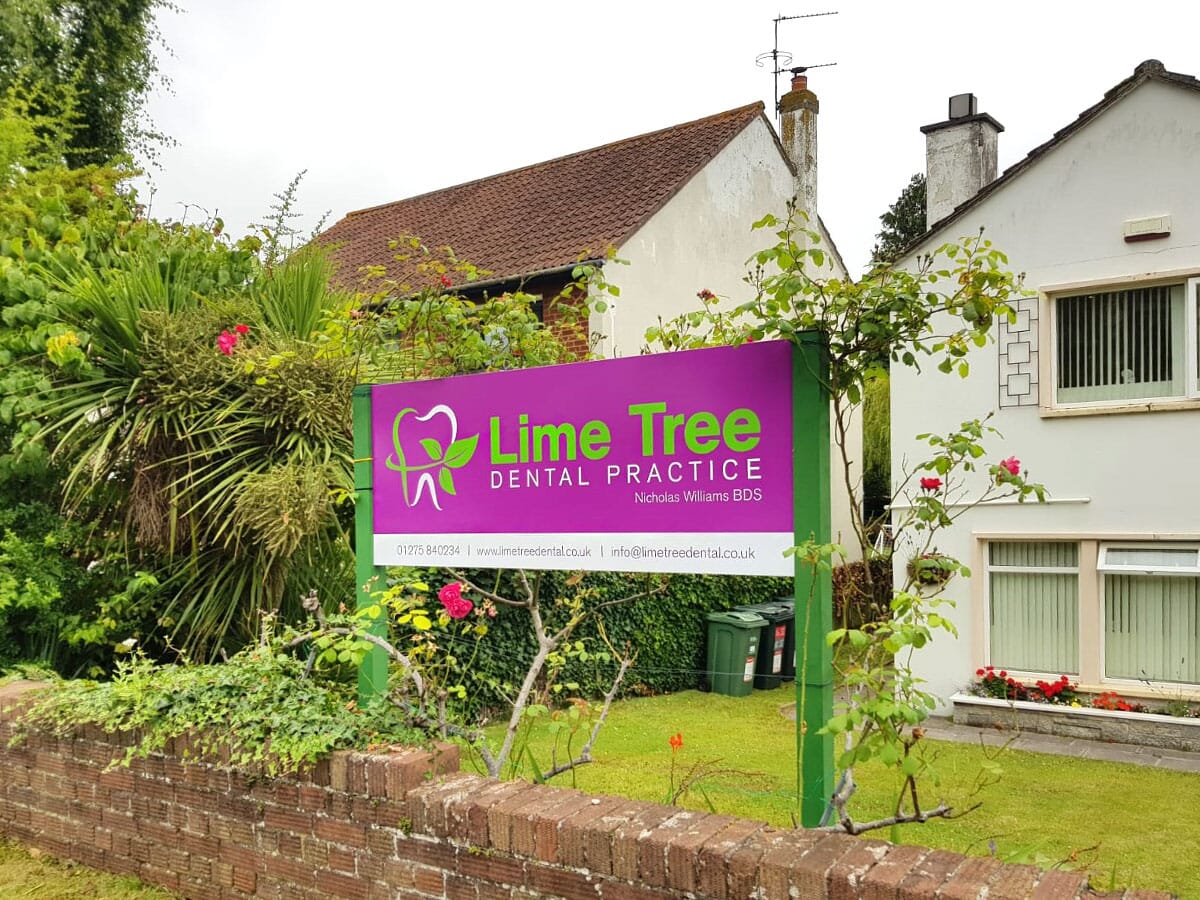 We can come to you to discuss your dental practice signage requirements
Free site survey within 1hr of our premises
At Signet Signs Ltd, we understand that choosing the right signage for your dental practice is essential in creating a professional and welcoming environment for you and your patients.
That's why we offer a free site survey and quotation service, so that you can be sure you're getting the best possible advice and value for money.
Our team of experts will work with you to understand your specific requirements and create a bespoke signage solution that meets your needs.
So if you're looking for new dental practice signage, contact us today and let us show you what we can do.
We'd love to hear from you
If you're looking to get started with a new project, or you want to discuss some options, get in touch with our friendly team:
Why choose Signet Signs?
We are a family run signage company, established in 1971, and are proud of our long standing reputation for exceptional customer service.
Whatever your signage projects requirements, we promise to provide a transparent experience and to keep you fully informed every step of the way.
Family run business
We specialise in the design, manufacture & installation of signs.
Highly experienced
Established in 1971, we're extremely experienced
Superbly equipped facilities
We use the latest machines & technologies, all in house