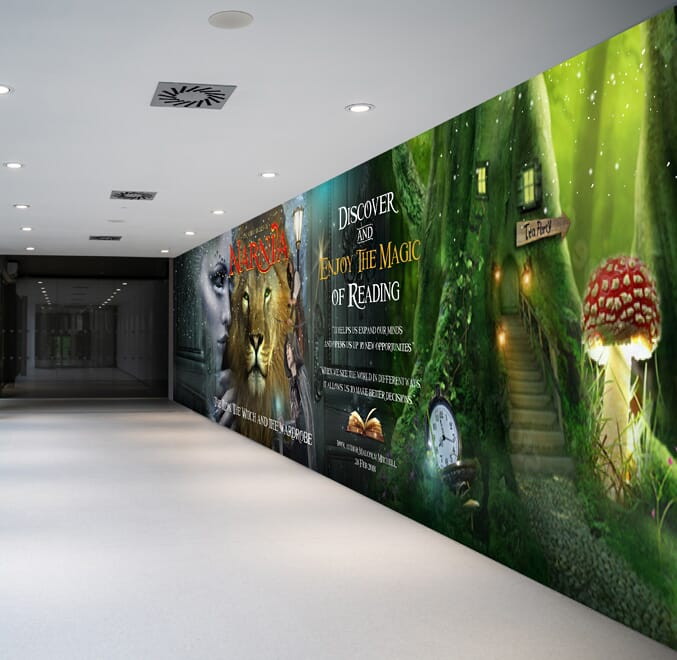 Printed wall graphics
Wall Graphics
Digitally printed vinyl wall graphics for enhancing spaces within buildings.
Wall Graphic Solutions
We use 8 colour print onto a range of specialist materials which have beeen designed for use inside buildings as printed wall graphics. From self adhesive vinyl, to printed wallpaper & fabric rolls we have a material to suit.
As a customer, this means we're able to provide you with a vibrant durable print on a material which has been specifically made to do the job and thus will last a very long time.
The material can be cut to shape (contour cut) to allow curves and obstacles within the space to be accomodated for. So things like recessed areas, curved walls, wall lights etc are not an issue.
We've worked with many a business, helping and offering advice throughout the whole process from concepts and enquiries at the start through to installation and beyond.
Enquire Today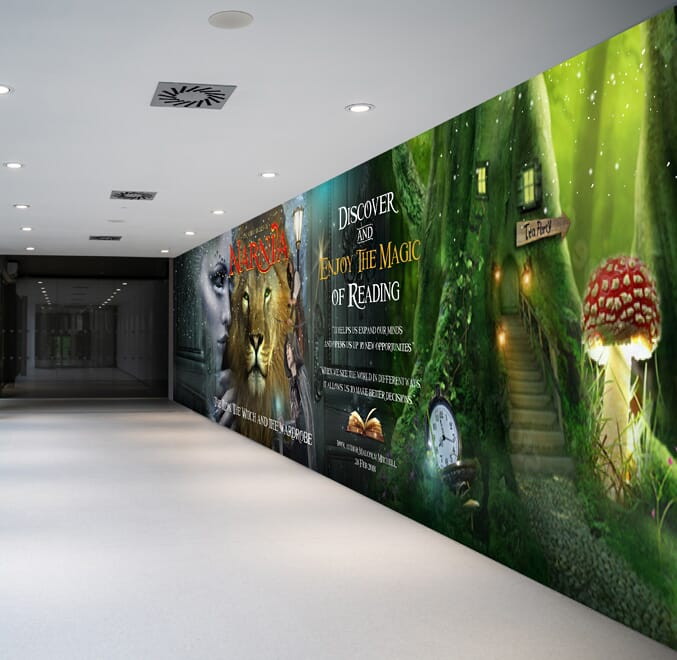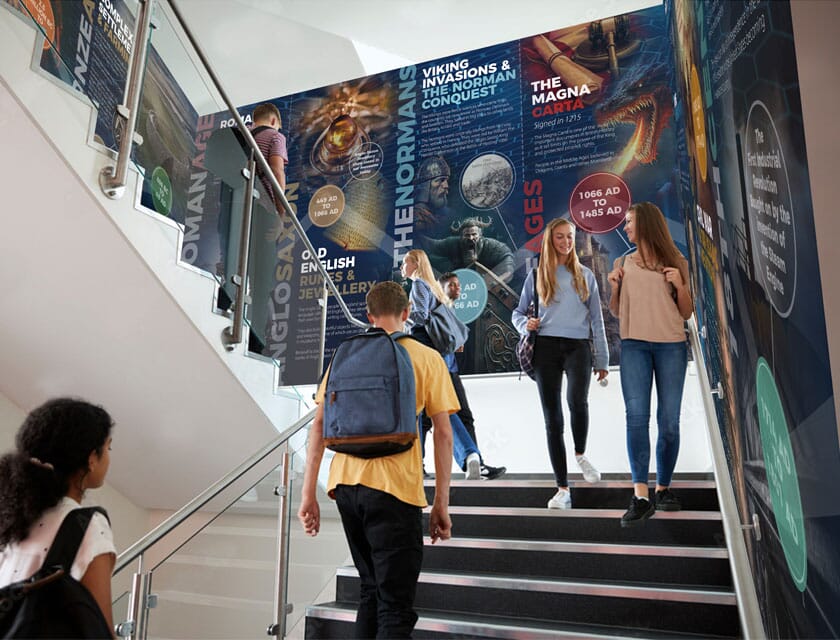 Vinyl Wall Art That Inspires
Printed designs limited only by imagination.
Some of our customers have used wall graphics as a way to create a feature wall or inspiration. Please see the photos on this page as examples.
Large images, vibrant colours and inspirational quotes transform environments into welcoming spaces for your staff & visitors which would otherwise be dull flat walls.
Retail spaces and office wall areas especially benefit from a well thought out design. Self adhesive vinyl wall graphics can be printed from your own design if you're supplying artwork.
If not, then we're able to work with you, take direction and steerage, and then provide you with an image showing how the project will look. We only proceed to manufacture when you're happy.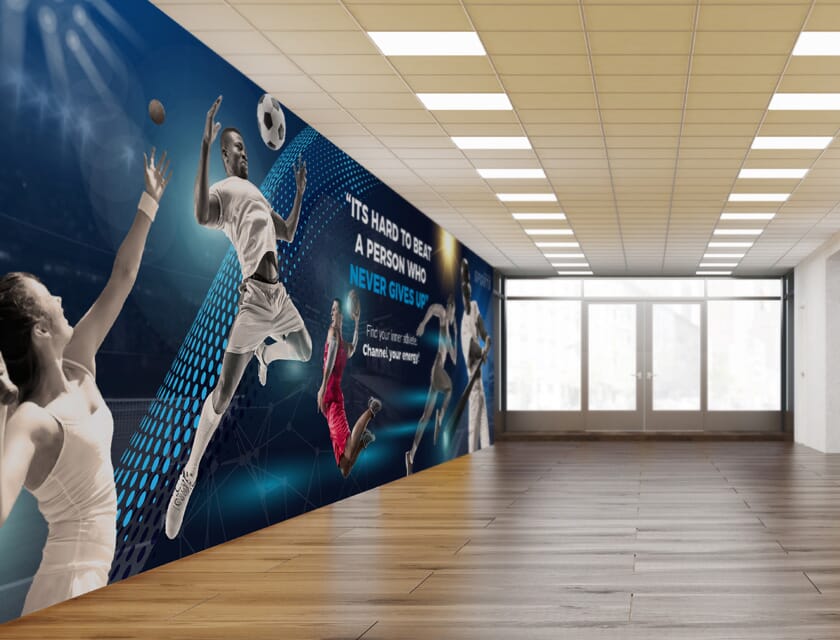 Benefits of Vinyl wall graphics
aka Wall decals / wall murals / wall designs
Having your own unique wall graphics provides an opportunity to exploit a number of benefits
Versatility: customisation options for any space, style, and purpose
Durability: long-lasting material. Resistant to fading, scratches, and tears
Cost-effective: affordable compared to traditional bespoke wall decor options
Some considerations
Color selection: use complementary and contrasting colors to create visual interest
Size and scale: choose the appropriate size and scale for the wall surface.
Placement: select the best placement for the vinyl wall graphics to enhance the space.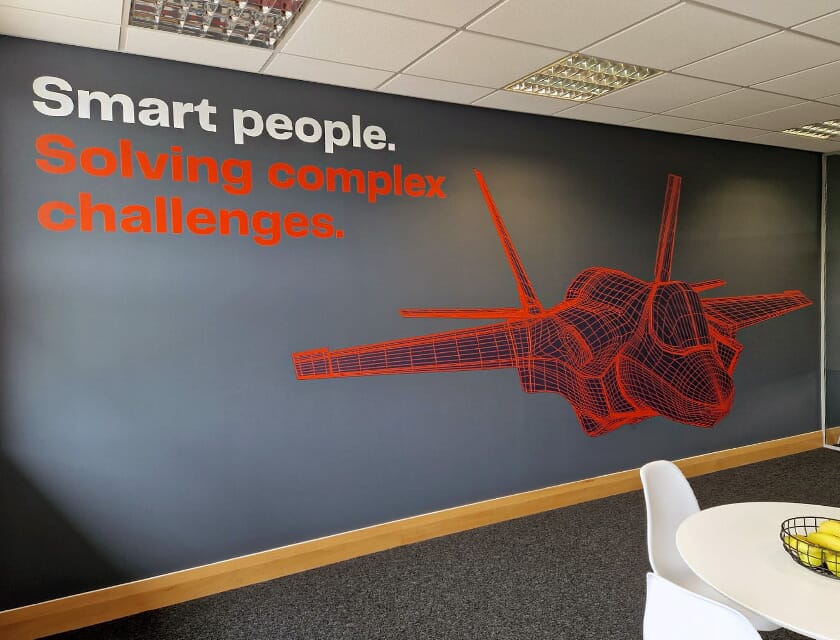 Custom Wall Graphics
What do we offer?
Contact our friendly team to discuss your requirements. We're only a phone call away and happy to help.
No obligation quotation with a range of options to suit most companies budget.
In-house graphic design service. We don't outsource, all of our graphic design work is done by us for you.
Full colour designs proof of how the wall decal will look.
We only proceed to production once you're happy.
Install service via our skilled installation teams.
We'd love to hear from you
If you're looking to get started with a new project, or you want to discuss some options, get in touch with our friendly team:
Why choose Signet Signs?
We are a family run signage company, established in 1971, and are proud of our long standing reputation for exceptional customer service.
Whatever your signage projects requirements, we promise to provide a transparent experience and to keep you fully informed every step of the way.
Family run business
We specialise in the design, manufacture & installation of signs.
Highly experienced
Established in 1971, we're extremely experienced
Superbly equipped facilities
We use the latest machines & technologies, all in house
A Short Guide to Wall Graphics.
Some thoughts and ideas.
Introduction:
Digitally printed wall graphics are a popular option for enhancing office, retail and school interiors. They are customisable, durable, and cost-effective, making them an attractive design option. Digitally printed wall graphics are designed using high-resolution images and text, which are then printed onto a variety of materials, such as vinyl, fabric, or wallpaper. The material choice being dependent upon it's use.
Benefits of Digitally Printed Wall Graphics:
One of the key benefits is their versatility in customisation. Businesses, offices and schools can choose from a wide range of colors, images, and typography to create a design that reflects the brand or messaging. Digitally printed wall graphics are also highly durable and resistant to fading and scratching, making them a long-lasting solution. In addition, they are more cost-effective than traditional wall decor options such as painting or wallpapering.
Applications for Offices, Companies and Schools
Digitally printed wall graphics can be used to enhance the branding and company culture of an office space. A well-designed wall graphic can convey the company's mission statement, core values, or achievements. In schools, wall graphics can be used to provide educational information or create a stimulating learning environment. They can also create a welcoming atmosphere for students and employees.
Design Tips for Digitally Printed Wall Graphics:
The color selection of digitally printed wall graphics is important to consider. It is recommended to match the colors of the graphics to the branding or school colors. This creates a cohesive look throughout the space. Additionally, images and typography can be used to convey messages and enhance the impact of the graphics. Placement of the graphics should also be considered, as they should be visible and impactful to anyone who enters the space.
Process of Digitally Printing Wall Graphics:
The process of digitally printing wall graphics involves designing the graphics using high-quality images and text. We then print them onto a chosen material (self adhesive vinyl / fabric / printed wallpaper) using specialised printers. We use 8 colour print technology to ensure a huge colour gamut.
The type of material and finish used will depend on the specific project requirements. The use of high-quality images is crucial to ensure the clarity and crispness of the design. This process can be done in-house or outsourced to professional printing services.
DIY vs. Professional Installation:
While DIY installation is an option for some projects, it is important to consider the level of expertise and equipment required for optimal results. Our professional install service offers a range of benefits, including expertise in installation techniques. We've been there, done it and overcome issues many a time. This ensures the graphics are installed correctly and safely.
Examples of Successful Digitally Printed Wall Graphics in Offices and Schools:
There are many examples of successful digital wall graphics in offices and schools. One such example is using inspirational quotes or company values in the design of an office space. In schools, wall graphics can be used to depict historical events or famous figures.
Testimonials from satisfied customers can also help demonstrate the success of digitally printed wall graphics.
Conclusion:
Digitally printed wall graphics are a versatile, durable, and cost-effective option for enhancing office and school interiors. They can be customised to reflect branding or messaging and provide educational information or a welcoming atmosphere. Professional installation is recommended to ensure optimal results.
Overall, digitally printed wall graphics are an effective way to enhance the aesthetics and functionality of office and school spaces.