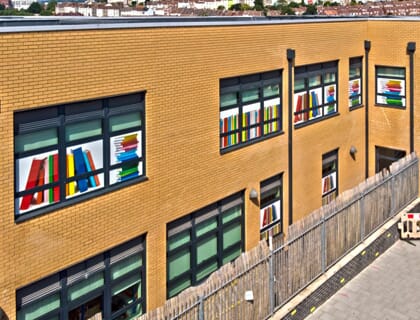 Digitally Printed Window Graphics
Window Graphics
Window Graphics
WIndow graphics can look amazing when they're done right.
Whether it's branding the entirety of your school windows in giant books or simply a classic gold pvc look for your barbers shop, we're here to help and advise.
Helpful information.
Perforated Window Graphics, aka Contra-vision, allow people inside the building to look outside but stop vision coming back in.  The printed film has thousands of little holes, about 40% of the surface area, which helps to allow light in.  They're normally printed with an image on the outside face so that persons attempting to look into the building will have their eye drawn to the image, making it near impossible to see it.  Colours can be anything you desire as this window graphic is printed.   An example of this is the photo showing windows with books.
Enquire Today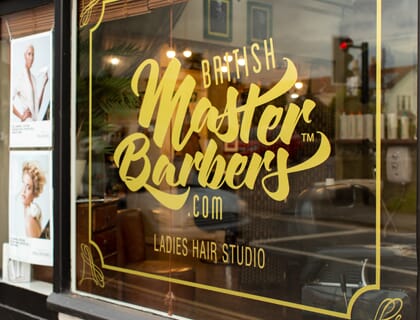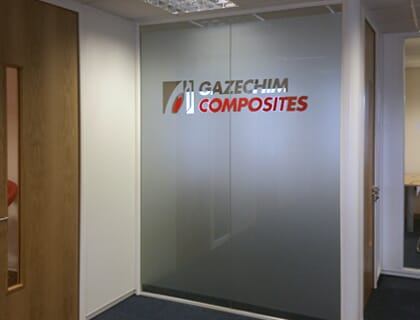 Vinyl / PVC film.  A limited range of colours, but that's not to say 'small'.  The PVC is cut on one of our plotters into individual letters / shapes.  The advantage of this that you can have large areas of open glass alongside the cut PVC.  An example of this window graphic is the British Master Barbers photo on this page.
Optically Clear Film (printed).  Another way of producing window graphics is to print the image / text onto a sheet of optically clear vinyl.  This is useful for projects where the imagery is very detailed.  For example, an intricate white lace pattern.  The lace pattern would be too fine to use cut vinyl for, and thus we print the pattern onto optically clear pvc and apply the whole film to the window.
Dusted / Etched / Frosted films.   A simple but highly effective window graphic which can compliment the existing look.   Dusted film is a very matt look, Etched film has a small amount of sparkle, whereas Frosted has a high degree of sparkle.   We would recommend dusted for large flat areas where the main message is less prominent, and the etched for areas which are either smaller or have a more prominent message.  An example of this is the Point Break Tattoo window graphics.
We'd love to hear from you
If you're looking to get started with a new project, or you want to discuss some options, get in touch with our friendly team:
Why choose Signet Signs?
We are a family run signage & thermoplastic marking company, established in 1971, and are proud of our long standing reputation for exceptional customer service.
Whether its shop signs or thermoplastic playground markings we promise to provide a transparent experience and to keep you fully informed every step of the way.
Family run business
We specialise in sign & playground marking
Highly experienced
Established in 1971, we're extremely experienced
Superbly equipped facilities
We use the latest machines & technologies, all in house