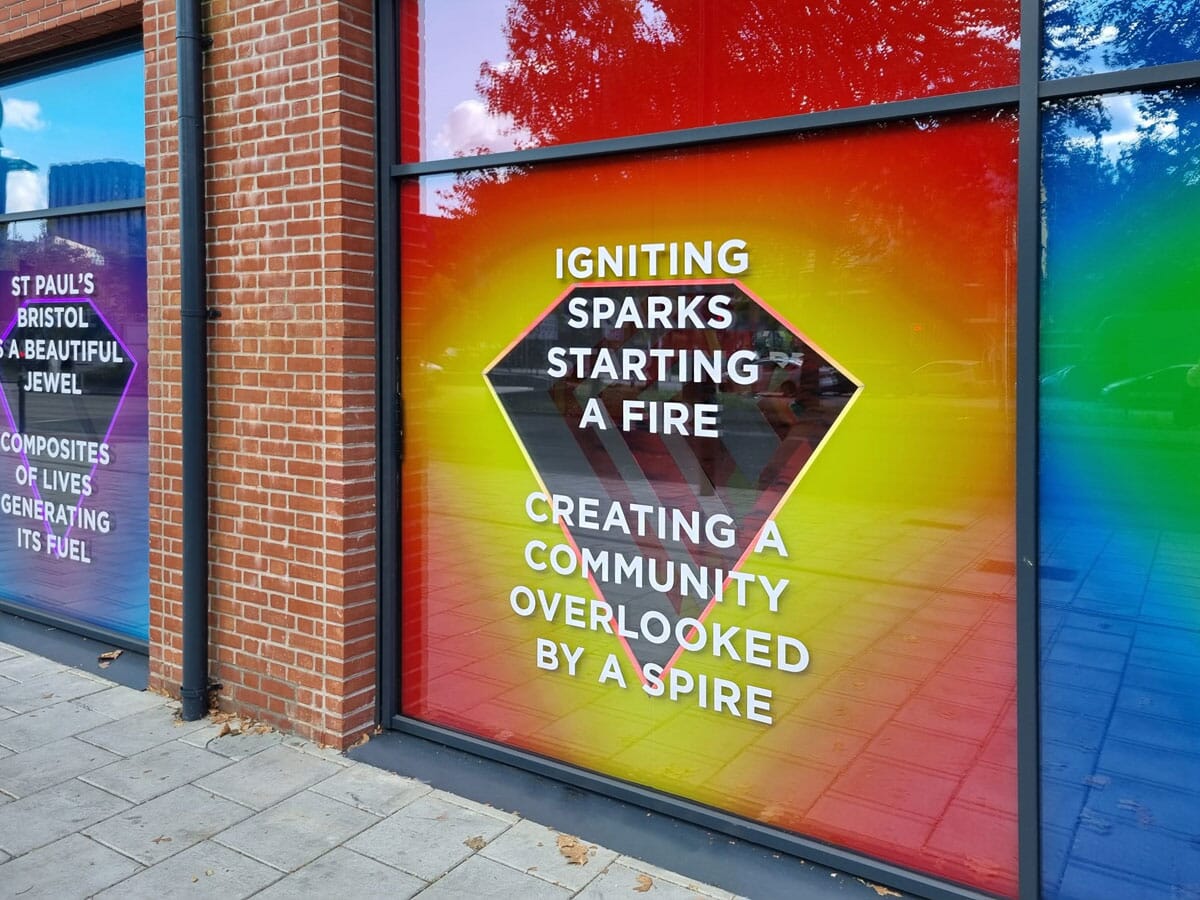 Digitally Printed Vinyl Window Graphics
Window Graphics
With over 50 years in the business, our print experts create full-colour eye catching window graphics that are sure to turn heads.
If you're looking for a way to make a big impact with your window graphics, why not try something creative? We can print or custom cut any design, whether you're looking for a simple logo or an intricate piece of artwork, we can make it happen.
Create privacy with one-way vision vinyl, promote office branding through frosted vinyl or advertise your business to passers-by with a range of window vinyls at custom sizes.
If you already have print-ready artwork, great! If not, our graphic designers would be happy to help create print-ready versions with design proofs emailed to you.
And if you need it, we can also provide a professional installation of your window graphic options.
What are window graphics?
There are a variety of names for window graphics. Window stickers, window decals, digitally printed vinyl graphics, window vinyl, window films and so on. Essentially they are the same, all a form of window graphic.
Many businesses choose to use window vinyl as a way to advertise their products or services. They are a versatile and affordable way to create eye-catching displays that can be seen by passersby.
Window vinyl can be used to create attractive displays that grab the attention of potential customers. By using bold colors and eye-catching designs, window stickers can make your business stand out from the competition.
By placing a graphic in your window, you can let customers know about a sale or event that is happening at your business. This is an effective way to increase foot traffic and generate interest in your business.
Specialist vinyls can also be used to provide privacy for your business. If you have a front office that faces a busy street, you may want to consider using contra vision or a privacy vinyl to help reduce the amount of people peering into your office. This can create a more relaxed and professional environment for your employees.
There are also some specific window vinyls which are used for particular purposes which we'll go into, and answer some of your questions below.
Enquire Today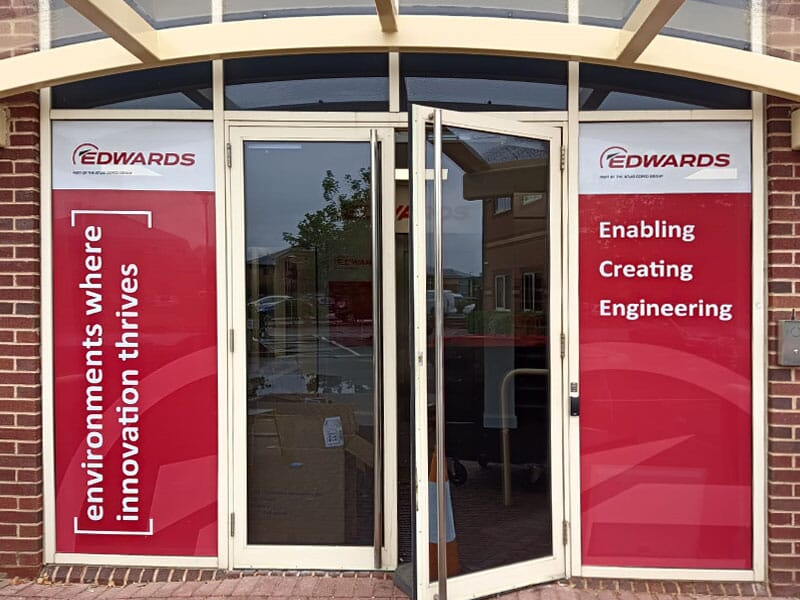 Types of Window Graphics
Helpful guide to the different options
One way vision vinyl
One way vision vinyl is also know as contra vision. Contra vision is a brand name for a popular range of one way vision vinyls.
One way vision window vinyl has thousands of little holes across it's surface, like a mesh. The design is printed on the face and the vinyl applied to the face of the window. When a passer by attempts to look through the printed side of the vinyl, their eye is drawn to the image making it near impossible to see in during normal lighting.
When someone inside the building looks out through the back of the vinyl, which is a solid dark colour, the eye is drawn to the image that can be seen outside.
Another advantage is that light isn't completely stopped from coming through the window as approximately 40% of the vinyl is perforated.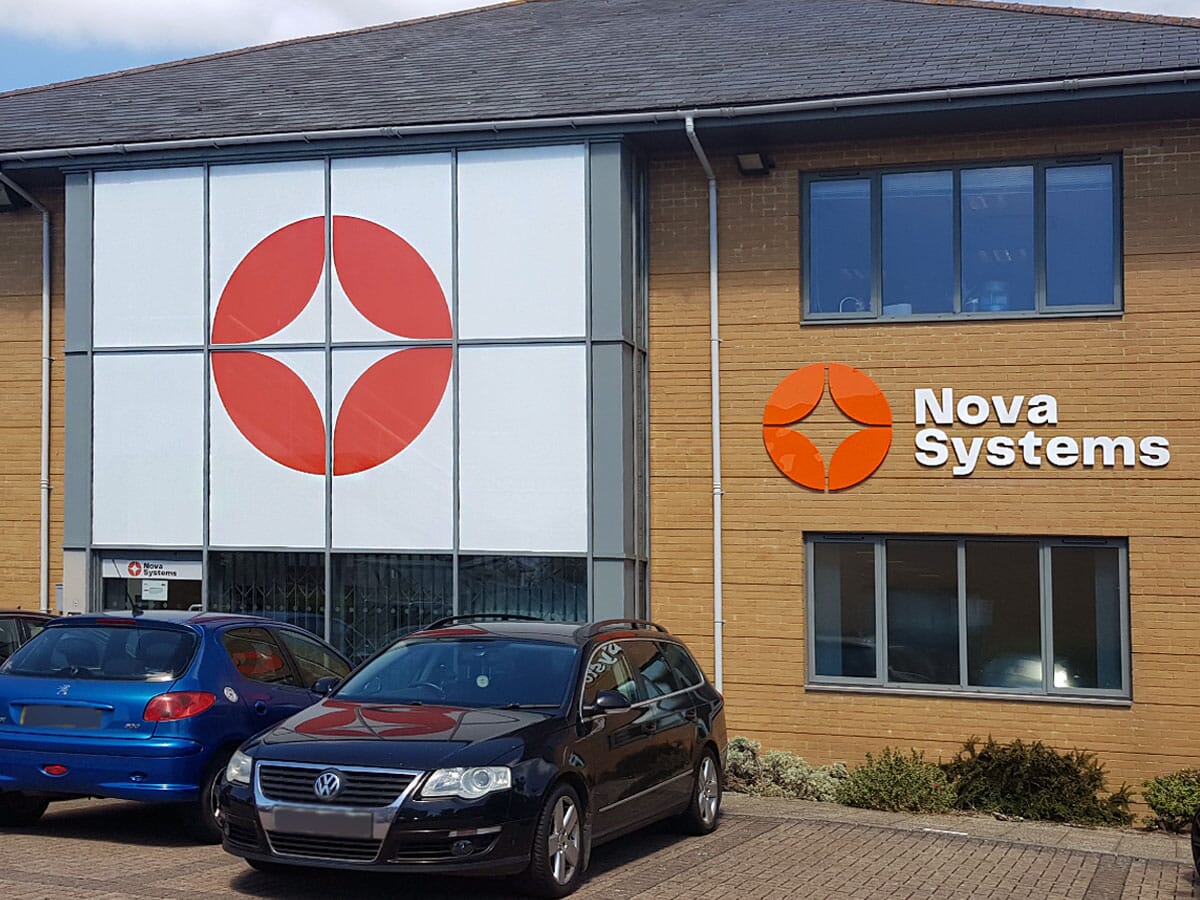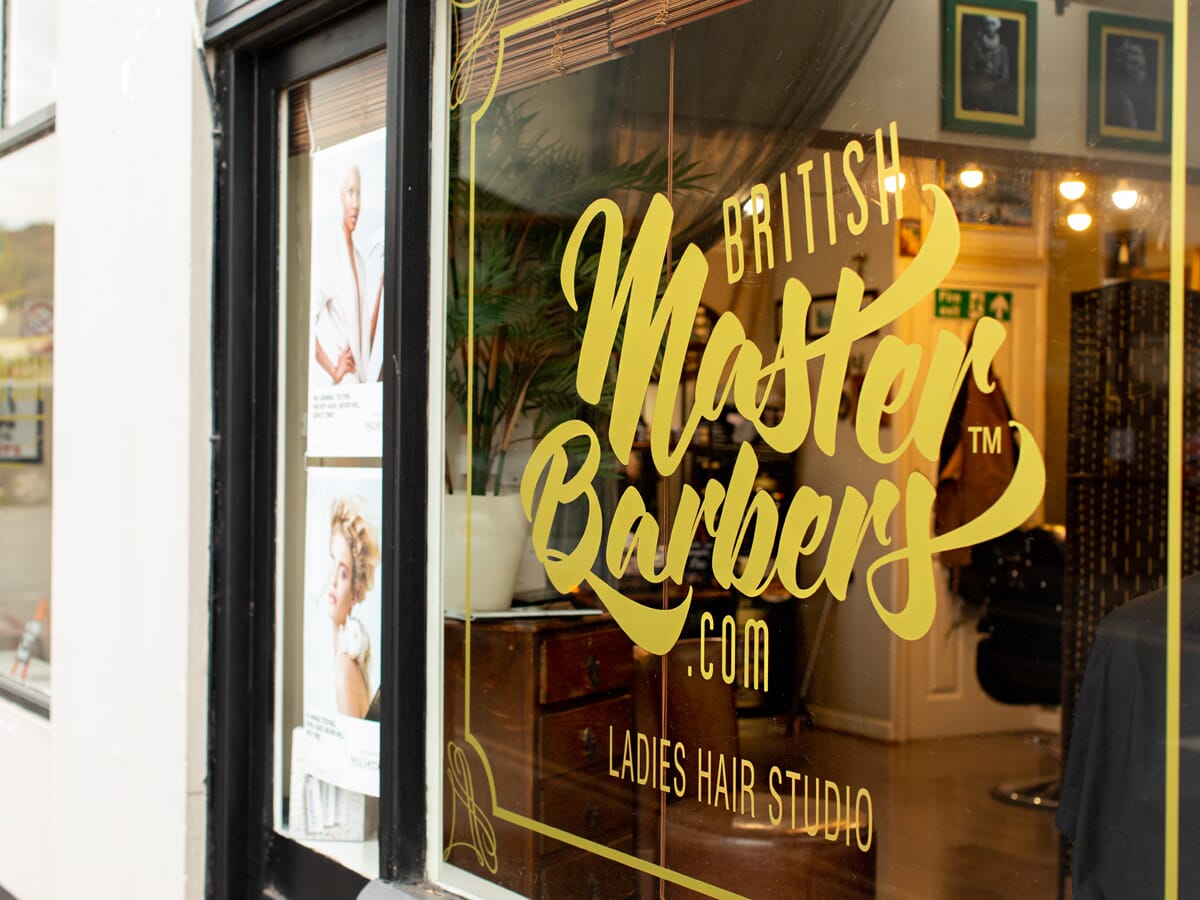 Self adhesive vinyl window graphics
Shop windows can be transformed by window graphics, and need not be expensive in order to look amazing.
We have a great range of window vinyls in spot colour (solid colours) to choose from. Of course we have white vinyl & clear vinyl and there is a wide range of standard spots colours which can all be printed. We also offer specialist vinyl materials. e.g. Wood effect vinyl, chrome vinyl, sand blasted vinyl and more.
Our skilled vinyl experts will cut the vinyl on our computer controlled cutting tables into individual letters / shapes.
If we're producing multiple colours then the design can be layered to great effect.
One advantage is you can have large areas of open glass alongside the vinyl window graphics which not only promote your business but also allow light & vision through the window.
An example of this type of window vinyl is the British Master Barbers shown here, contour cut gold self adhesive vinyl applied to the inside of the glass window.
Frosted vinyl window graphics.
We get asked for 'frosted' a lot but there are actually three vinyl options that we utilise when looking at creating privacy. Each type of vinyl has a different amount of sparkle in it.
Frosted glass vinyl. This is a semi transparent film, which has a reasonable amount of 'sparkle' in it. Think of the type of vinyl you'd see on bathroom window.
Etched glass vinyl. By far the most popular. Has a tiny bit of 'sparkle' in it, enough to stop the vinyl looking like a single flat grey colour. We use this a lot for office meeting rooms, restaurant shop windows, doctors room windows.
Dusted glass vinyl. A flat, smooth, sandblasted effect. If you've ever found a piece of glass on the beach which has been worn smooth by the ocean, it's very close to that look. We have used this when we want to print a detailed image onto the film. This gives the image a nice flat background behind it.
For added visual impact, any of these vinyl types can have a full colour printed design on them and can also be cut to a custom shape.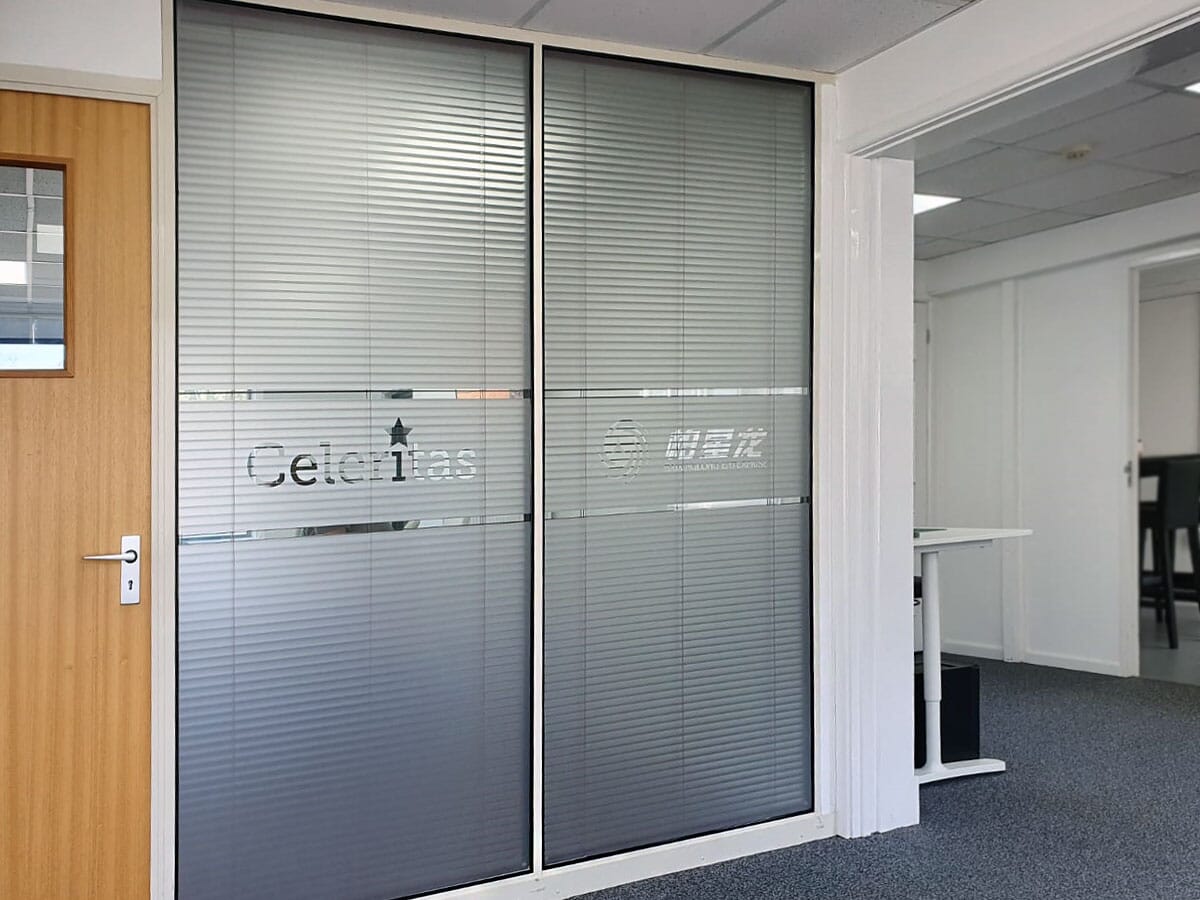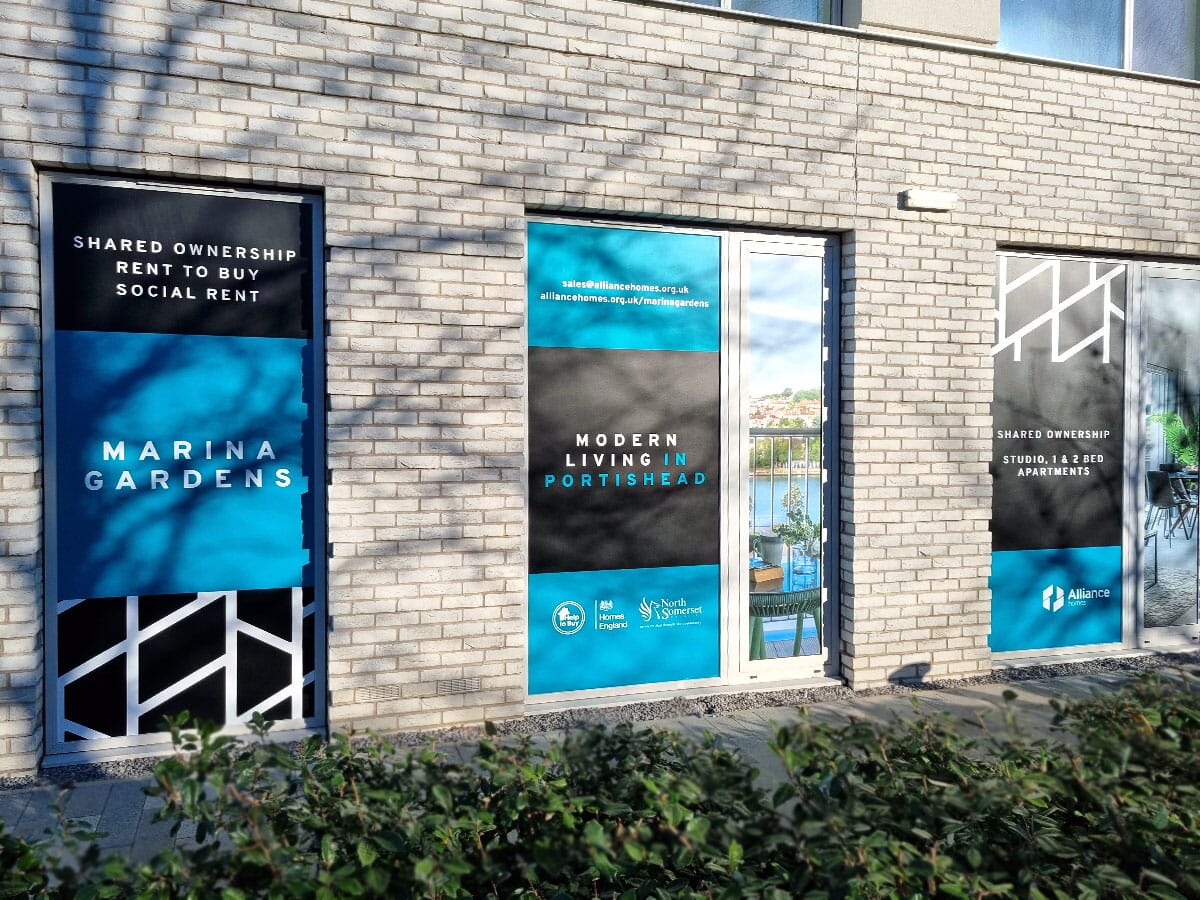 Optically clear window graphics.
Another way of producing window graphics is to print the image / text onto a sheet of optically clear self adhesive vinyl. This is useful for projects where the imagery is very detailed and therefore requires printing.
When the clear vinyl is professionally installed on the window space, the clear part isn't visible. This leaves the printed graphics plainly in sight.
An added benefit, our team of print experts can reverse print the graphics or images onto clear vinyl so that it can be applied to the inside face of the glass surface but read from outside.
For example, imagine a superstores window with an eye catching frontage of a lace pattern design in multiple colours.
The lace pattern would be too fine & intricate to be produced in cut vinyl, so our team would print the pattern onto the transparent vinyl.
This helps save money for the customer, and also produces a high quality printed graphic on the window which can be easily removed at a later date.
All in all, good value, quality product and little hassle when it's time to remove the material.
We offer a design service
A guide to supplying artwork & design help
There are two possible ways to get to the point where we have print ready artwork, and please note that we work with customers who have no understanding of artwork requirements every day. We're here to help!
Option 1 – You send us your artwork.

We require vector format artwork drawn to scale. EPS, AI or vectorised PDF are great.

Option 2 – We design the artwork for you.

Our graphic designs can talk to you and gain an understanding of your requirements. We then produce artwork of your custom graphics. Depending on how complex this is, there may or may not be an additional cost.
We offer unique design services, not templated, not a copy of a previous job. Everything we produce is bespoke and a designed for you.
We work with a wide variety of customers and appreciate artwork is likely not something you deal with every day so we're here to help!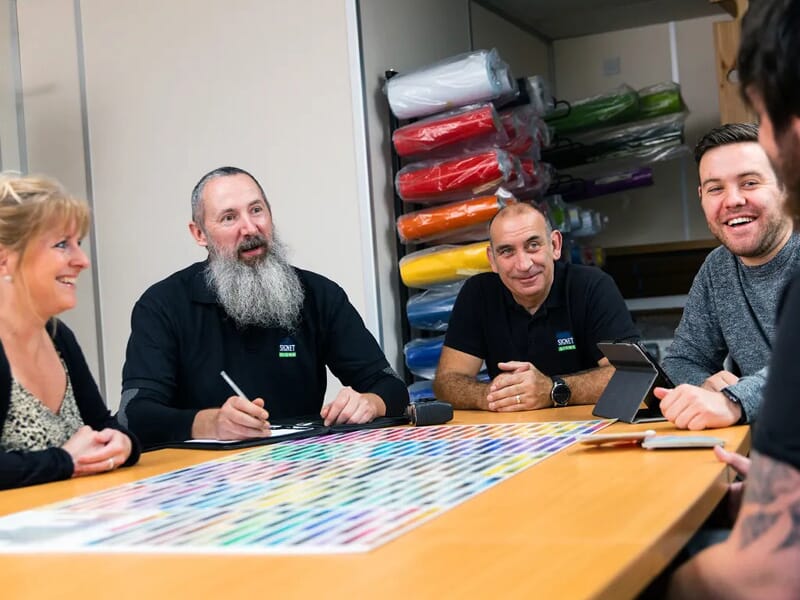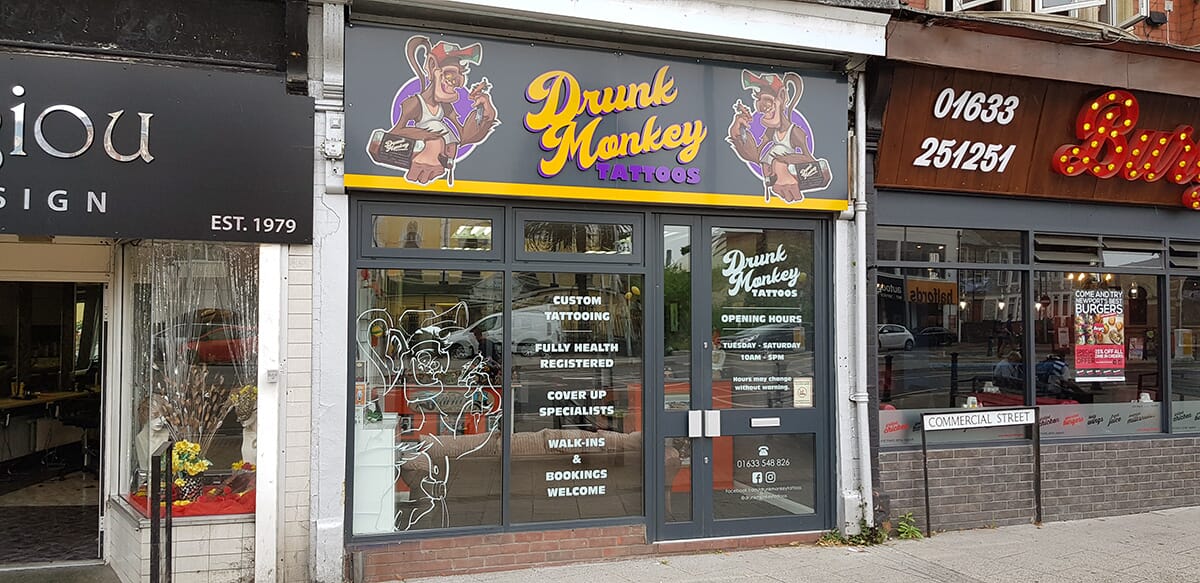 How much do window graphics cost?
The cost will depend up on a number of factors
The answer depends on a number of factors, including the size and complexity of the design, the number of colours, and the type of vinyl used.
For a simple one-color design, you can expect to pay around £150. But for a larger complex design, the price can easily increase to £400 or more.
If you're looking for a way to boost your business's visibility, window vinyls have many benefits.
Just be sure to get an estimate from a reputable dealer before making your final decision as not all self adhesive vinyl is the same (see below).
What material are window graphics made from?
Not all vinyls are the same
All of our products are made from quality materials using brands of vinyl which have proven themselves in the field. 3M, Avery, Contra vision, Image Perfect to name just a few of the ranges we use in our quality products.
Yes, there are cheaper vinyl sticker materials out there, and yes they will shrink, fade, crack, fail in accordance with their cost.
We've been in the industry over 50 years and have seen our fair share of horror stories. We do our very best to offer advice and expertise so you have a great customer experience (Our google reviews).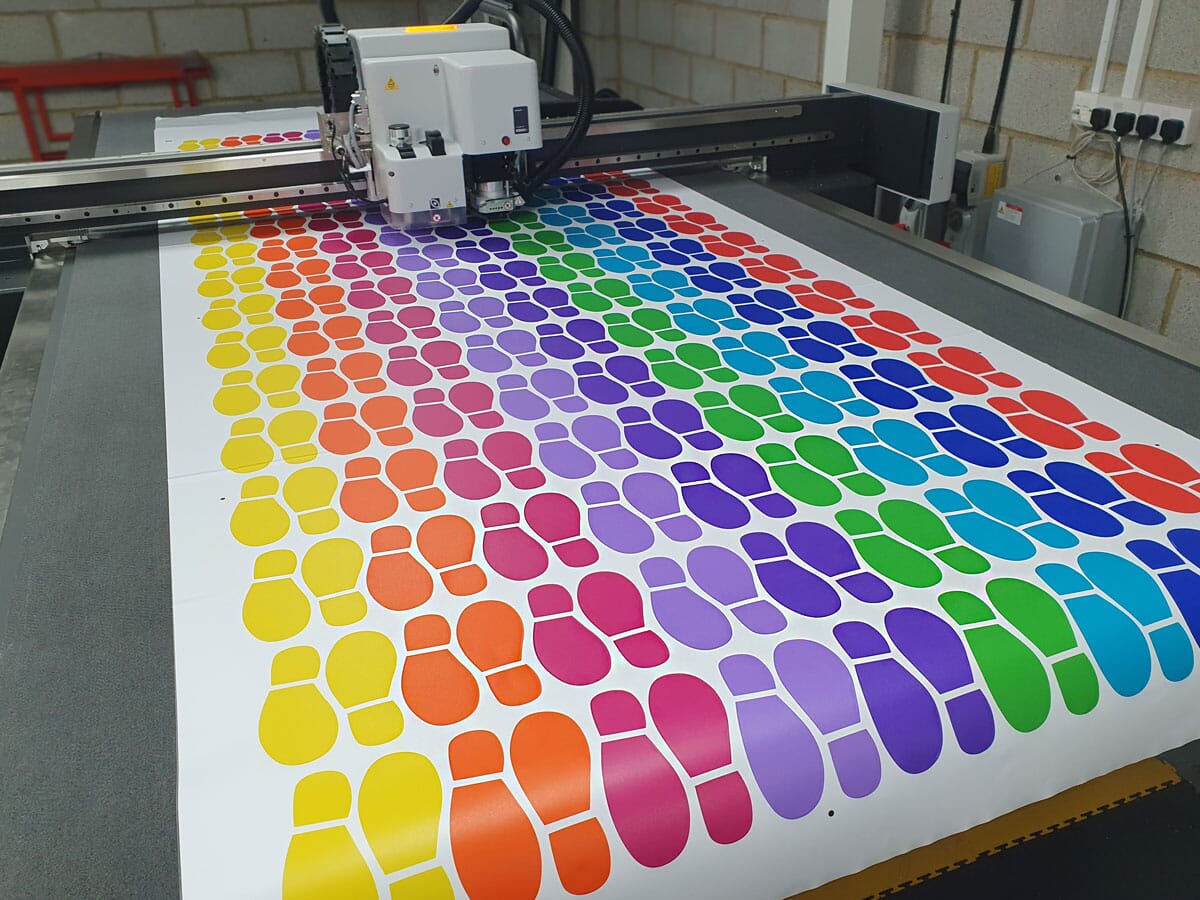 Do you install window graphics?
Yes we do. We offer a professional installation service via our inhouse teams of installers.
All carry photo ID, are DBS checked and are trained to industry recognised standards.
How much does it cost to install vinyl graphics?
The price depends upon the complexity of the design, how many window stickers we would be installing and a number of variables.
e.g Travel time, can we only install at night, how easy is it to access the shop windows, is it one sticker or a thousand etc.
Please contact us and we will be happy to help answer your questions and provide a cost.
Can you deliver for me to install?
Of course! We can deliver to you anywhere in the UK.
If you prefer, you can also arrange collection from our premises in Clevedon, on the edge of Bristol.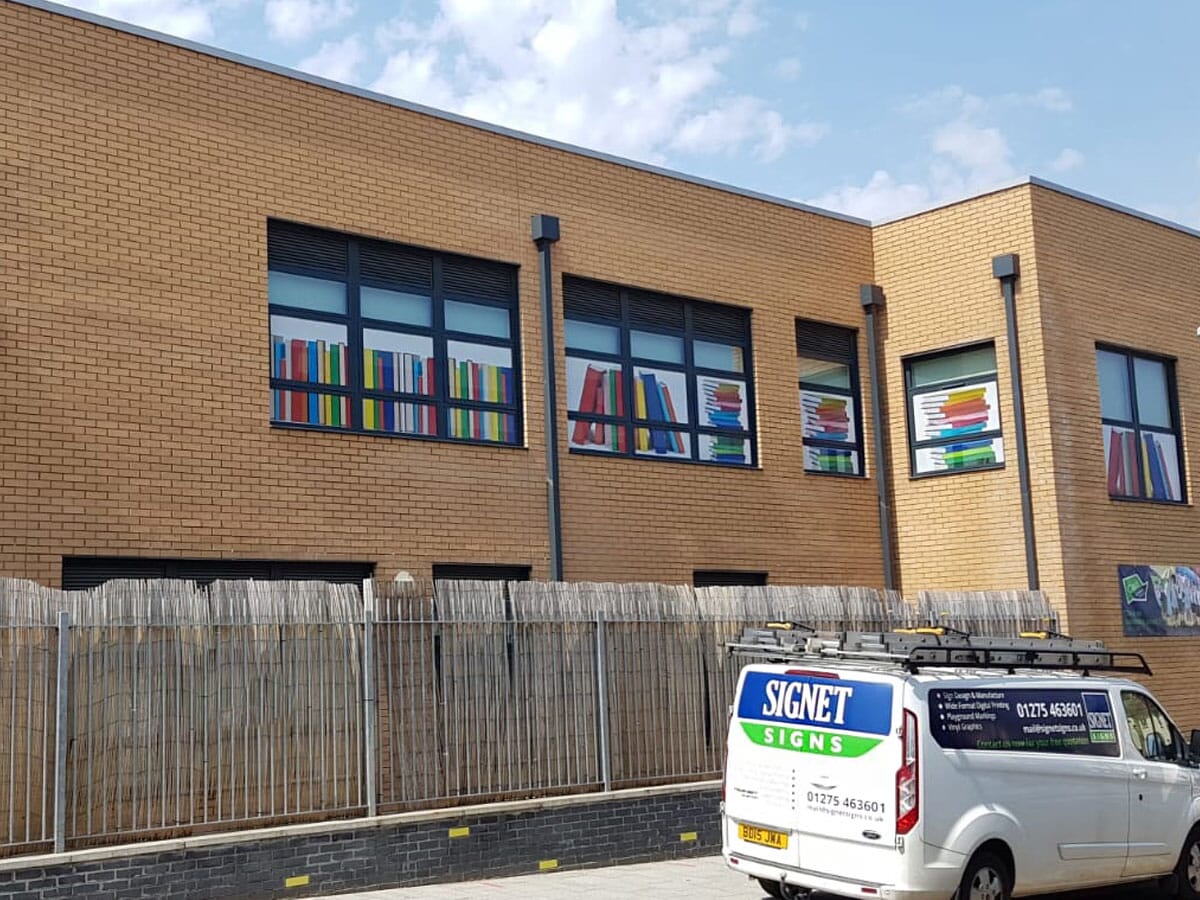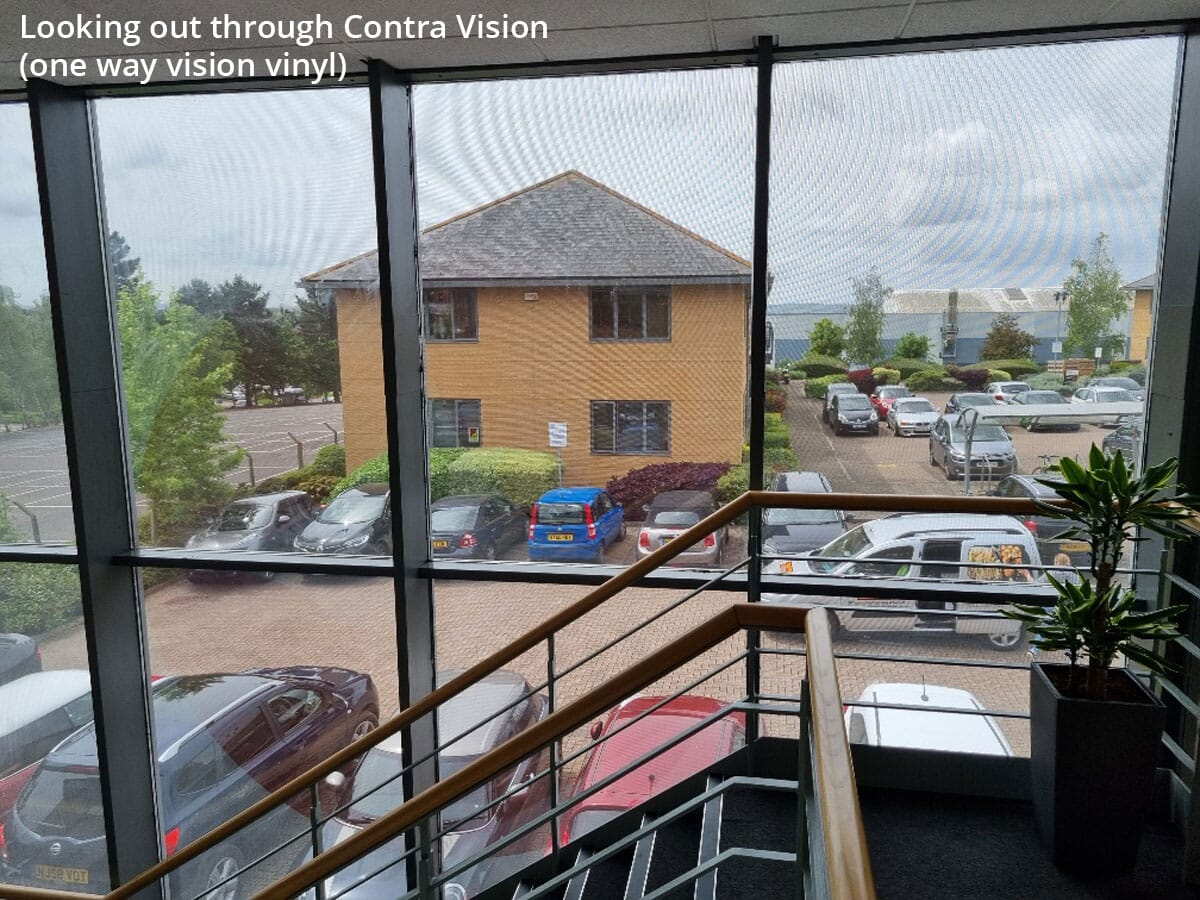 Do window decals go inside or outside?
Window decals (window sticker & window graphic) will normally be applied to the inside surface of the window so they face outwards. This ensures people outside can not damage the print or quality of the material as the material is on the inside of the shop window, whereas they are outside.
Sometimes it's not possible or practical to do this.
A perforated window graphic must be applied to the outside face of the window to work.
If the building has tinted glass windows, this may cause the issues with the visibility of any window stickers applied to the inside of the windows. White vinyl has the best chance of standing out, but most forms of vinyl stickers or window vinyls will need to be installed on the outside of the glass. (If in doubt, stick a sheet of A4 paper to the glass & look at it from the other side of the window).
What about window stickers for vehicle windows?
Please see our vehicle graphics page for more information.
Do you have examples of window graphic designs for inspiration?
We have a gallery of some of the works we have completed. It's not all our products, but we hope it helps you with your shop, office buildings, business window graphics project.
Remember we offer a design service too!
How do I get a quote or expert advice from you?
You'll get a quick response via the enquiry form below or by sending us an email. Alternatively, we are just a phone call away.
We're a friendly team and happy to help!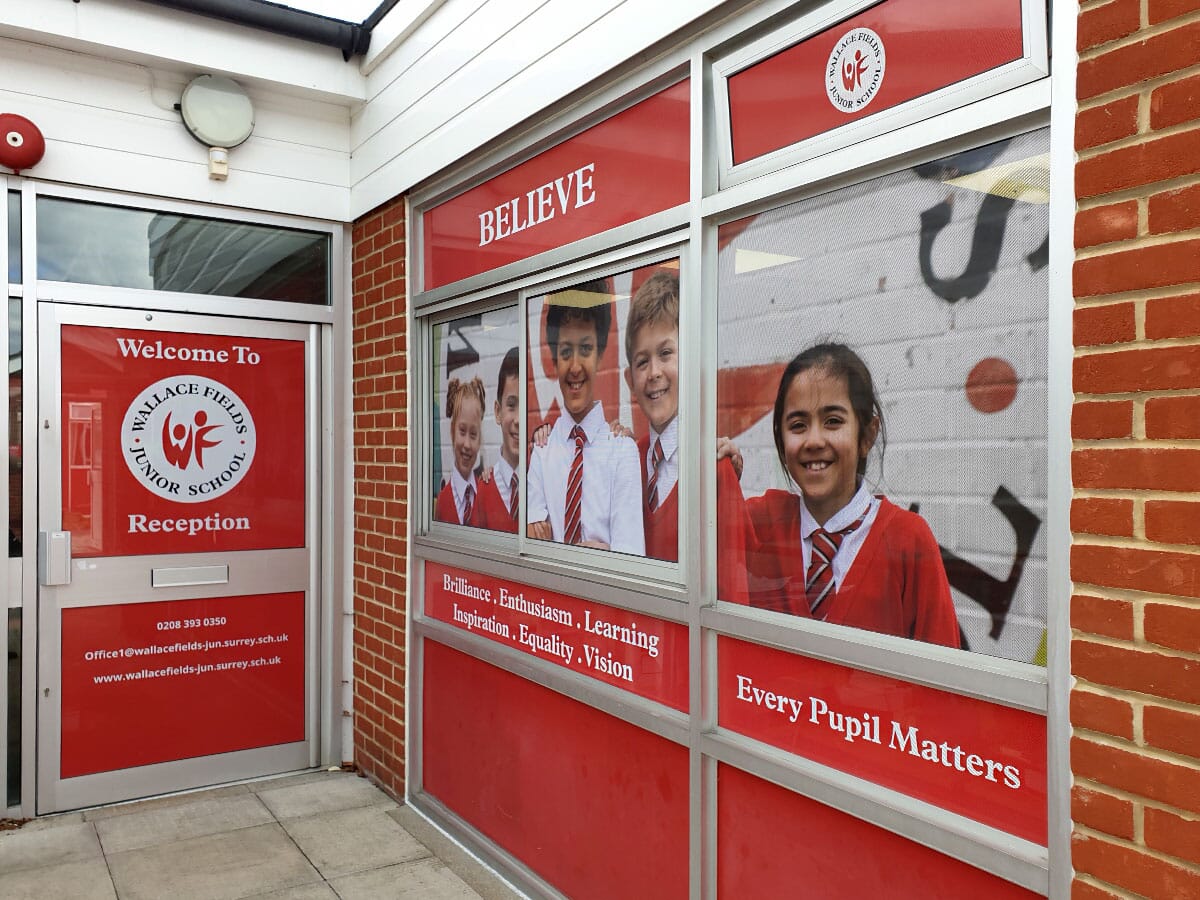 We'd love to hear from you
If you're looking to get started with a new project, or you want to discuss some options, get in touch with our friendly team:
Why choose Signet Signs?
We are a family run signage company, established in 1971, and are proud of our long standing reputation for exceptional customer service.
Whatever your signage projects requirements, we promise to provide a transparent experience and to keep you fully informed every step of the way.
Family run business
We specialise in the design, manufacture & installation of signs.
Highly experienced
Established in 1971, we're extremely experienced
Superbly equipped facilities
We use the latest machines & technologies, all in house