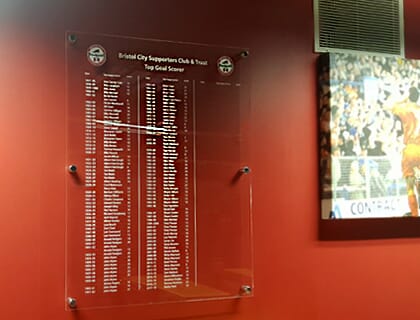 Honours Boards
Acrylic Honours Boards
Looking for an honour board that is both stylish and functional? Look no further than our range of acrylic honours boards! Made from high quality acrylic, our honour boards are designed to withstand the rigours of daily use while still looking amazing. And if you need help with installation, our team can assist you every step of the way. So why not honour your achievements in style with one of our acrylic honours boards today!
Acrylic Honours Boards
Our acrylic honours boards are manufactured in-house and cut using lasers. This allows us to produce a near-infinite amount of shapes with an incredibly polished edge.
Each acrylic honours board comes complete with silver barrel fixings allowing the board to be securely fixed to a suitable wall.
We can supply our acrylic honours boards either with an etched film to the back or completely transparent.  Etched glass effect films are useful when you need to create a neutral background behind the text making it easier to read the names.  For example, if the wall is a dark colour or has patterned wallpaper this would make it hard to read the dates & names, therefore we would recommend the use of the etched glass film to the reverse.
On the other hand, transparent honours boards will be used the majority of the time with text that will be easy to read against the wall colour.  ie: Magnolia / white walls.
Enquire Today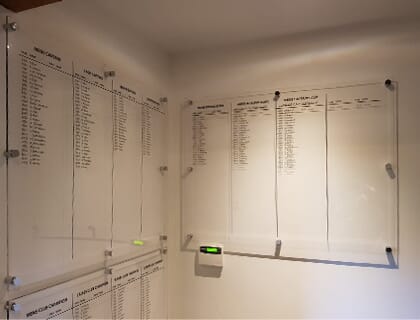 Do you make bespoke sizes?
Yes! Please contact us for a quotation.
How many names will fit on a board?
That depends on how big the letters are but don't worry. Please contact us and we'll be able to help.
How do we update the board in the future?
We hold all artwork on file, so just need to know what details you need to add.
Honours Board Prices
As one of the longest standing honours board suppliers, we've put together a helpful guide to the commonly asked honours board questions we get asked.
Whats included within your honours board prices?

All the names, all the competition headers, any dividing lines.. basically every single bit of text you want on the board is included within the price.

Whats not included within your honours board prices?

Digitally printed logos.  These need a reasonable bit of work at our end and so there is a charge of £40+vat to have your logo on the board.

Is delivery included within your prices?

Yes. The price includes delivery to any mainland UK address.

What about future updates when we need more names next year?

You simply order the names each year, then we send them to you and you can apply the names onto the board. There is a small cost for this.

Is it hard to apply the names each year?

Without wishing to belittle the skill of honours board suplliers, no it's not.  We supply them on an application sheet and it's simple to apply them.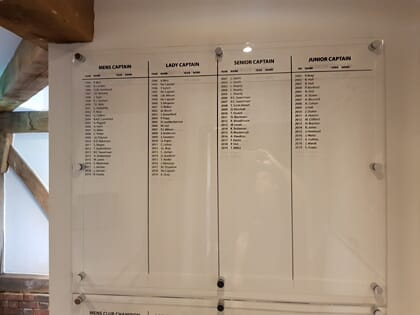 We'd love to hear from you
If you're looking to get started with a new project, or you want to discuss some options, get in touch with our friendly team:
Why choose Signet Signs?
We are a family run signage & thermoplastic marking company, established in 1971, and are proud of our long standing reputation for exceptional customer service.
Whether its shop signs or thermoplastic playground markings we promise to provide a transparent experience and to keep you fully informed every step of the way.
Family run business
We specialise in sign & playground marking
Highly experienced
Established in 1971, we're extremely experienced
Superbly equipped facilities
We use the latest machines & technologies, all in house