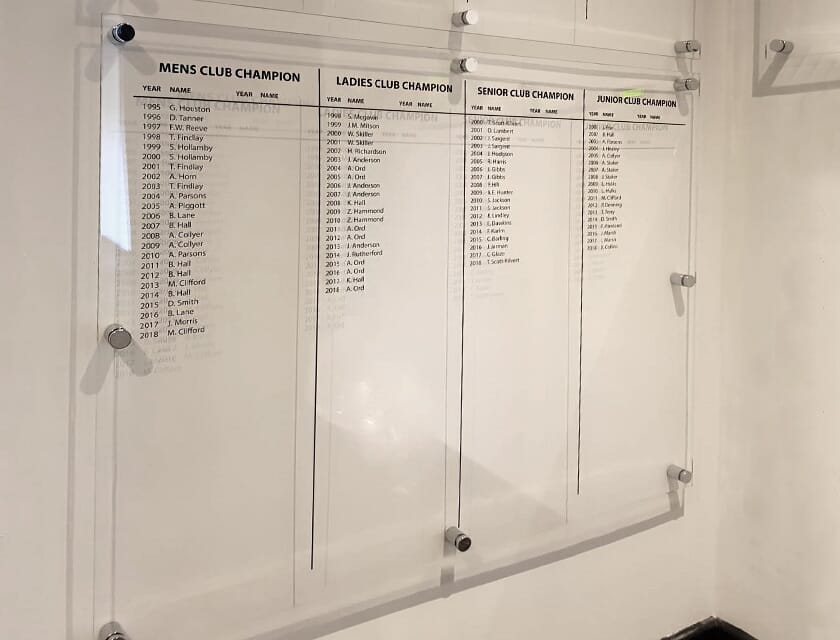 Honours Boards
Acrylic Honours Boards
Looking for acrylic honour boards that are both stylish and functional?
Look no further than our range of acrylic honours boards!
Made from high quality acrylic, glass effect, our honour boards are designed to withstand the rigours of daily use while still looking amazing. And if you need help with installation, our team can assist you every step of the way.
So why not honour your achievements in style with one of our honours boards today!
How much do Acrylic Honours Boards cost?
We've kept our pricing simple.
The price for our standard sizes includes as many names, competition headings, printed logos, any dividing lines, any shape, club names, etched films, coloured backgrounds, and the fixings. In short absolutely everything 99% of our customers would ever want on a board, all in one easy to understand price.
If you have any questions at all, please email or call us. We're a friendly bunch and happy to help if you need any advice at all.
Enquire Today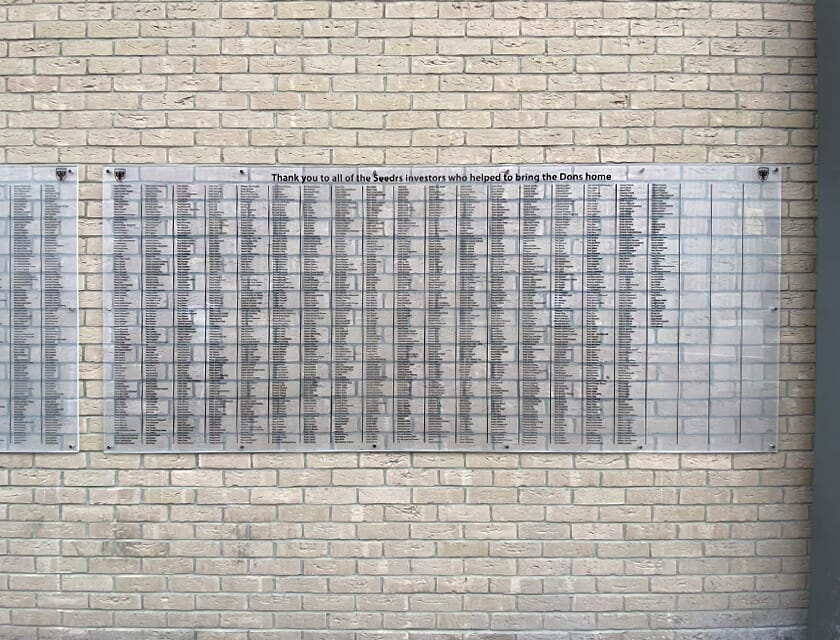 How do you make honours boards?
All our boards are made by us in the UK
Our acrylic honours boards are manufactured in-house either on our laser cutting tables or automated CNC routers which allows us to produce them at incredible levels of accuracy.
This allows us to produce a near-infinite amount of shapes and bespoke sizes with a smooth polished edge. Each honours board comes complete with barrel fixings allowing the board to be securely fixed to a suitable wall.
Bespoke sizes?
We can make any size or shape honours board you require. If need a honours board to fit into a particular space, please let us know the measurements and we'll be happy to help.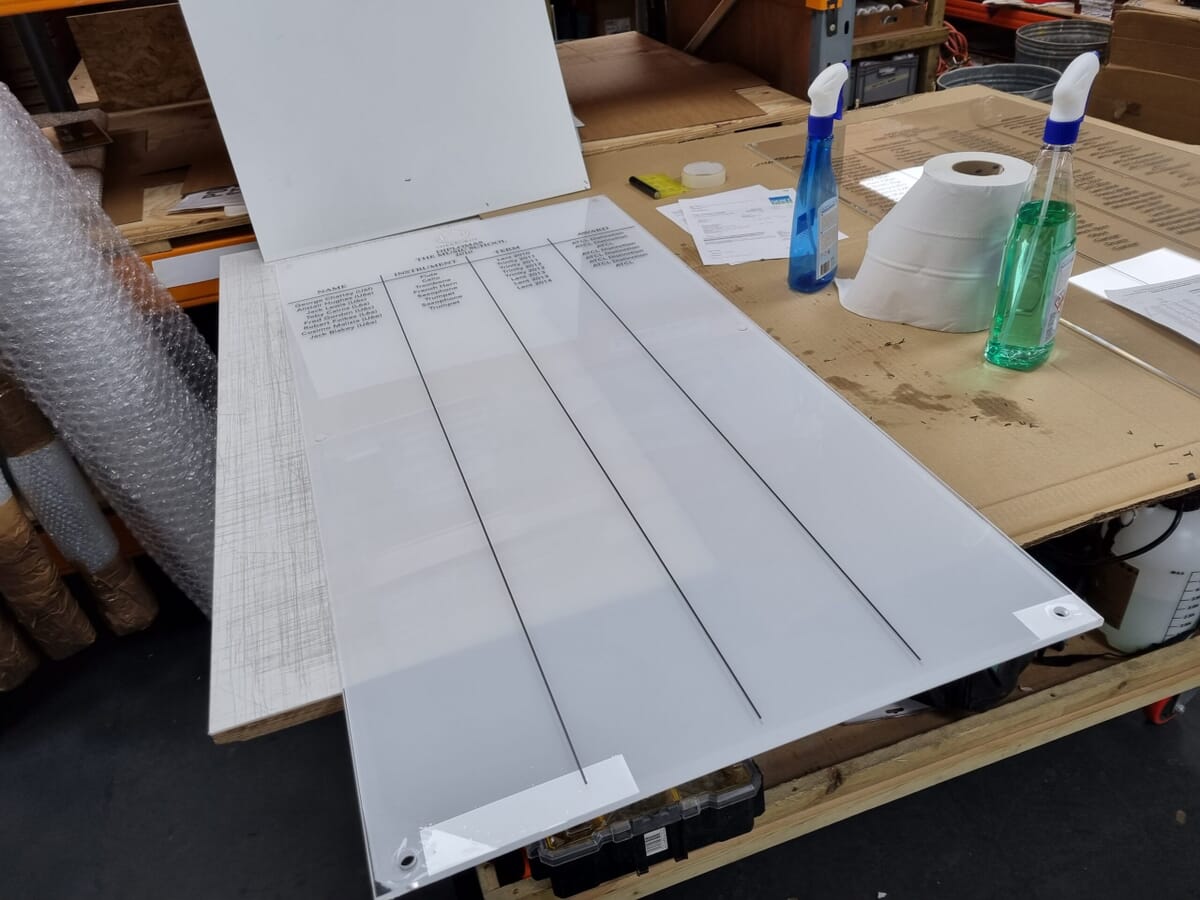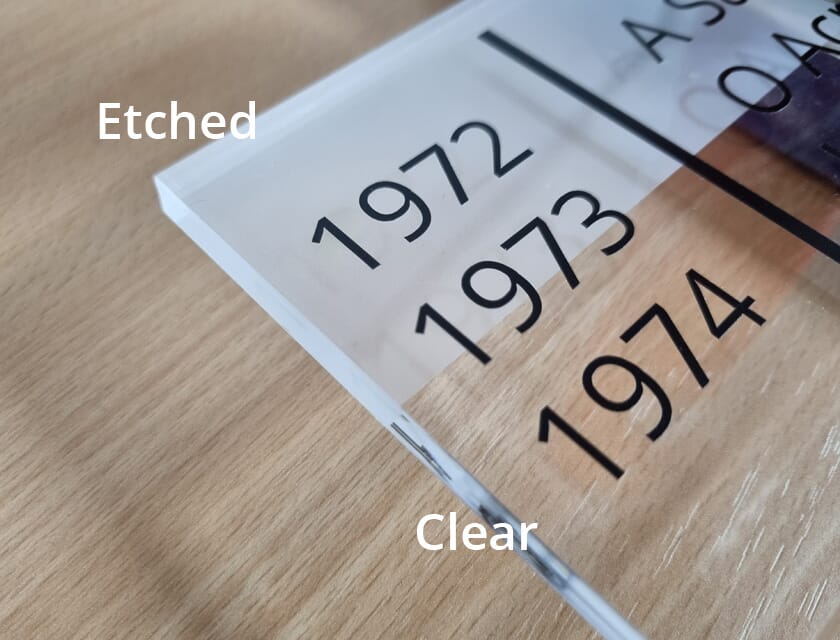 Honours board backgrounds, clear, etched or coloured?
Huge range of backgrounds to suit your needs
An etched film applied to the back of the honours board provides a smooth sandblasted effect as a background.
Very useful if you have dark walls where the text may not show up very clearly if the board was left transparent.
Coloured films can also be applied in the same way.
If you wanted a blue background, club colours for instance, we could apply a blue film to the back of the honour boards.
If colour samples are required, we're always happy to send them out.
Frequently asked questions (FAQ) - part 1
The most commonly asked questions we get asked
As one of the longest standing acrylic honours board suppliers, we've put together a helpful guide to the commonly asked questions we get asked.
Whats included within your honours board prices?
Absolutely everything on the board. All the names, all the competition headers, any dividing lines, club logos, backing films… basically every single things you'd normally want on the board is included within the price. We're good like that.
Whats not included within your honours board prices?
Delivery. Which can be avoided if you'd like to collect your order from our premises.
Can we have our club logo on the board?
Absolutely. We're a sign making company so are very well set up to print logos.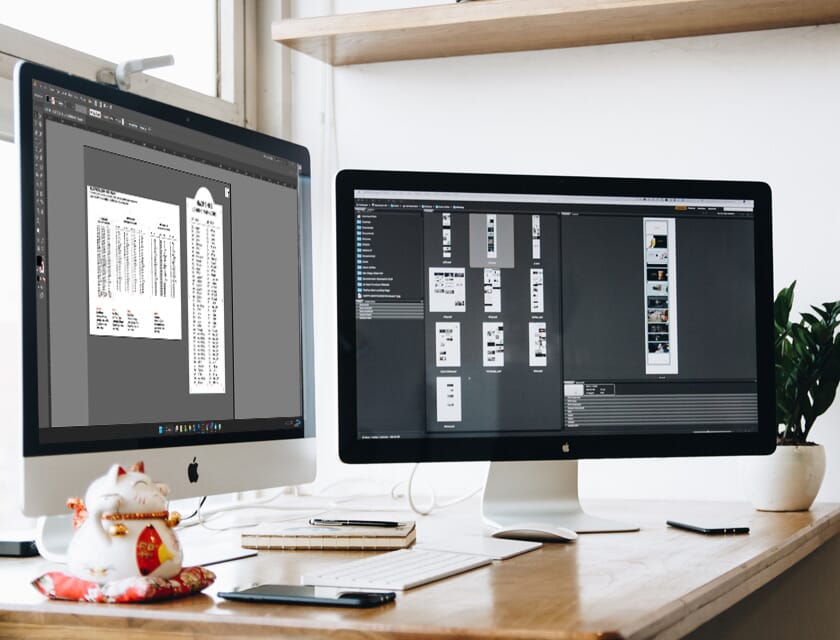 Frequently asked questions (FAQ) - part 2
Part two of our helpful guide
How do I update my honours boards in the future?
The ordering process is very simple.
You email us the names & years you want, and we'll mail them out to you at a small cost.
If for example you need 10 new names and dates, then you'd send us an e mail with your requirements.
We then send a proof back showing the board with the new information on it.
If you're happy then let us know and we'll mail the lettering out for you to apply to your existing honours boards. There is a small cost for this.
It's not hard to do. In fact the video here shows you exactly how to apply honours board lettering. This is more information written on updating honours boards here.
Can we have our club logo on the board?
Absolutely. We're a sign making company so are very well set up to print logos
Frequently asked questions (FAQ) - part 3
Final part of the commonly asked questions
How do I know what size board I need?
The best way to work out how large the board needs to be is to ask us.
We just need to know how many columns you need on the board, and how many names will be in each column. As an example, you could say I need a board with 5 columns in total, 3 of them will have 1 name (singles competition winners) and 2 of them will have 2 names (pairs competition winners). We'll then calculate how large the board should be and let you know.
How to install an acrylic honours board.
It's easy enough to do yourself, no more complex than hanging a picture on a wall but if you worried, please contact us before proceeding. We're only a phone call away and our friendly team will be happy to help.
We offer an installation service but 99% of our customers install the boards themselves. Saves money, and it's easy to do.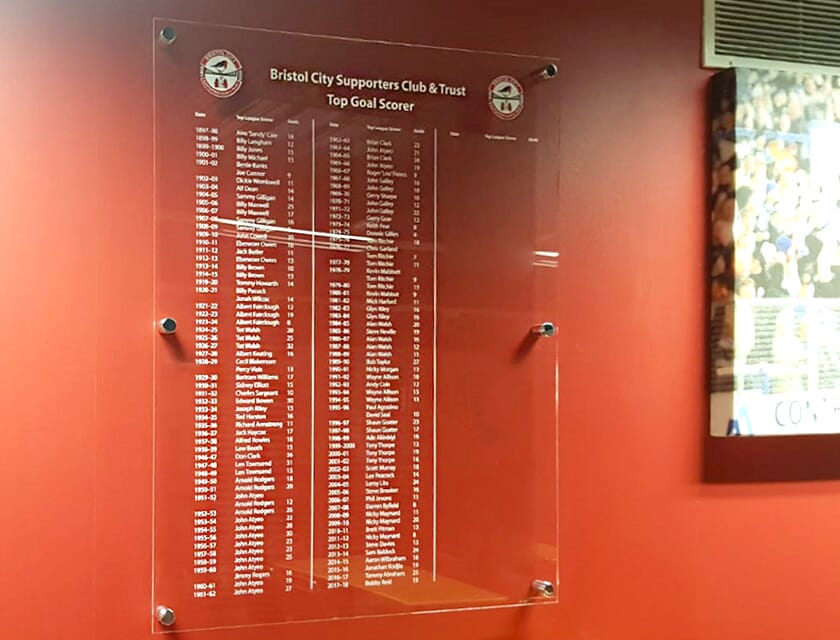 We'd love to hear from you
If you're looking to get started with a new project, or you want to discuss some options, get in touch with our friendly team:
Why choose Signet Signs?
We are a family run signage company, established in 1971, and are proud of our long standing reputation for exceptional customer service.
Whatever your signage projects requirements, we promise to provide a transparent experience and to keep you fully informed every step of the way.
Family run business
We specialise in the design, manufacture & installation of signs.
Highly experienced
Established in 1971, we're extremely experienced
Superbly equipped facilities
We use the latest machines & technologies, all in house