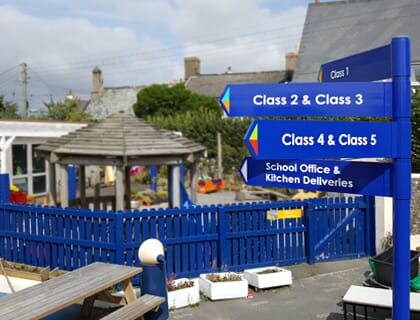 Directional Signs
Finger Posts
Finger post signs are a type of sign that helps people find locations.
They are typically found in rural areas and consist of a post with fingers pointing in different directions. Each finger indicates a different location which can be very helpful for people who are unfamiliar with an area
Finger Post Signs
Our Finger Post Signs are fitted onto 76mm diam posts.  Each panel is a solid riveted 12swg aluminium panel mounted onto a metal bracket to encompass the post.
Once the finger panel is pointing in the correction direction, a grub screw is tightened to ensure no further rotation can occur.
Main Points of Information.
Standard finger plank dimensions; 750mm x 165mm.
Suited to 76mm posts, either onto existing or now posts.
Grub screw friction fit stops unwanted rotation of panels.
Single directional finger panel per level.
Can be powder coated to any standard or non standard RAL colour as you require.
The finger post systems allow one finger per level and are perfect for use as a way finding sign.
NOTE: Road regulations specify minimum mounting height of 2100mm over pedestrian footpaths and 2300mm over cycle lanes.
If you're looking for a larger way finding system, which can advertise local businesses too, have a look at a signage totem.
Enquire Today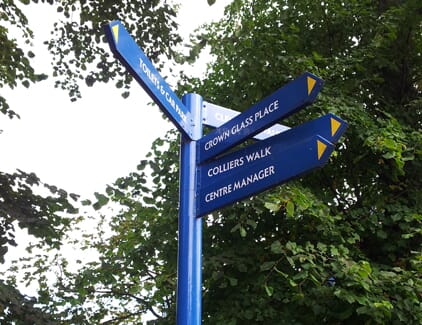 We'd love to hear from you
If you're looking to get started with a new project, or you want to discuss some options, get in touch with our friendly team:
Why choose Signet Signs?
We are a family run signage company, established in 1971, and are proud of our long standing reputation for exceptional customer service.
Whatever your signage projects requirements, we promise to provide a transparent experience and to keep you fully informed every step of the way.
Family run business
We specialise in the design, manufacture & installation of signs.
Highly experienced
Established in 1971, we're extremely experienced
Superbly equipped facilities
We use the latest machines & technologies, all in house