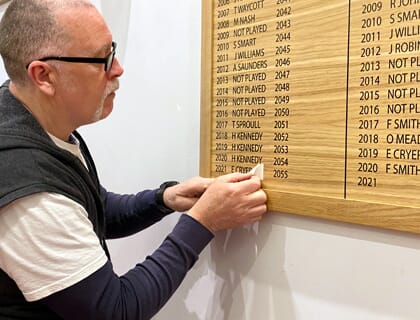 Honours Boards
Honours Board Lettering
Honour board lettering is a great way to keep your honour board looking up to date. You can apply the lettering yourself, and we even have a short instructional video to show you how!
Honours Board Lettering
If you purchased either your wooden honours board or your acrylic honours board from us then we will have kept the artwork on our server for future updates.  Pleaase contact us and we'll get a price & proof quickly over to you.
However, if you've got an existing honours board and we didn't manufacture it then things become slightly more tricky depending on how accurate you need the new names to be.
At a bare minimum we can supply names to a specified height, font and colour.  ie: Gold PVC lettering with a cap height of 12mm.
If you're looking for something more accurate then we have three options available.
Send / bring the honours board to us.   We can then get all the measurements we need, colour match the text and identify the font.
We complete a site survey, obtain all the measurements, colours, fonts we need.  Please note that there may be a charge for this service if you are not local to us.
Provide us with a pencil & paper rubbing of the areas which need updates.  We can then take the measurements we need from this, albeit colour matching will be done as best we can to a photograph.
Whichever route we take, we can then either install your honours board lettering for you or we can send it out on an application strip.  You position the strip on the board, rub down the application strip and then peel it off.  This wil leave the lettering behind on the board.   All done!
We hope this helps and look forward to hearing from you.
Enquire Today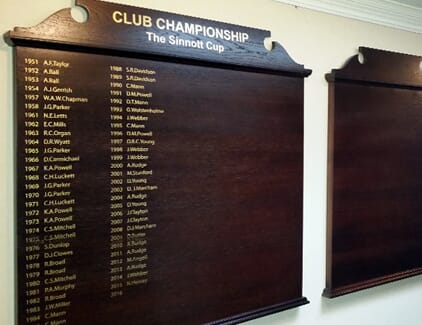 We'd love to hear from you
If you're looking to get started with a new project, or you want to discuss some options, get in touch with our friendly team:
Why choose Signet Signs?
We are a family run signage & thermoplastic marking company, established in 1971, and are proud of our long standing reputation for exceptional customer service.
Whether its shop signs or thermoplastic playground markings we promise to provide a transparent experience and to keep you fully informed every step of the way.
Family run business
We specialise in sign & playground marking
Highly experienced
Established in 1971, we're extremely experienced
Superbly equipped facilities
We use the latest machines & technologies, all in house
Looking for Honours Boards?
We produce wooden & acrylic honours boards
Please click on the link Wooden Honours Boards to view our helpful price guide and information regarding wooden honours boards.
Whether you're looking for one of our 'off the shelf' sizes or a bespoke wooden honours board, we are here to help.
Likewise, if Acrylic Honours Boards are better suited to your requirements then we have a whole page dedicated to them along with price guides, examples of honours boards and more information.