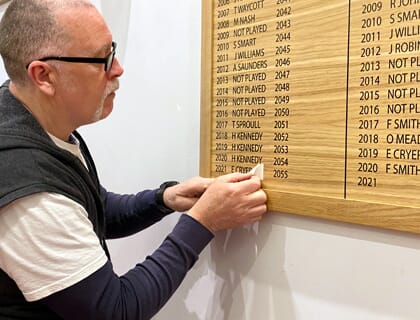 Honours Board Names, Dates, Titles, Lines and more.
Honours Board Lettering
Honour board lettering is a great way to keep your honours boards looking up to date.
We have a wide range of colours, huge range of fonts (just over 43,000), quality vinyls and are very well versed in helping our customers to get their honours board lettering right.
Many clubs apply the vinyl lettering onto the honour boards themselves saving money which would have been spent on someone coming out to install.
If you'd like to see how the letters are applied before having a go yourself, we have a short instructional video to show you.
Vinyl Lettering for Honours Boards
If you have existing boards and they were supplied by us then we will have kept details of the vinyl lettering as an artwork file our server. This file will contain the colour, font, format, signs and detail that we need to ensure your future updates are correct and will easily line up on your honour boards when applied.
If you're not sure if we made the boards or not, please contact us. We'll be able to look back in our records, see if your school, business, club, organisation purchased your honour boards from us and assist. Even if they were not, we'll be able to help.
Our records go back nearly 20 years so rest assured, even if you wish a year or 10… we'll be here to help out when you're ready.
Please contact us (email, phone or enquiry form at the bottom of this page) and one of our team will get a price & proof quickly over to you.
Once you're happy with the proof we can then proceed to supply you with the vinyl names, as displayed on the proof, ready for you to apply to your wooden or acrylic honours boards.
Enquire Today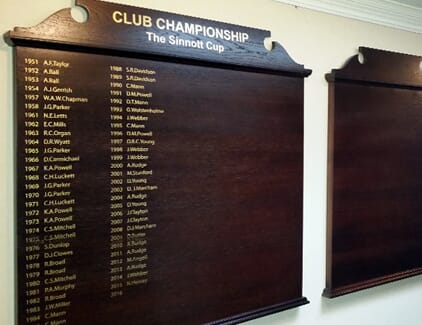 Vinyl Lettering for Honours Boards
If you didn't get your boards from us, we can still help.
If you've got honours boards and we didn't manufacture them then things become slightly more tricky but the good news is that we've helped other customers with their custom updates.
Whether it's a list of winners, school championship honours boards or a company patent award honours board. We are absolutely here to help!
So how do we do this?
Information we need
At a bare minimum we can supply names to a specified height, font and colour.  You just need to let us know how tall a capital letter is, and send a clear photo of the board.
The photograph doesn't have to show the whole board, just a good section so we can see the font.
Oh and please don't forget to tell us what needs to be updated on the board so we can quote.
This is how we produce the names for the majority of our customers who've got the honour boards elsewhere. The benefit is that the following year we have the details on file so can easily replicate the text.
The more accurate way
If you're looking for accurate replication of the existing honours boards details then we have three options available.
Send / bring the honours board to us.   We can then get all the measurements we need, colour match the text and identify the font.
We complete a site survey, obtain all the measurements, colours, fonts we need.  Please note that there may be a charge for this service if you are not local to us.
Provide us with a pencil & paper rubbing of the areas which need updates.  We can then take the measurements we need from this, albeit colour matching will be done as best we can to a photograph.
Whichever route we take, we can then either install your honours board lettering for you or we can send it to you to apply yourself.
Our video of 'how to apply honours board lettering' might be of use if you've not done this before. Spoiler alert… it's not that hard to do.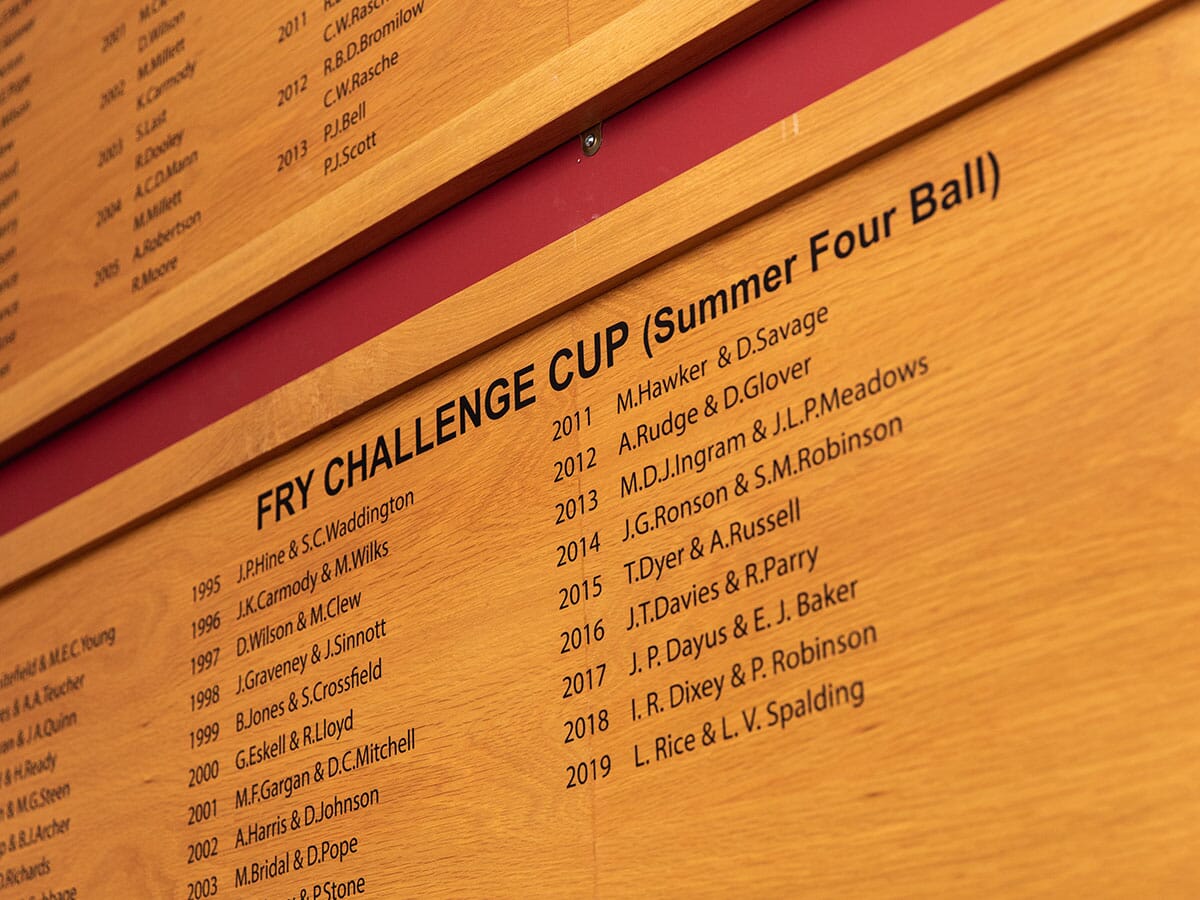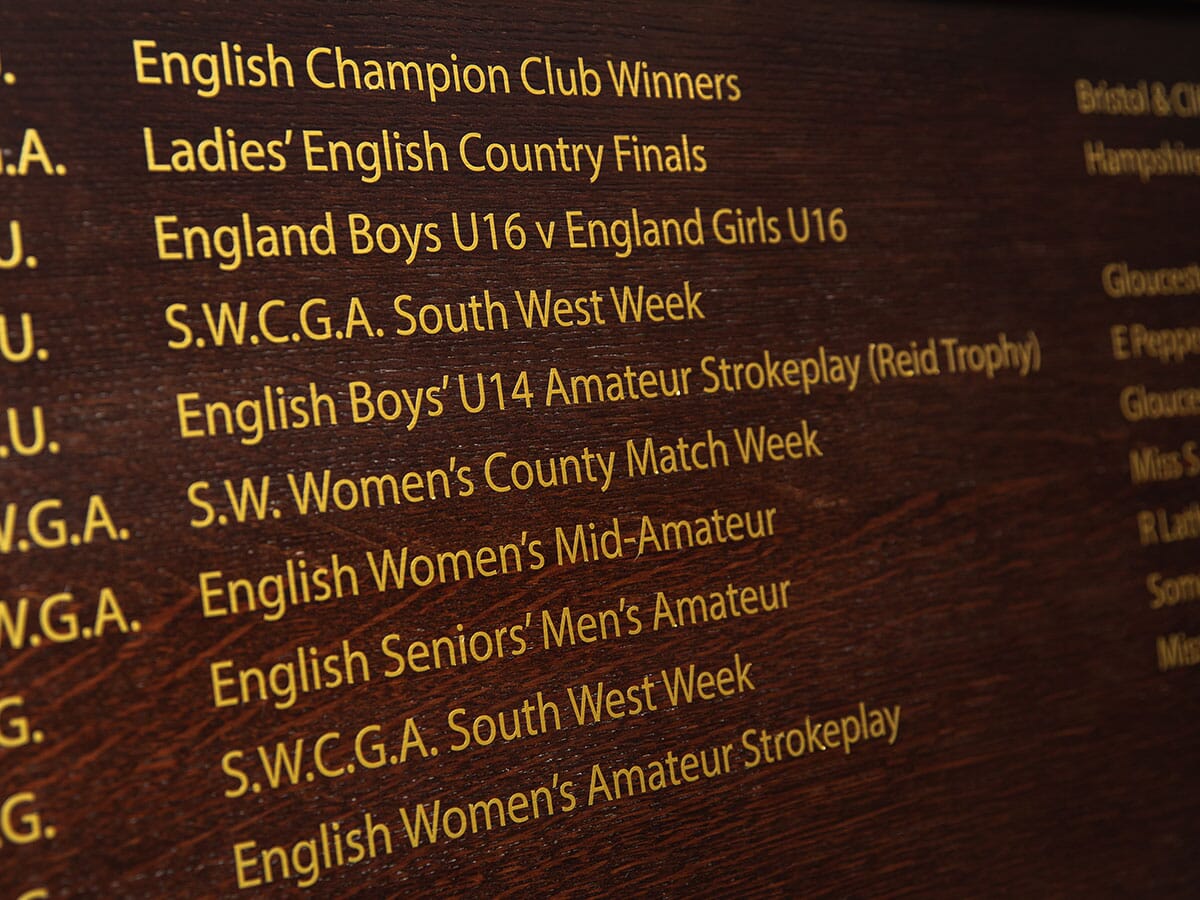 Gold Leaf Writing for Honours Boards
A traditional way of adding details to an honours board
Gold leaf is used on the older, traditional honours boards.
We see less of less of these as times goes on simply due to the cost of updating them in gold leaf compared to vinyl names & dates.
Gold leaf isn't something we are able to help with, sorry!, but… we can most definitely help with vinyl names, dates, club titles, competition headings.
In fact we can help with any form of vinyl graphics (names, dates, lines etc) but we just don't provide a service for gold leaf details on honour boards as it's so rarely used nowadays.
We'd love to hear from you
If you're looking to get started with a new project, or you want to discuss some options, get in touch with our friendly team:
Why choose Signet Signs?
We are a family run signage company, established in 1971, and are proud of our long standing reputation for exceptional customer service.
Whatever your signage projects requirements, we promise to provide a transparent experience and to keep you fully informed every step of the way.
Family run business
We specialise in the design, manufacture & installation of signs.
Highly experienced
Established in 1971, we're extremely experienced
Superbly equipped facilities
We use the latest machines & technologies, all in house