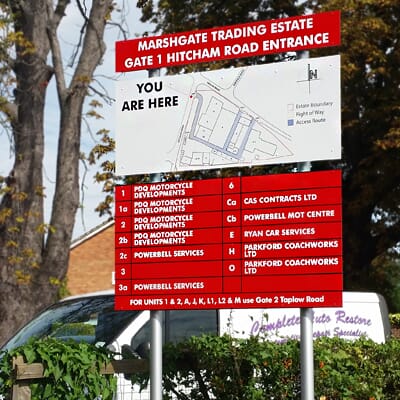 Estate Signs
Estate Signs
Industrial Estate Signs
If you're a company owner or manager of an industrial estate, then you'll know that there's a lot to think about when it comes to estate signs.
You'll need directory signs to list the businesses on the estate, as well as warehouse signs for each unit. And of course, you'll want all of this to be made by a reputable and reliable company.
That's where Signet Signs Ltd comes in. We're experts in estate signage, and we're here to help you make sure that your estate is well signposted and easy to navigate.
Types of Estate Signs
There are two main types of estate signs: directory signs and warehouse or unit signs.
Directory signs are usually located at the entrance to the estate, and they list all of the businesses that are based there. This is helpful for visitors who may not be familiar with the area, and it means that they can easily find the business they're looking for.
Warehouse signs, on the other hand, are located on each individual unit on the estate. They usually include the name of the business and their contact details, so that anyone visiting the unit can easily get in touch with them. These signs are essential for estates that have a lot of units, as they help to make sure that everyone can find their way around without any problems.
Signet Signs Ltd - Your Trusted Partner for Estate Signage
At Signet Signs Ltd, we understand how important it is to get your estate signage right. That's why we work closely with our clients to make sure that we deliver exactly what they need.
We have an excellent reputation in the industry, and we're known for our high quality products and outstanding customer service. We have over 50 years of experience in supplying high quality signs for industrial estates, and we're dedicated to providing our customers with exactly what they need.
We'd love to hear from you
If you're looking to get started with a new project, or you want to discuss some options, get in touch with our friendly team:
Why choose Signet Signs?
We are a family run signage company, established in 1971, and are proud of our long standing reputation for exceptional customer service.
Whatever your signage projects requirements, we promise to provide a transparent experience and to keep you fully informed every step of the way.
Family run business
We specialise in the design, manufacture & installation of signs.
Highly experienced
Established in 1971, we're extremely experienced
Superbly equipped facilities
We use the latest machines & technologies, all in house