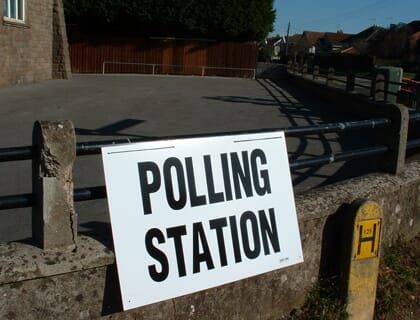 Polling and Election Sign Supplier
Polling and Election Signs
Looking for a way to make your polling station or ward stand out? Look no further than our amazing range of polling station signs!
Our table dividers and banners are perfect for directing voters and creating a professional atmosphere.
Plus, they're easy to set up and take down - perfect for busy election days!
50+ Years being the UK's No.1 Supplier
We have been providing Polling & Election signage for Local, National and European elections for over half a century.
Our continued development, fast turnaround and competitive prices have allowed us to become the UK's No. 1 Supplier.
Our signs have been used all over the UK, with many of the media outlets taking photographs of them (or more likely political party members).  We've even been interviewed by the Financial Times for an article!
For your convenience we have a dedicated catalogue showing all products and pricing which can be downloaded from the link below.
To place an order, simply email or call us.
We'll always confirm the order back to you by email for approval, and once approved we will commence manufacture of your Polling and Election signage.
Enquire Today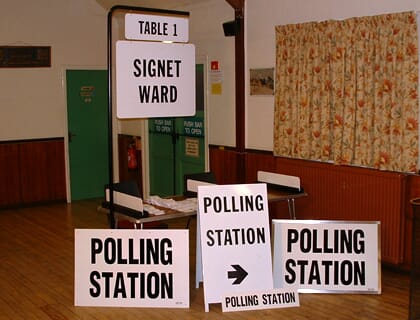 Have a question?
Please give us a call or our contact form is below.
Delivery
We deliver direct to you at your depot, your premises, wherever you need.
Need a quote?
We're happy to help! Get in contact with us and we'll email a quote to you.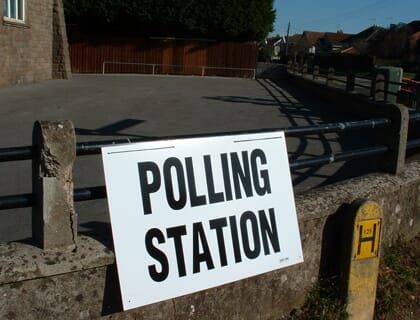 Polling Station Signs
Polling Station Signs
Polling Station Signs
Size: 890 x 590mm (89 x 59cm)
Material: Waterproof fluted plastic
Fixings: Pre-drilled for your ease of fixing / hanging.
Print: Single or double-sided.
Notes: Can be customised to suit your requirements.
Prices can be viewed on our Polling & Elections Signs website.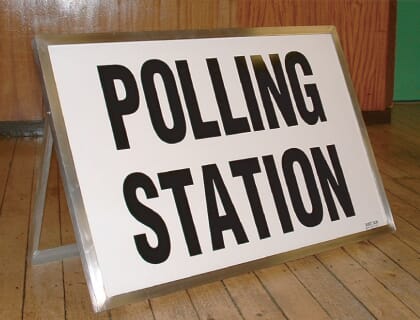 Polling Station Sign
Free Standing Polling Station Signs
Free Standing Polling Station Sign
A silver aluminium frame protects the 3ft x 2ft sign, whilst the self locking hinged backstay allows the sign to be erected in seconds.  In windy areas a sand bag can draped over the backstay to provide security.   When not in use the backstay folds flat for each of storage.
Prices and discounts for quantity can be viewed in our Polling & Elections Signs and Equipment catalogue linked just below.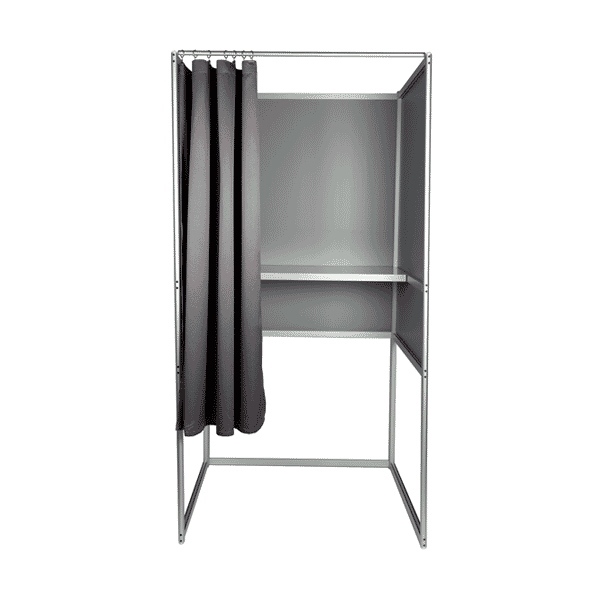 Polling Booths
The Ultimate Polling Booth
Our Voting Booth is widely recognised across Europe and has been used in Local, General and European elections, it is incredibly lightweight and can be folded down for easy storage and to be easily transported.
We also offer a transport bag which can be found on our sister website Polling Signs, to make the easy job of moving the voting booths, even easier. If you require a larger size voting booth we also offer the "The Ultimate Voting Booth – Plus" which can also be found on that website.
Dimensions
1m (L) x 1m (W) x 2m(H)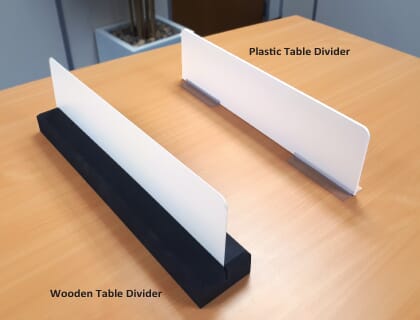 Counting Table Dividers
Wooden & Plastic Table Dividers
Wooden Table Divider
A solid wooden base with a white plastic insert with rounded corners for safety. Inserts are blank as standard but can be printed with any text or numbering system at no extra cost.
Plastic Table Divider
Clear plastic upstands hold a white plastic insert in place. As per above, the inserts can have graphics printed onto them should you require.
Prices and discounts for quantity can be viewed in our Polling & Elections Signs and Equipment catalogue linked just below.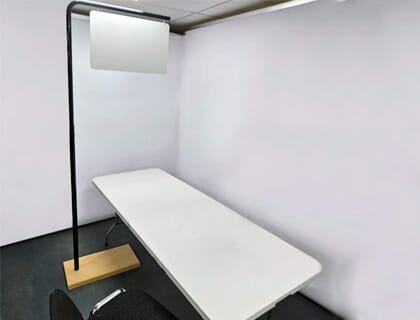 Counting Table Ward Signs
Standard & Easy Handle Ward Sign Systems
Our Ward Sign & Pole Systems come in two different styles.
Standard System (One Piece Stand)
A black steel tube with a white plastic sign (graphics on both sides) held at the top clearly conveying the ward table.
A quality timber base at the bottom ensures the poles are sturdy.
Easy Handling System (Two Piece Stand)
As per Standard System but with the advantage that the pole is a two piece item and thus one half will slide inside the other for each of transportation and storage.
Assembly takes a minute per pole.
Prices and discounts for quantity can be viewed in our Polling & Elections Signs and Equipment catalogue linked just below.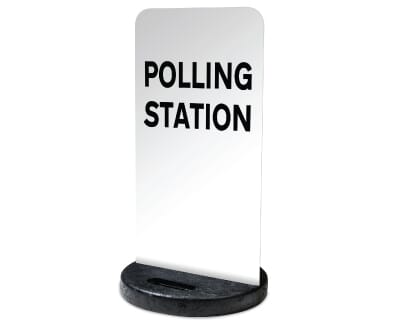 Polling Station Signs
Budget Flexi Signs
Budget Flexi Polling Station Signs
A tempered aluminium panel (won't rust) with graphics to both sides.  Directional arrows can be included if you wish.
Base is manufactured from recycled plastic and is tough and durable.   The unit is quick and easy to assemble with no tools required.
Prices and discounts for quantity can be viewed in our Polling & Elections Signs and Equipment catalogue linked just below.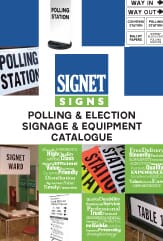 More signs...
Our catalogue
Whilst we are often copied, which we find flattering, we are never knowingly equalled.
We manufacture all of our products ourselves and therefore have complete control over the quality and turnaround times.   Likewise, should you require something bespoke to yourselves we are in a position to help.
A full range of our products are on our Polling & Elections website linked below.
We'd love to hear from you
If you're looking to get started with a new project, or you want to discuss some options, get in touch with our friendly team:
Why choose Signet Signs?
We are a family run signage company, established in 1971, and are proud of our long standing reputation for exceptional customer service.
Whatever your signage projects requirements, we promise to provide a transparent experience and to keep you fully informed every step of the way.
Family run business
We specialise in the design, manufacture & installation of signs.
Highly experienced
Established in 1971, we're extremely experienced
Superbly equipped facilities
We use the latest machines & technologies, all in house