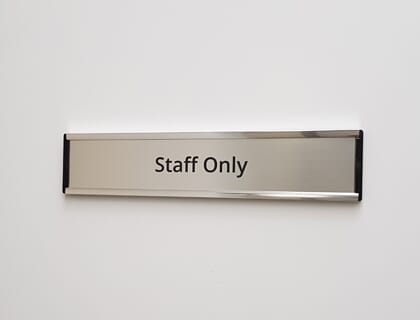 Door Signs
Office Door Signs
Door Signs
Our office door signs are precision cut (laser or router), allowing us to produce very professional and intricate door signs at competitive prices.
Whether it's an office door sign, a doctor's room name, or a mandatory safety sign, you can be assured of our quality & expertise.
With multiple material options to choose from, we can manufacture a door sign to suit your requirements.
For your convenience, we have detailed some of the traditional door sign styles below along with an explanation of use and specification.
We hope this helps and if you have any questions at all, please do not hesitate to contact us.
Enquire Today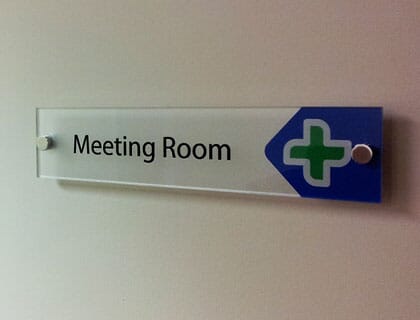 We're here to help
Please feel free to calls if you have any questions. 01275 463601
Can we purchase online?
Our Interchangeable door signs can be, all other items are made to order.
Looking for us to replicate an existing sign system?
Please send as much detail as you can, including clear photographs, to us by email.
Interchangeable Office Door Signs
For signs which need changing daily.
Perfect for situations where a door sign is regularly changed. i.e. Doctors / dentists / offices.
The aluminium frames measure 255 x 55mm (available in Silver or Gold) and come with screw holes and double-sided adhesive tape for ease of fixing.
The inserts (variety of colours to choose from) slide in / out as required and can be purchased separately allowing for cheap & easy updates in the future.
Font can be changed to suit your requirements but is Open Sans as standard as it is a clean font helping those with vision impairments.
We have a dedicated online order page for these interchangeable office door signs, please click the order button below.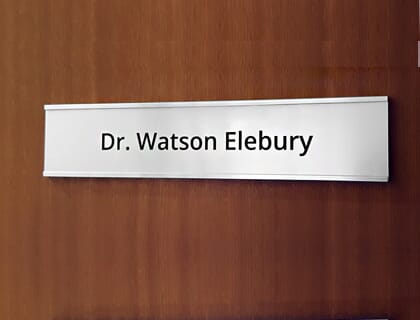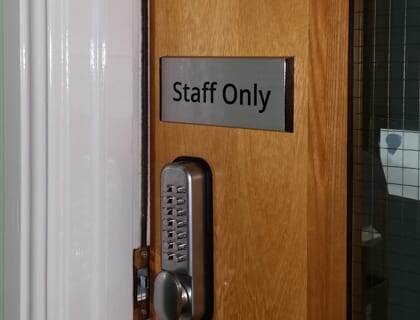 Aluminium Office Door Signs
aka. Slatz Panels.
Ideal for situations where a door sign may need to be changed, but not on a regular basis.  i.e.  Classroom names in a school.
The signs comprise of black end caps which are screw fixed to the door.   An aluminium face panel then 'snap fixes' securing it onto the end caps.
The length of the face panel can be cut to suit, as it's pre-formed at lengths of 3m. Although we would recommend lengths of between 200 – 350mm for most uses.
The height of the face panel is restricted to a limited number of pre-set heights, as they need to fit onto the end caps.   Available heights are: 20,30,41, 61, 82, 123 and 164mm.
Graphics are applied to the face either as individually cut pvc letters or as a digital print.
As there are so many options, please contact us with your requirements and we'll be happy to provide a quotation.
Acrylic Office Door Signs
Magnetic or permanent fixings.
Acrylic office door signs are normally manufactured with graphics on the rear of the panel.
This allows for the face of the office door sign to be wiped clean, perfect in an environment such as healthcare premises.
They can be supplied with a number of ways of fixing signs to an office door. Screw fixings & silver barrel fixings for permanent options. Magnetic strips can be used where the office door sign needs to be changed regularly.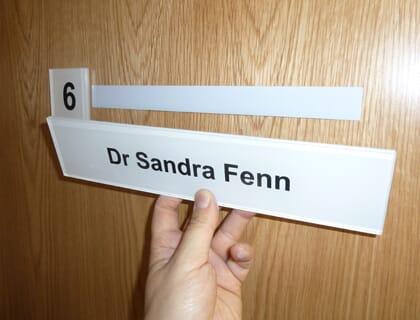 We'd love to hear from you
If you're looking to get started with a new project, or you want to discuss some options, get in touch with our friendly team:
Why choose Signet Signs?
We are a family run signage & thermoplastic marking company, established in 1971, and are proud of our long standing reputation for exceptional customer service.
Whether its shop signs or thermoplastic playground markings we promise to provide a transparent experience and to keep you fully informed every step of the way.
Family run business
We specialise in sign & playground marking
Highly experienced
Established in 1971, we're extremely experienced
Superbly equipped facilities
We use the latest machines & technologies, all in house