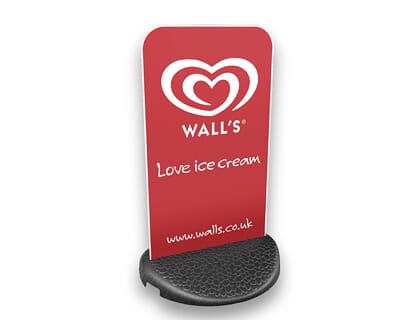 Shop Signs
Pavement Signs
Looking to make a big impact on passing trade? Pavement Signs are perfect for increasing awareness of your shop and advertising special offers or services! Our free design service means you can create an eye-catching sign that will really grab attention. So why wait? Get started today!
Pavement Signs
Suitable for internal or external use, our pavement signs will provide you with a cost effective method of continuous advertising.  Pavement signs are heavy enough to withstand most every day weather but should be brought indoors during high winds.
A Boards (Cafe photo below)
Flexi Foil Signs (Walls photo below)
Swing Signs (Golf photo below)
Graphics are applied to both sides, and need not be the same design.  Our graphic designers can produce a design for you should you so wish (artwork charges may apply).
With a fast turnaround time, we deliver to anywhere in the UK via national couriers.
Enquire Today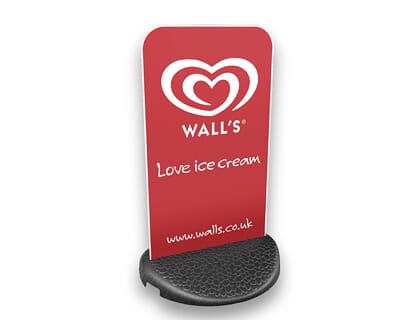 Do you design them as well?
Yes, our graphic designers can produce designs for you. Artwork charges may apply
Can you deliver pavement signs nationally?
Absolutely. We use a variety of national couriers to ensure your order arrives quickly.
Which is the cheap pavement sign?
The cheapest would be the flexi foil sign (Walls ice cream photo below).
We'd love to hear from you
If you're looking to get started with a new project, or you want to discuss some options, get in touch with our friendly team:
Why choose Signet Signs?
We are a family run signage company, established in 1971, and are proud of our long standing reputation for exceptional customer service.
Whatever your signage projects requirements, we promise to provide a transparent experience and to keep you fully informed every step of the way.
Family run business
We specialise in the design, manufacture & installation of signs.
Highly experienced
Established in 1971, we're extremely experienced
Superbly equipped facilities
We use the latest machines & technologies, all in house