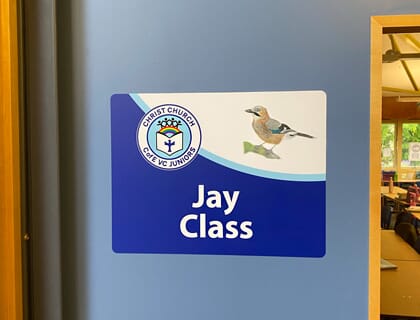 School Signs
Classroom Signs
If you're looking for a way to make your school more welcoming, look no further than Classroom Signs! Our beautiful, child-friendly designs will help visitors find their way around with confidence. Plus, they'll know who's teaching which class!
Signs for Classrooms
Classroom signs can be any size, shape or material you can think of. We've made classroom signs in acrylc with shaped areas for photos (see photo here), we've made classroom signs as stickers to go onto glass door panels, metal frames with changeable inserts allowing the content to be updated and so on.
Whatever you need your classroom sign to do, we're definitely able to assist.
Enquire Today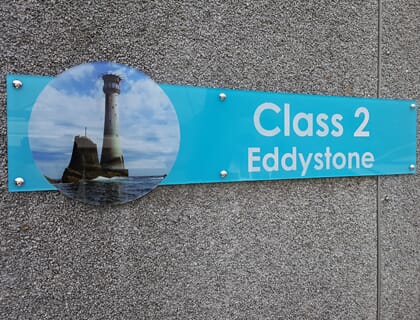 Discounts for bulk orders.
The more signs you order, the cheaper it becomes.
Unsure about where to begin?
Fill in our contact form below or simply call us!
Do we do installation as well?
Yes we do!
A Guide to Classroom Door Signs
Classroom Door Signs for Every Lesson
Making the right decision when it comes to classroom signs is important for any school. You want to ensure that you are choosing signs that will help improve communication and organization in your school. In this knowledge post, we will discuss some of the key factors you need to consider when making your selection. We will also provide a few tips on how to choose the perfect signs for your specific needs.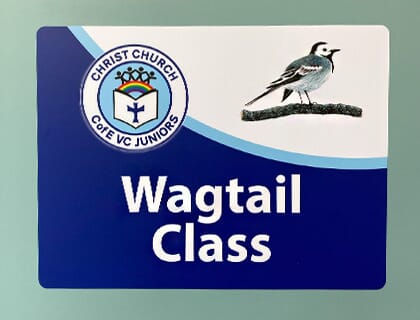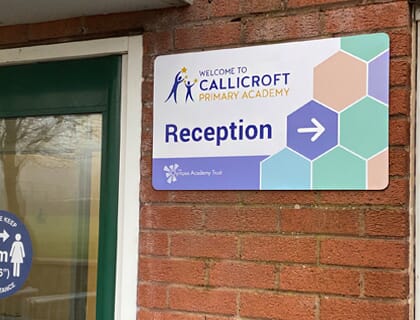 What makes a good door sign for a school classroom?
When it comes to choosing classroom door signs, there are a few key factors you need to keep in mind. The first is the purpose of the sign. What message do you want to communicate? Is the sign meant to be used for a class / teacher name or department identification? Once you have determined its purpose, you can then begin to consider other factors. Size of the sign will determine how big the font is and how far away teachers, students and parents can comfortably read it. You will also need to think about where the will be placed. ie: On classroom walls or doors. Is it a solid wall / glass panel etc. Thankfully this guide will make it an easy way to determine the right solution.
How big should my classroom door sign be?
Classroom signs come in all shapes and sizes, so it's important to choose the right one for your school. Make sure to pick a sign that is big enough to be seen from across the room, but not so big that it takes up too much space. Typically, a classroom sign is around 300 x 60mm (longest side is the length of a sheet of A4 paper) for normal viewing distance. However we have the capability to make any product size or shape you may require so please feel free to get creative. Maybe even get the children to produce colour designs, turning the process into an arts & crafts learning lesson, which we can then turn into signs for you.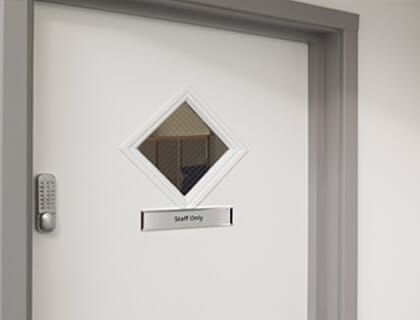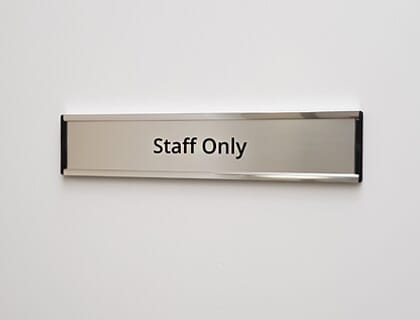 What should my classroom signs say? aka. Classroom signs ideas.
Typically your classroom nameplate should include your name and the class name you teach. It's may also be a good idea to list the subject you teach. This will help visitors know where they are in the school and what classes are being taught in that room. If you have any other titles or responsibilities (librarian, technology coordinator), those can be listed on the classroom sign as well.
If you wanted to include the school logo, an image specificly designed for your class (eg. An oak tree for Oak Class), or any other details to suit your school… we can help you.
We email a design proof to you with every order so you can be confident in the design and make any amendments before we start manufacture.
What materials are best for a classroom sign?
Acrylic

Easy to clean
Looks amazing.
Slghtly higher price than other options

Aluminium Composite

Durable
Medium price range

Interchangeable Signs

Great for signs which are updated regularly
Low cost
Standard size & shape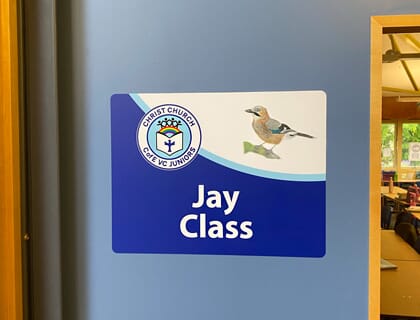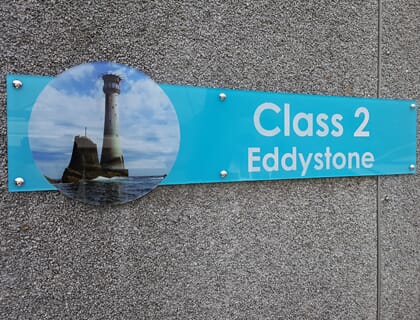 Acrylic Classroom Signs
The most popular material is clear acrylic, which has the print / design on the rear. As they are printable signs with the graphics on the rear, the front of the sign is easily wiped clean. This style looks great with any décor. Please note the price is slightly higher than the other materials but the overall look is very professional, with the advantage that the graphics are away from unwanted attention.
Aluminium Composite Class Signs
If you're looking for something slightly cheaper, aluminium composite is a great option. It's is 3mm thick panel with aluminium faces and a recycled plastic core. It won't rust or corrode over time and the graphics on the face are protected by a clear laminate film. Typically we use a matt laminate which reduces the glare from overhead lights, making the sign easier to read.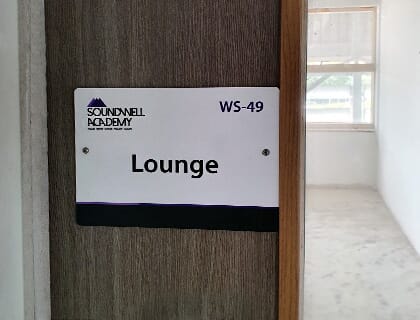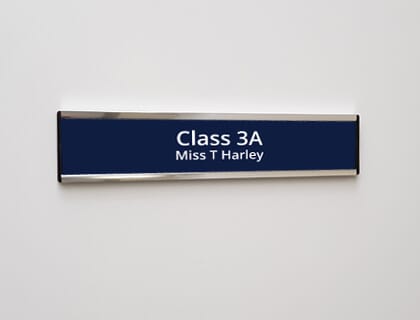 Interchangeable Door Signs
Finally, our aluminium frame with a plastic insert is perfect for interchangeable door signs – simply update your sign as often as you like! The frame is screw / tape fixed to the classroom wall or door. The engraved plastic insert can then slide in / out of the frame as required. If you are worried about the security of the signs, we also supply end caps which will secure the insert in place and save you any worry of them going missing.
If you ever want to change the insert on the sign, simple contact us and we will supply another insert for you (small cost will apply).
What shapes and sizes are available?
Classroom door signs come in a variety of shapes and sizes to fit any space. We have standard rectangle and square shapes, as well as circular and triangular options. Our sizes range from tiny to massive (we make them to any size you like), so you can find the perfect fit for your school. Typically a classroom door sign for a teacher is around 300 x 60mm (30 x 6cm).
The only limitation on size / shape is with our interchangeable door signs as they come as standard at 255 x 55mm (25.5 x 5.5cm).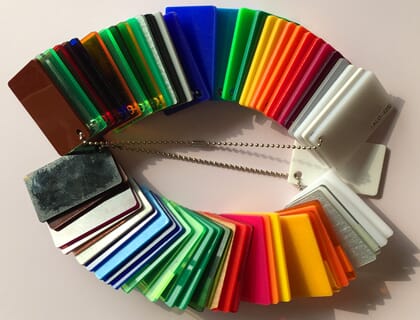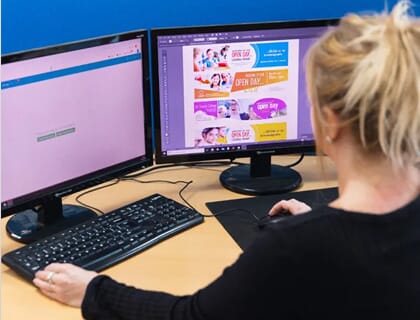 What designs are available?
We have a wide range of design options to choose from, so you can find the perfect sign for your classroom. Our most popular designs feature fun and colourful fonts with clear messages. However, we also have a range of plain and simple designs if you prefer a more minimalist look.
The photographs on this page show a examples of a number of designs we have produced. We also have a fully staffed art department ready to get creative and design your own unique look.
Do you make bespoke Classroom signs?
Absolutely! Classroom door signs are a great way to add some personality to your school and make it easier for students and staff to identify classrooms. Our acrylic, aluminium composite, and aluminium frame with plastic insert classroom door signs are all made by ourselves in the UK. We can design them to any size or shape you require.
We also print classroom signs, which can be applied onto the inside or outside face of glass panel. This is very useful when you want to incorporate the sign onto a window / glass door.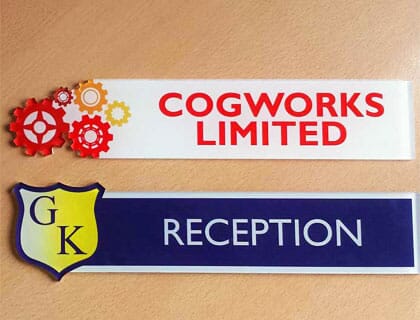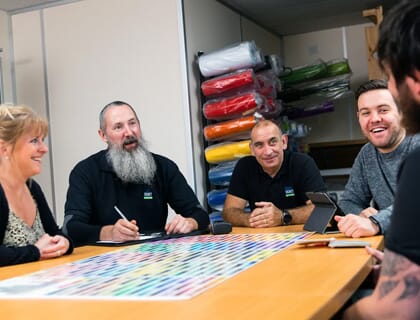 How can I order or get a quote?
Very easily. Simply fill in the form below or send an email to quotes@signetsigns.co.uk. If it's easier, we're always happy to discuss your requirements on the phone. 01275 463601.
We offer a free design service with up to 1hrs artwork time included on all orders, so there's no need to worry about producing artwork for us. Plus, we offer a no quibble guarantee on all of our products so you can be sure you're making the right choice.
We'd love to hear from you
If you're looking to get started with a new project, or you want to discuss some options, get in touch with our friendly team:
Why choose Signet Signs?
We are a family run signage company, established in 1971, and are proud of our long standing reputation for exceptional customer service.
Whatever your signage projects requirements, we promise to provide a transparent experience and to keep you fully informed every step of the way.
Family run business
We specialise in the design, manufacture & installation of signs.
Highly experienced
Established in 1971, we're extremely experienced
Superbly equipped facilities
We use the latest machines & technologies, all in house