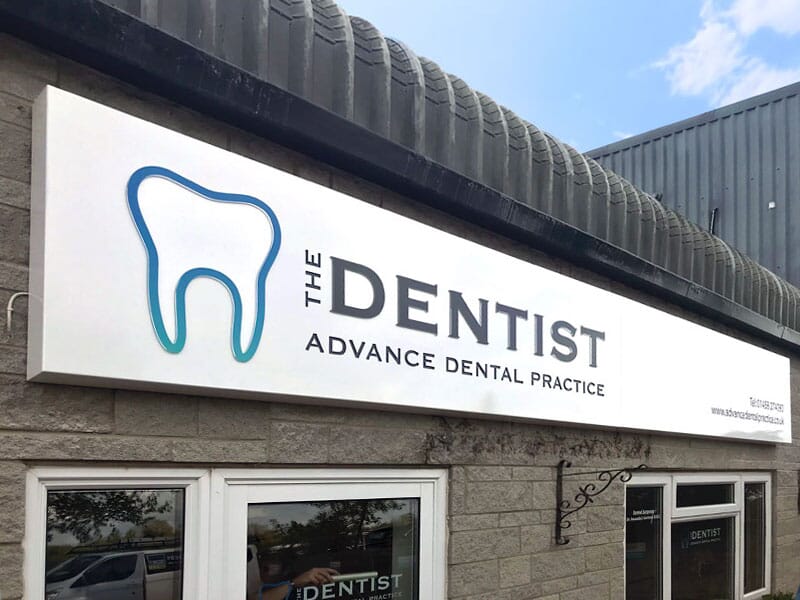 Shop Signs
A Guide to Folded Tray Signs
What is a folded tray shop sign?
Essentially this type of shop front sign looks like a box. It's made from folding a sheet of material and then welding/fixing the corners. Graphics can then be applied to the front of the shop sign whether that's a digitally printed graphic, or individual letters or there are plenty of options, see below for more details. Folded tray signs are manufactured from aluminium or aluminium composite.  Please see our FAQ for details on aluminium composite: FAQ
Shop Sign Materials
It's very easy when looking at a quote from a sign maker to overlook something which we would consider quite important. The difference between aluminium and aluminium composite. The FAQs linked above will give a basic idea of the materials available for shop signs, but we've summarised them below to save you the trouble of searching.
Aluminium Composite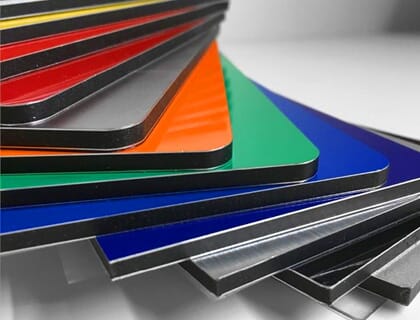 A superb durable material that comes in a range of standard colours & finishes including metallics.
Limited to the range of standard colours unless it's wrapped in vinyl.
Recycled plastic core and a thin sheet of aluminium to each face make it lightweight, durable, and with little scrap value.
Requires the corner joins to be glued/welded.
Aluminium
Can be powder coated to any standard RAL / BS colour reference.
Corners are welded and then polished smooth for a much cleaner appearance than aluminium composite.
It's aluminium, so it's never going to rust.
Strong stable base for attaching flat cut / built-up lettering onto.
Summary

Aluminium trays are slightly more expensive but they look better because the corners can be welded. They also allow for a much wider range of colours to be used (RAL / BS) as standard versus the aluminium composite which only comes in a limited range.
What options do we have with a folded tray shop sign?
There are a lot of options for folded tray shop signs, but it depends on budget and the end product that you're aiming for. You can keep the costs down and simply go for vinyl lettering , or you can have flat cut lettering or you can even cut the lettering out of the face of the sign and illuminate it from the inside!  We've included some photos and descriptions below which we hope are of use.
Shop Sign with Vinyl Graphics
A powder-coated tray (cream) that has vinyl lettering and digitally printed logos applied to the face.  A cost-effective and long-lasting solution.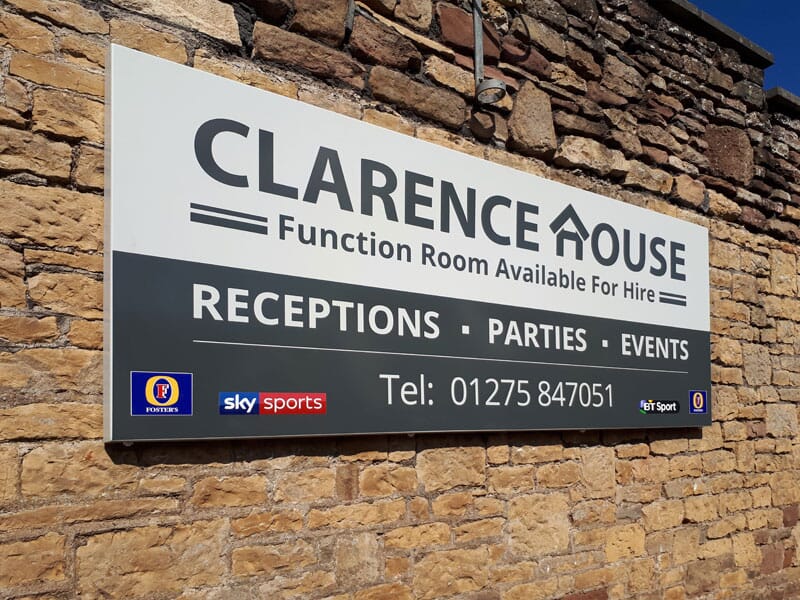 Shop Sign Lettering
In the below main school sign example, the red graphics are simply cut vinyl. The BGS text sits proud of the rest of the sign as it sits on locator pegs (hidden behind) giving the impression of the text floating.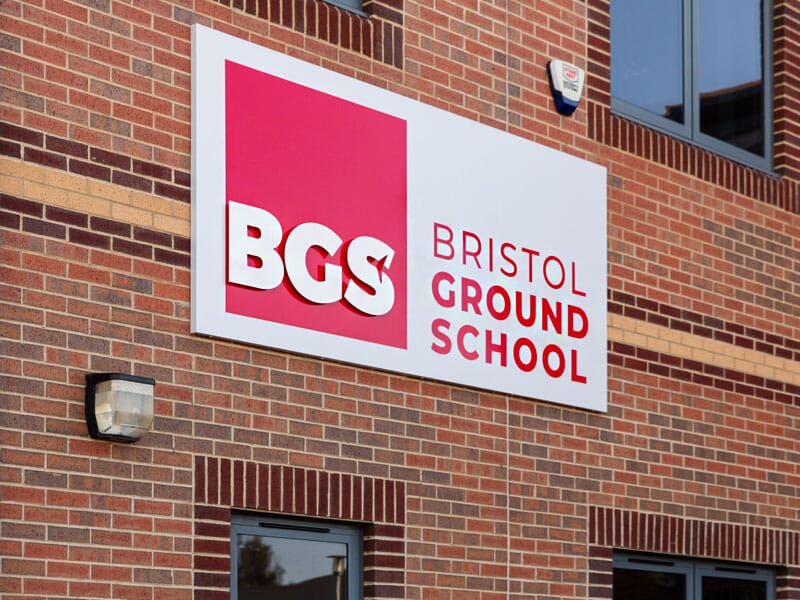 Illuminated Shop Sign
A bit of an explanation is probably needed for this sign.  We made a folded tray and then cut all of the text and logo out of the face. We then inserted a sheet of white acrylic inside the sign so that it covers up the holes for the text and logo and installed LED lights inside the tray.
At this point, if you were to turn on the LED's then you'd see the logo and text light up as white letters and logo. The letters and logo were then cut out of clear acrylic, exactly the same size as the holes, and fixed in place.  Vinyl film was then applied to the face of the clear acrylic letters and logo.
What this all means is… when the LED's are turned on, the light shines out through the white acrylic (which helps diffuse the light) and then through the clear which illuminates the coloured face of the letters and logo whilst also gently creating a halo effect as the light shines out the sides of the clear acrylic too.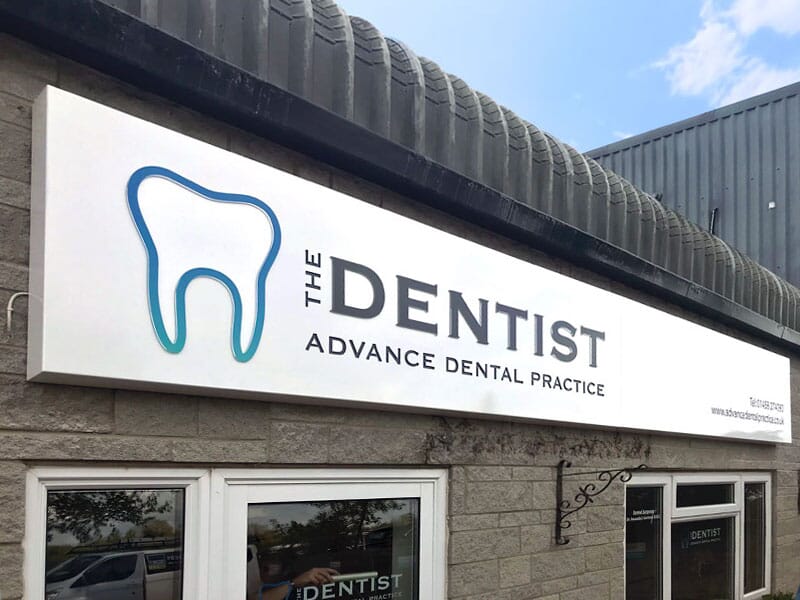 To find out your options for folded tray signs, or shop signs in general, complete the following form and one of our advisers will contact you.
New Shop Signs for Bradford Solicitors
New shop front signs for Bradfords & Co new premises. In this case study, we'll take a look at how […]
We'd love to hear from you
If you're looking to get started with a new project, or you want to discuss some options, get in touch with our friendly team:
Why choose Signet Signs?
We are a family run signage company, established in 1971, and are proud of our long standing reputation for exceptional customer service.
Whatever your signage projects requirements, we promise to provide a transparent experience and to keep you fully informed every step of the way.
Family run business
We specialise in the design, manufacture & installation of signs.
Highly experienced
Established in 1971, we're extremely experienced
Superbly equipped facilities
We use the latest machines & technologies, all in house