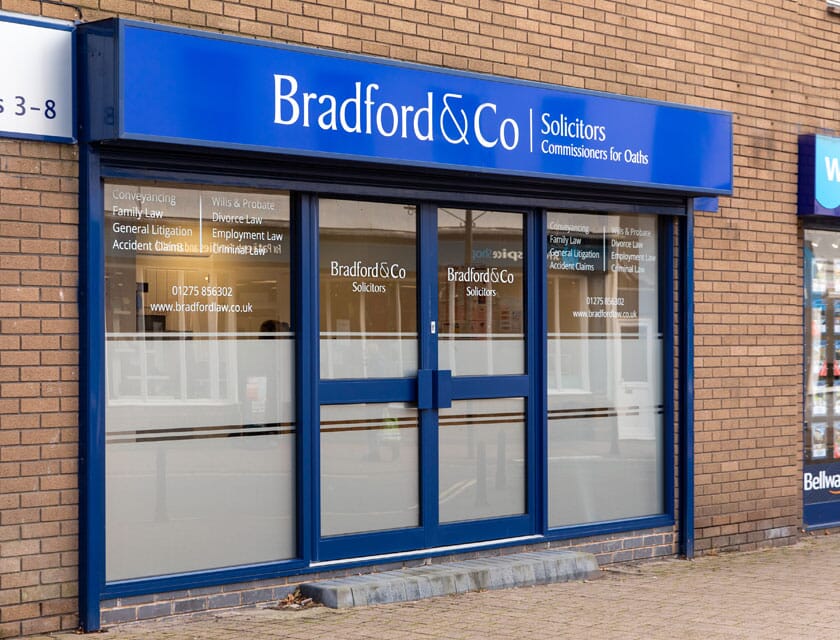 Shop Signs
New Shop Signs for Bradford Solicitors
New shop front signs for Bradfords & Co new premises.
In this case study, we'll take a look at how Signet Signs installed a shop sign and window graphic for Bradfords and Co solicitors new premises in Nailsea, in the BS48 post code region.
The Benefits of Shop Signs
A well-designed shop sign can do wonders for a business. There are many benefits to having a shop sign, including increased visibility, branding, and customer engagement.
Increased Visibility
One of the most important benefits of having a shop sign is that it increases the visibility of your business. A well-designed sign will catches the eye of passersby and potential customers, letting them know that your business is there. In the case of Bradfords and Co, the signs were designed to be eye-catching and professional. The use of external grade vinyl ensures that the graphics will not fade or shrink over time.
Branding
Your shop sign is often one of the first things potential customers will see, so it's important that it conveys the right message about your brand. A well-designed sign that accurately reflects your brand can help to build trust with potential customers. In the case of Bradfords and Co, the signs were designed to reflect the professionalism and quality of the company's services.
Customer Engagement
A shop sign is a great opportunity to engage with potential customers. A sign can be used to communicate special offers, promotions, or even just a friendly message. In the case of Bradfords and Co, the window graphics were used to communicate a special offer. The use of cut vinyl allowed for a clean and professional looking design.
What's more, by placing the graphics on the inside of the window, they are protected from anyone who may wish to pick them up or damage them.
What shop signs did we install?
Main shop sign
The main shop sign consists of a projecting box within which sits a panel.  The panel is powder coated to the same blue as the box.
External grade white vinyl graphics are applied to the panel.  External grade vinyls cost a little bit more but they'll last for years.  There are cheaper vinyls on the market, especially from some of the eastern countries, but they tend to shrink, crack and fade when exposed to the elements.  We use either Imageperfect 5700 series or Avery 900 Supercast.  Both are premium vinyls which we've used for over 20 years without issues.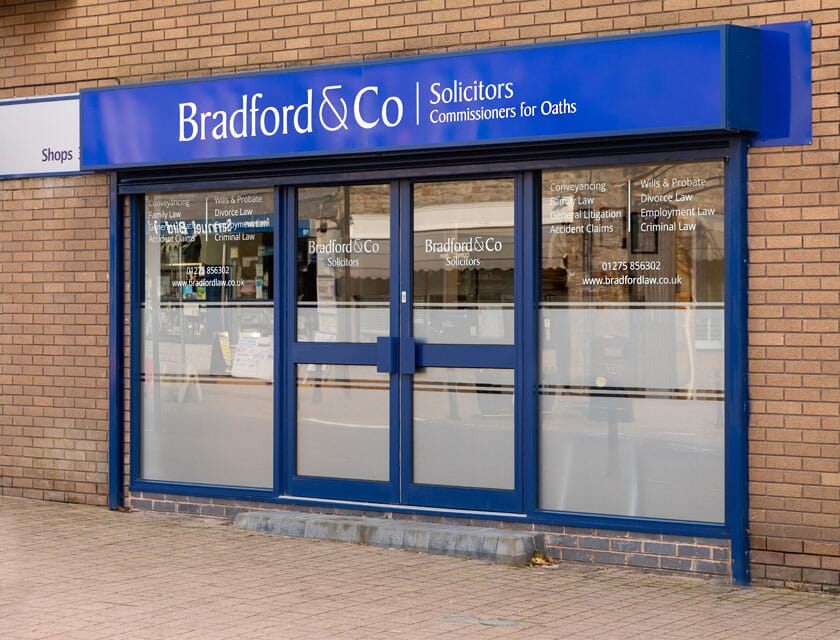 Window graphics

The shop window graphics consist of two parts.
Etched glass window film, aka privacy film.
This is applied to the lower section of the window and ensures a degree of privacy from people walking past.  Those working at their desks the other side of the window can be assured the items on their desks are not being casually read.
The film is applied to the inside face of the window, which allows the outside face of the glass to be kept clean without risk of damage to the window privacy film.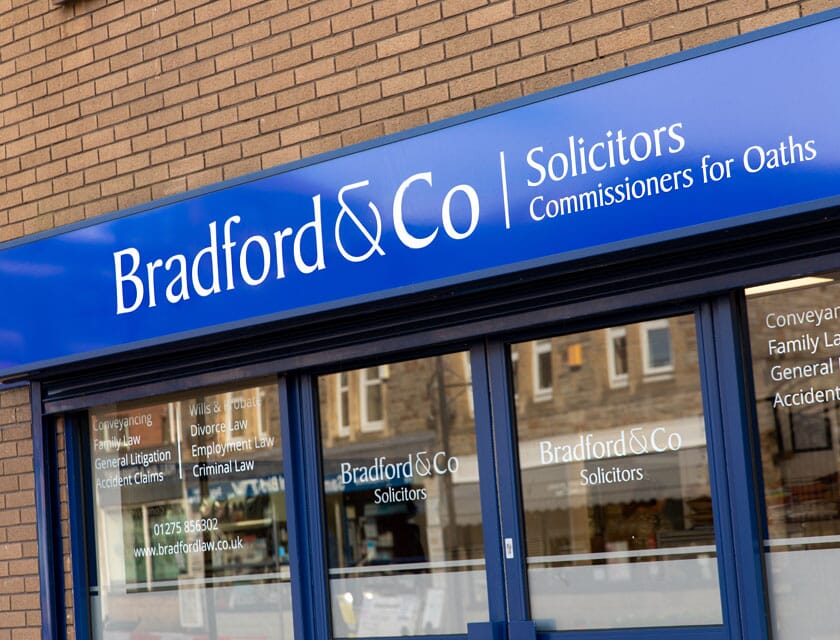 Cut vinyl window graphics
This is the lettering on the windows. Typically cut vinyl lettering is applied to the inside face of the glass. This stops it being picked up / removed by persons from outside the building.
We would normally use this type of window graphics to promote services / products or share information like tel, web, opening hours etc.
When thinking about the design of window graphics it's important to remember that during the day time the inside of the building like very likely be darker than the outside.  Thus, you wouldn't want to pick a dark coloured vinyl as it'll be less visible than a lighter coloured one.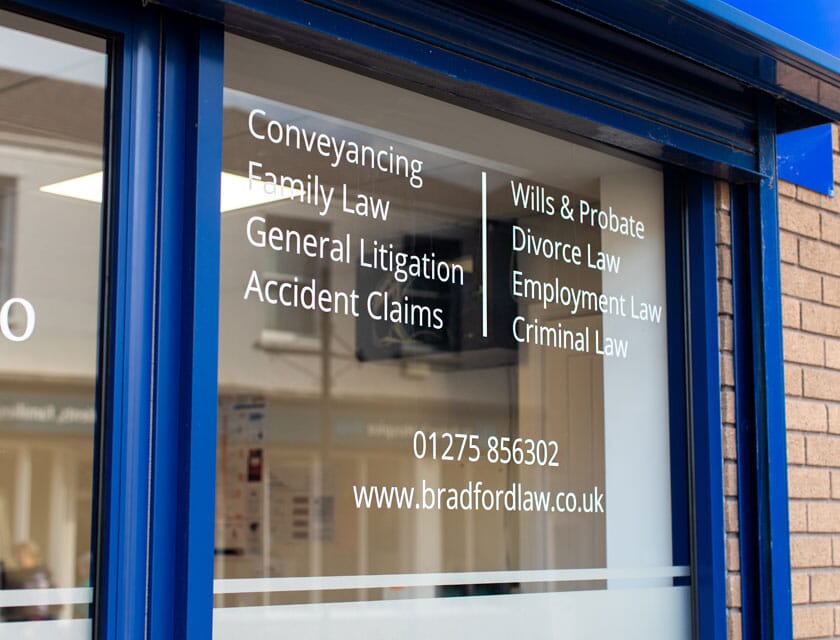 The end result.
The end result was a clean, professional looking shop front sign that accurately reflected the brand of Bradfords and Co solicitors. The use of high quality materials and clever design helped to increase visibility and engage with potential customers. If you're looking for a similar solution for your business, Signet Signs is here to help.
We supply, manufacture, and install signs for companies in Bristol and across the UK. Get in touch today to find out more about what we can do for you!
Choosing a Signmaker in Bristol
Signet Signs is a family-run business just off the M5, Bristol. Established in 1971, we have a genuine focus on […]
We'd love to hear from you
If you're looking to get started with a new project, or you want to discuss some options, get in touch with our friendly team:
Why choose Signet Signs?
We are a family run signage company, established in 1971, and are proud of our long standing reputation for exceptional customer service.
Whatever your signage projects requirements, we promise to provide a transparent experience and to keep you fully informed every step of the way.
Family run business
We specialise in the design, manufacture & installation of signs.
Highly experienced
Established in 1971, we're extremely experienced
Superbly equipped facilities
We use the latest machines & technologies, all in house