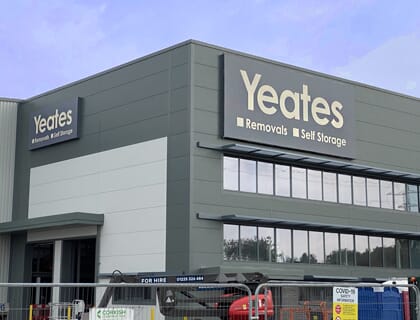 Shop Signs
A Guide to Shop Front Light Box Signs
Are you looking for an inexpensive way to liven up your business presence to local traffic? You might be thinking about purchasing a Shop Sign Light Box. The prices are reasonable, installation is not difficult if you decide to do it yourself, and the results can really help to make your shop look great!
What exactly are lightbox signs ?
It's basically an illuminated sign that is usually wall mounted to the front of your building. The sign itself is made up of an aluminium frame, which makes it extremely strong, durable, and won't ever rust. This can be coated to any standard RAL colour you choose.
Lightbox designs for shop fronts.
Whole Lightbox face illuminated.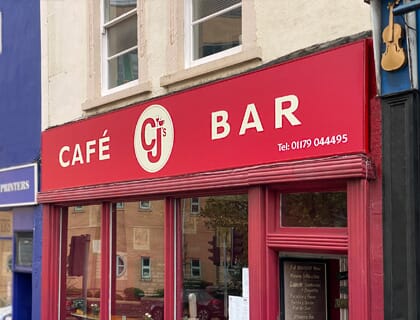 With this option, the face of the sign is usually made from opal acrylic and is completely illuminated with LED's shining their light through the opal acrylic. Printed details are installed on the front of the opal acrylic of the lightbox sign with the LED illumination shining through to illuminate the graphic. The LED modules will be spaced out during manufacture so there is even illumination across the lightbox sign and ensuring any logos or print look amazing to your customers even at night.
Fret cut letters illuminated.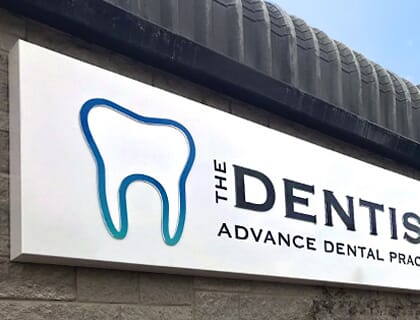 A lightbox sign manufactured with fret cut letters / logo is a great way to grab attention and promote your business. During construction of the lightbox signs, we ensure the letters / logo are cut from the aluminium face panel.
We manufacture and install the fret-cut letters (aka. individual letters) to the panel such that the LEDs inside the frames only light up that particular part up. The rest of the face panel is unilluminated.
When a customer goes past your lightbox sign at night or day. One benefit of this option is that it allows for more customization than some other options such as acrylic lettering which cannot accommodate large words like "
The individual sign lettering can be made from almost any material (metal, acrylic, wood) but will usually be acrylic or vinyl or a combination to create an eye-catching, and cost-effective design. Alternatively, we can also use digital print to get the exact colours for your branding onto the lightbox signage.
There are also flexi-face signs, but we'll deal with them in another article linked here about the pro's and con's of that form of signage.
What is the price for a light box sign?
The cost of a light box sign can vary depending on the size and complexity of the sign. Generally, the larger and more intricate the sign, the more expensive it will be. However, we can happily provide a no obligation quote so that you can find the perfect sign for your business at a price that you are comfortable with.
If you're really, REALLY looking for a ballpark estimate… we recommend that you budget between £1500 and £2000 for typical shop front lightbox signs, but please contact us with your specifics for an accurate quote.
What is the difference between wall mounted and projecting lightboxes?
Lightbox signs come in two main types: wall mounted and projecting. Wall-mounted signs are attached to the exterior of a building, allowing passersby to see your sign when looking straight at the shop front. Projecting lightbox signs, however, project outwards from the side of a building at 90 degrees, catching people's attention from a much further range.
Projecting lightbox signs are usually around 600-800mm on the longest side and have led illumination hidden within the frames. We can produce the lightbox signs so that the light shines out of one or even both sides, illuminating the artwork on the panels. It's a cost effective way of ensuring visibility of our shop from up / down the street.
Do you do free design for light boxes?
We also provide free design ideas with any order for our light boxes (and many other products) however we will charge if you ask us to make the sign once the design is perfect. We do this because often customers want to give us a rough idea of what they would like, and leave it up to us to make sure everything works perfectly together.
Do you install?
Upon request, our team of experienced professionals will complete the installation process to ensure that your light box sign looks amazing and functions perfectly. Our focus on aesthetic means that we take care in every step of the process to ensure that your sign is both beautiful and works correctly.
Please note we are based just outside Bristol and whilst we cover a large range from our premises, if you are the far side of the UK from us we are unlikely to be able to provide a competitive quotation.
How can I get a quote for either projecting lightbox signs or lightbox signs for the shop front?
You can get a quote for either projecting lightbox signs or lightbox signs for the shop front by contacting us with your specific requirements. We will provide you with a no-obligation quote that will meet your needs and budget. Please simply fill in the form at the bottom of this page giving us as much additional information as you can, any photographs or files can be uploaded too. Alternatively please call us to discuss your requirements and we will be happy to help.
Do you produce other shop front signs?
We do indeed produce a wide variety of shop front signs. They can be found on the main shop front signs page.
New Shop Signs for Bradford Solicitors
New shop front signs for Bradfords & Co new premises. In this case study, we'll take a look at how […]
We'd love to hear from you
If you're looking to get started with a new project, or you want to discuss some options, get in touch with our friendly team:
Why choose Signet Signs?
We are a family run signage company, established in 1971, and are proud of our long standing reputation for exceptional customer service.
Whatever your signage projects requirements, we promise to provide a transparent experience and to keep you fully informed every step of the way.
Family run business
We specialise in the design, manufacture & installation of signs.
Highly experienced
Established in 1971, we're extremely experienced
Superbly equipped facilities
We use the latest machines & technologies, all in house