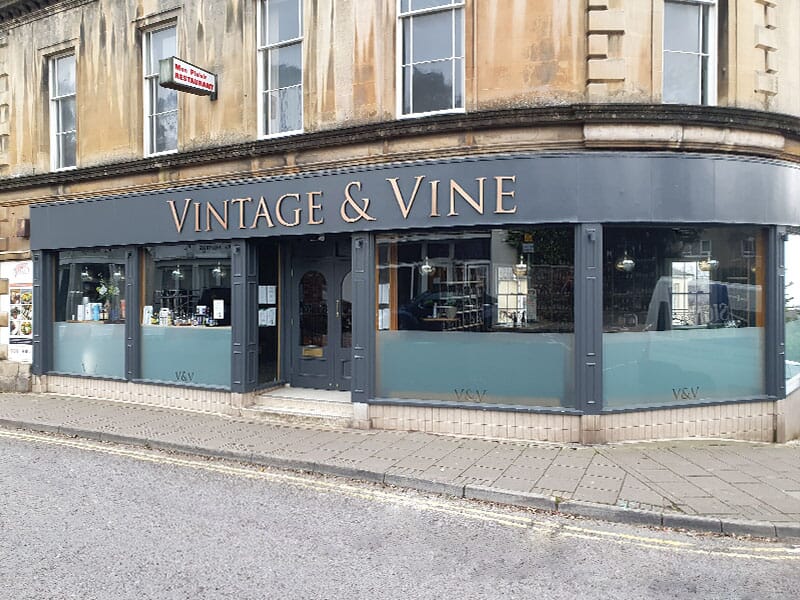 The Shop Front Sign Brief.
Vintage & Vine contacted us with a view to manufacturing and installing their new shop front signs.
Dom (proprietor) had a clear vision for this project and the shop front signs were to be clean, professional and to give an air of class.
The upper section of the shop fascia was to have a set of Copper letters running along it's longest frontage. The windows needed some form of privacy screen in the lower half.
Prior to works being started, we attend site and measured every necessary element. These measurements were then passed to our design team who were able to produce drawings showing how everything would look.
The photo below shows how shop front looked at the start of this project.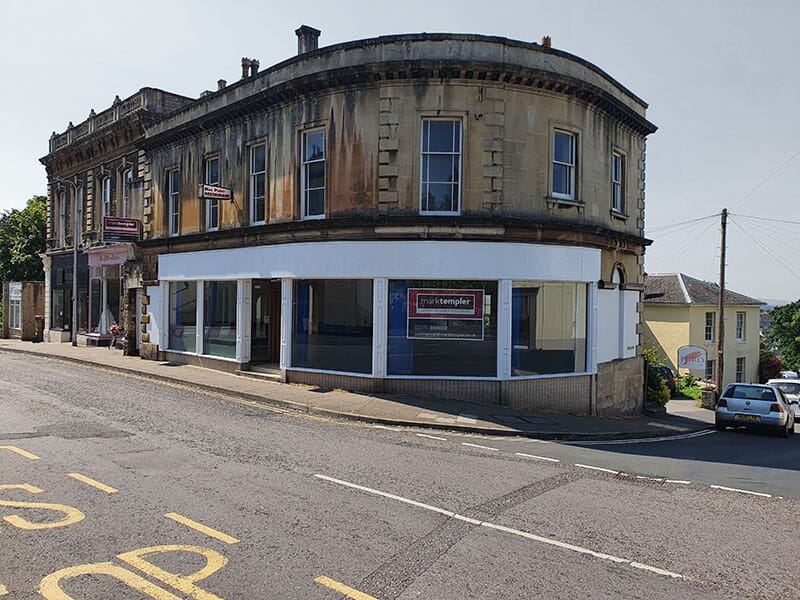 Copper Flat Cut Sign Letters.
There are a couple of shop sign letter materials which can be used to give the effect of a copper letter. One, is obviously letters made of copper. Whilst this might seem like the logical way forward, copper is not a cheap material, it's heavy, quite soft and discolours over time.
An alternative was suggested in the form of aluminium composite letters, with a copper effect face.
The advantage of using this material is that it's far cheaper whilst also looking superb. Aluminium composite is used for a wide range of outdoor signage, from shop fronts to school signs, to road traffic signs to… you get the idea. Essentially it's a plastic sheet with a thin sheet of aluminium bonded to each face. It's lightweight, durable, will never rust and is designed for use in outdoor signage applications.
To help lift the copper letters from the dark grey background we installed stand off locators. These hold the sign letters approximately 20mm away from the face of the shop front, adding a sense of depth.
We have a guide with more information and an indepth look at Flat Cut Sign Letters.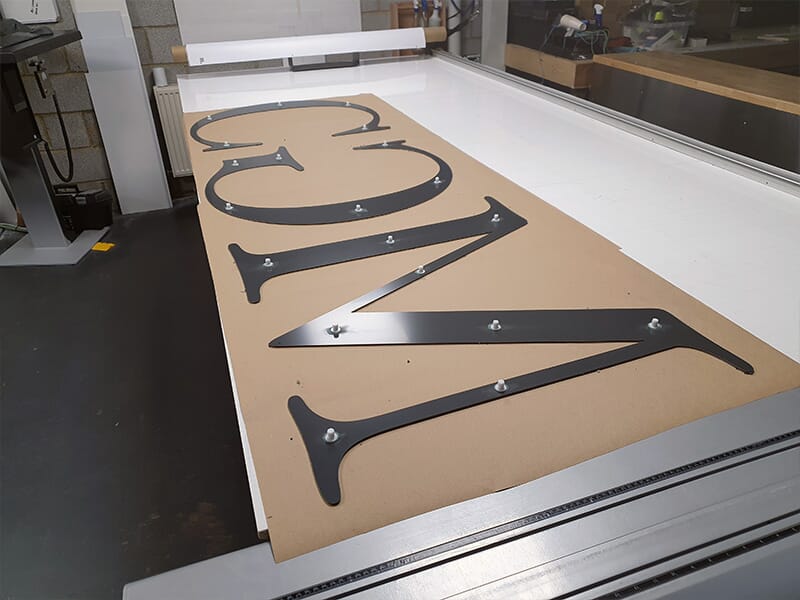 A photo showing the locator pegs on the rear of the letters.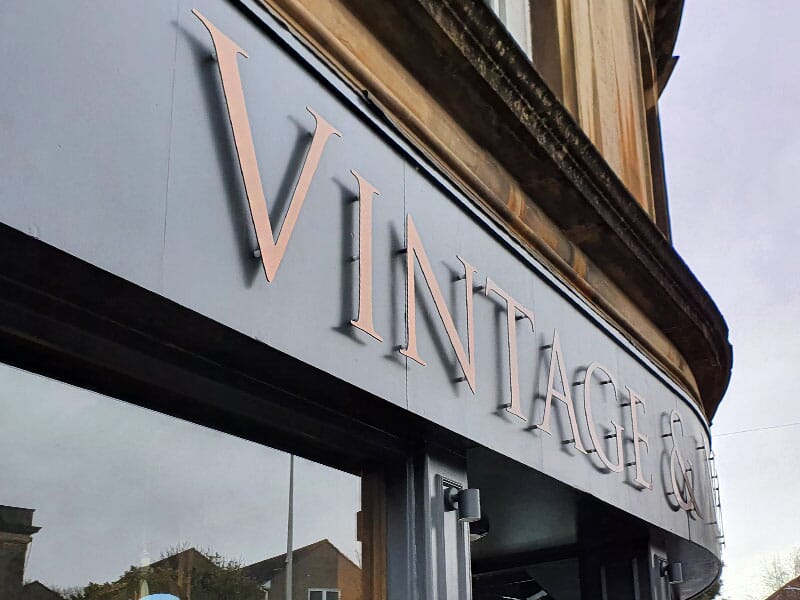 Window Privacy Films.
We utilised an etched glass effect film which was applied to the inside face of the glass. This allows the outside face to be washed clean without any risk of damage to the film. It also keeps it out of harms way in case of any unwanted attention from outside. There are a variety of ways the shop window graphics could have been produced, but this one suited the overall look of the project as the etched glass had a very small amount of pattern in it which broke up the large plain areas without being over the top.
The films had the Vintage & Vine logo reverse cut out from them which adds a nice subtle effect and stops the whole window being a solid pane of etched glass.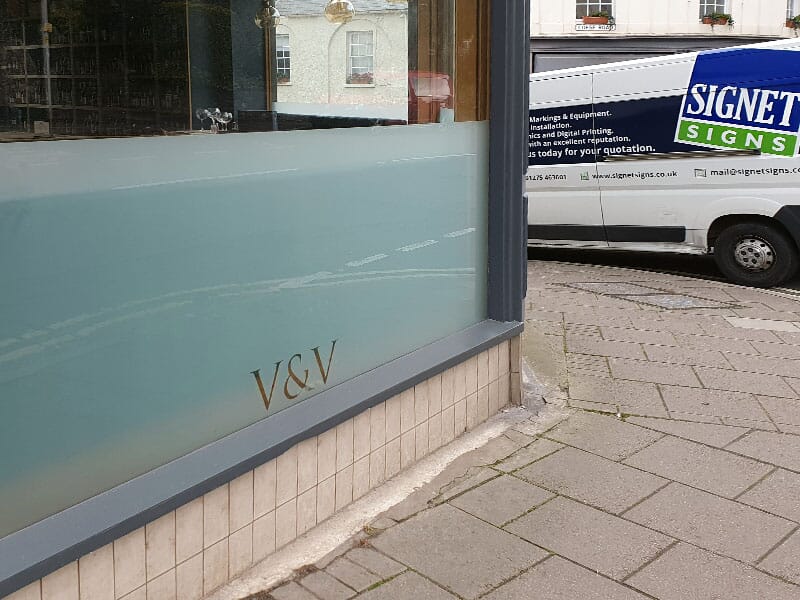 The End Result.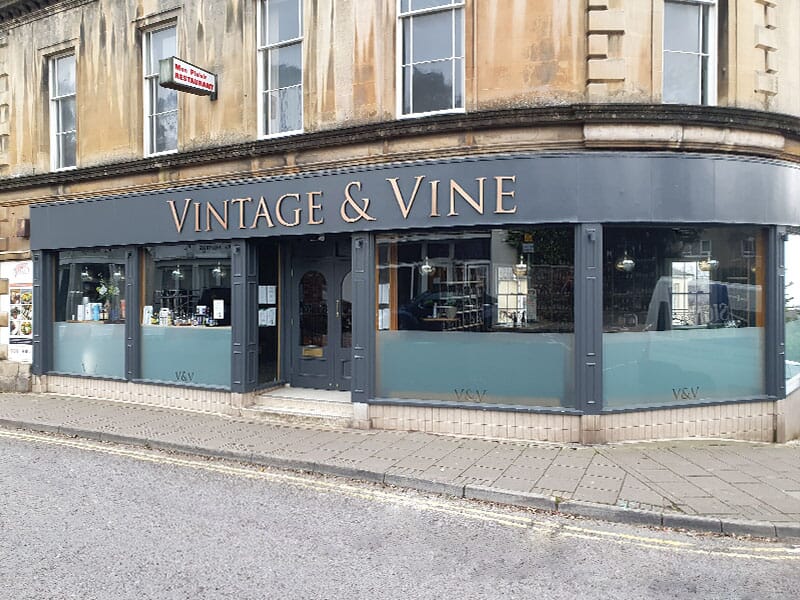 More shop front sign design ideas are available on our website.
Shop Window graphics & films can also be found with various examples.
We are a sign making company with years of experience.
Why not contact us to discuss your own requirements?
We'd love to hear from you
If you're looking to get started with a new project, or you want to discuss some options, get in touch with our friendly team:
Why choose Signet Signs?
We are a family run signage company, established in 1971, and are proud of our long standing reputation for exceptional customer service.
Whatever your signage projects requirements, we promise to provide a transparent experience and to keep you fully informed every step of the way.
Family run business
We specialise in the design, manufacture & installation of signs.
Highly experienced
Established in 1971, we're extremely experienced
Superbly equipped facilities
We use the latest machines & technologies, all in house