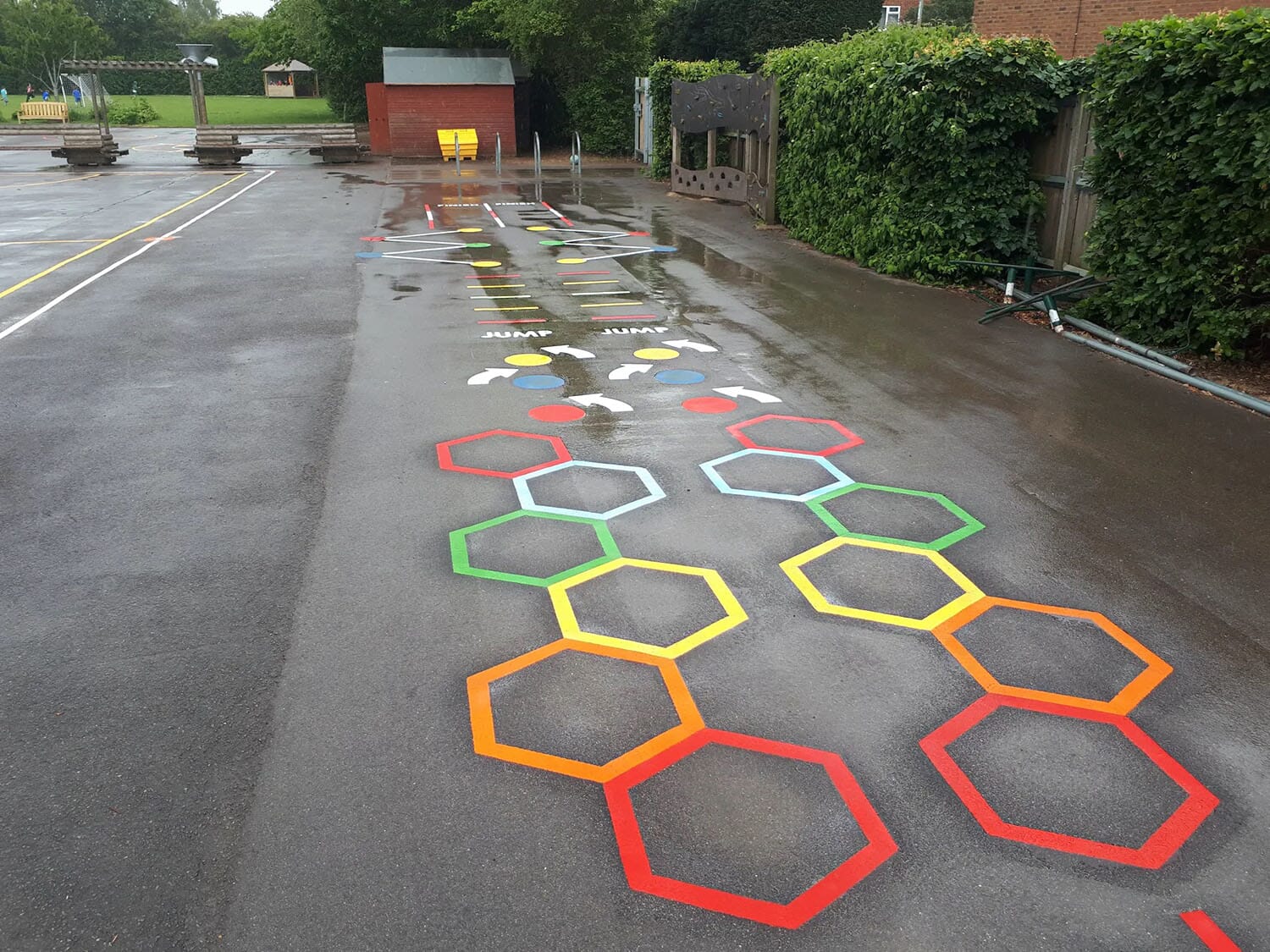 Playground Markings
A Guide to Thermoplastic Playground Markings
A Guide to Thermoplastic Playground Markings
We appreciate that many people will have little to no experience of playground markings until one day the head of the school says "can you get someone in to quote for playground markings please?".
This helpful guide is written as an informal look at thermoplastic playground markings and hopefully provides you with useful information.
Please be aware that playground markings are commonly called 'playground markings' but can also be known as painted markings, paint markings, line markings, playground paint, thermal markings, thermoplastic markings and floor markings.  They all add markings to the playground surface and allow the children to play in a fun and creative way.
The photo above shows a variety of floor markings primary school.
What are school playground markings?
There are two main types of playground markings for schools. Paint markings and Thermoplastic markings, also known as thermal playground markings.
Painted markings are the cheapest method of marking courts / line markings and usually lasts 6 to 10 months until it's started to fade. However, painted markings can completely fade within 12 months of being applied! This is something which needs to be taken into account when comparing costs.
Thermoplastic markings are made from a plastic sheet material which is cut into lines or shapes and is usually more expensive than paint. Traditional playground games are often 'off the shelf' and pre-cut ready to install. However they can be intricate and bespoke school markings, eg a large school logo, are more easily manufactured than paint markings.
Thermoplastic playground markings last up to 10 years or more, with many providers offering a 4 year guarantee. The longevity of thermoplastic markings depends on the quality of the surface it's being applied to. Fresh tarmac will yield excellent results , whereas a 20 year playground surface covered with cracks & moss less so.
Our tarmac playground surface isn't great…. does that matter?
The short answer would be, 'in 99% of cases. No.'
The longer and more informative answer would be, the tar content within a playground's surface becomes less and less over time.
To counteract the lack of 'stick' wthin an aged surface we use a primer specifically designed for thermoplastic markings. Thermoplastic will still last a number of years on a surface without primer, but we pride ourselves on getting the job done correctly and thus add the primer for an even longer life.
Removing / covering markings is an added expense which can be put off by using primer at installation time and allowing the playground markings to last so much longer.
You've mentioned tarmac. Can you install thermoplastic markings onto artificial grass / wet pour / rubber mulch?
Unfortunately not. The installation process involves applying a large amount of heat onto the thermoplastic markings so that they 'melt' and bond with the tarmac surface. The heat is a high temperature and when the playground markings are applied, it would significantly damage soft or rubber surfaces.
Can you remove or cover up old markings?
We can do both, sometimes… We've written a guide on How Playground Markings are removed.
Covering up old markings depends on how faded / little of the old marking is left. If the old markings are particularly faded and mostly gone then we can usually apply new thermoplastic on the top of the remains of the old. We like to see (site visit / photo) the markings before we can confidently advise though.
If your primary school has old school playground markings which need removing, please get in contact with us to discuss your options.
How does this work? Do we pick from the catalogue? Do you do site surveys? Help!
Good news. Yes we do site surveys.
More good news! We are only a phone call away and are happy to help. Feel free to call to discuss your requirements and ask any questions you have. 01275 463601
Some customers prefer us to visit their school playground and ensure the markings will fit. Also to ensure they haven't missed anything. Some don't. Its entirely personal preference but it's good to know we can complete a site survey if you prefer.
Prior to our arrival it is a good idea to have a look through the catalogue, perhaps get some input from the teachers and children who will be using these markings. We can then meet and discuss your ideas whilst adding our own expertise if needed.
A summary of the process would be…
First we need to discuss your playground project either by phone / email or by meeting you on site.
We will then send a proof & quotation so you can see exactly what the markings will look like.
You give the go-ahead and we start manufacture of your order.
As we get close to completing manufacture we will contact you to arrange a convenient date to install.
We install with a 4 year no quibble guarantee on all our markings and work.
DBS/CRB Checks.
All our installation teams are fully CRB / DBS checked on a regular basis. They also carry photo ID & copies of their DBS / CRB checks with them at all times. We take our responsibilities seriously.
Talking of safety…. IOSH Qualified? Risk assessments? Public Liability Insurance?
Each team has at least one person who has passed the Institute of Safety & Health's training course thereby qualifying them to correctly and competently carry out Risk Assessments.
We have public and product liabilities insurance for £5,000,000 (copy available on request)
Can you install during term time?
Absolutely! The vast majority of our work is carried out during term time.
Ideally we need exclusive use of the playground, however we can set up a safety perimeter using cones and warning tape. We can even set up walkways to ensure that you have access to the areas you need. #All this will be discussed in advance so that an access plan is established prior to our arrival.
Are the markings slippery in the wet?
The thermoplastic has anti-slip beading within it. This is especially important for playground games and sports court markings where children will be more active.
We add even more during the installation process to ensure that it remains anti-slip even as the marking wears out over the years.
What playground markings do you provide?
Please see our playground markings page, and be aware that we manufacture all the markings ourselves so can produce bespoke playground markings as well.
Do you install playground equipment like trim trails,shelters, clamber stacks as well?
Yes we do! Our playground equipment page has more details.
We can help you find funding for your play equipment, please contact us for information.
What areas do you cover?
We've installed playground markings in the vast majority of England and Wales.
Please see our 'areas we cover' map.
We have installed playground markings in Milton Keynes, playground line marking Hitchin, Road marking Stevenage, in Brighton and a lot of playground markings in Bristol & London.
Can we contact you for help and advice?
Of course! We can be contacted in the following ways.
Tel: 01275 463601
E: mail@signetsigns.co.uk
F: https://www.facebook.com/signetsignslimited/
We're open from 8am to 4:30pm.
We hope this guide proves useful and look forward to hearing from you.
Playground Markings FAQ
We produce and fit a wide range of playground markings, with common questions arising from installation and fitting to designs […]
We'd love to hear from you
If you're looking to get started with a new project, or you want to discuss some options, get in touch with our friendly team:
Why choose Signet Signs?
We are a family run signage company, established in 1971, and are proud of our long standing reputation for exceptional customer service.
Whatever your signage projects requirements, we promise to provide a transparent experience and to keep you fully informed every step of the way.
Family run business
We specialise in the design, manufacture & installation of signs.
Highly experienced
Established in 1971, we're extremely experienced
Superbly equipped facilities
We use the latest machines & technologies, all in house