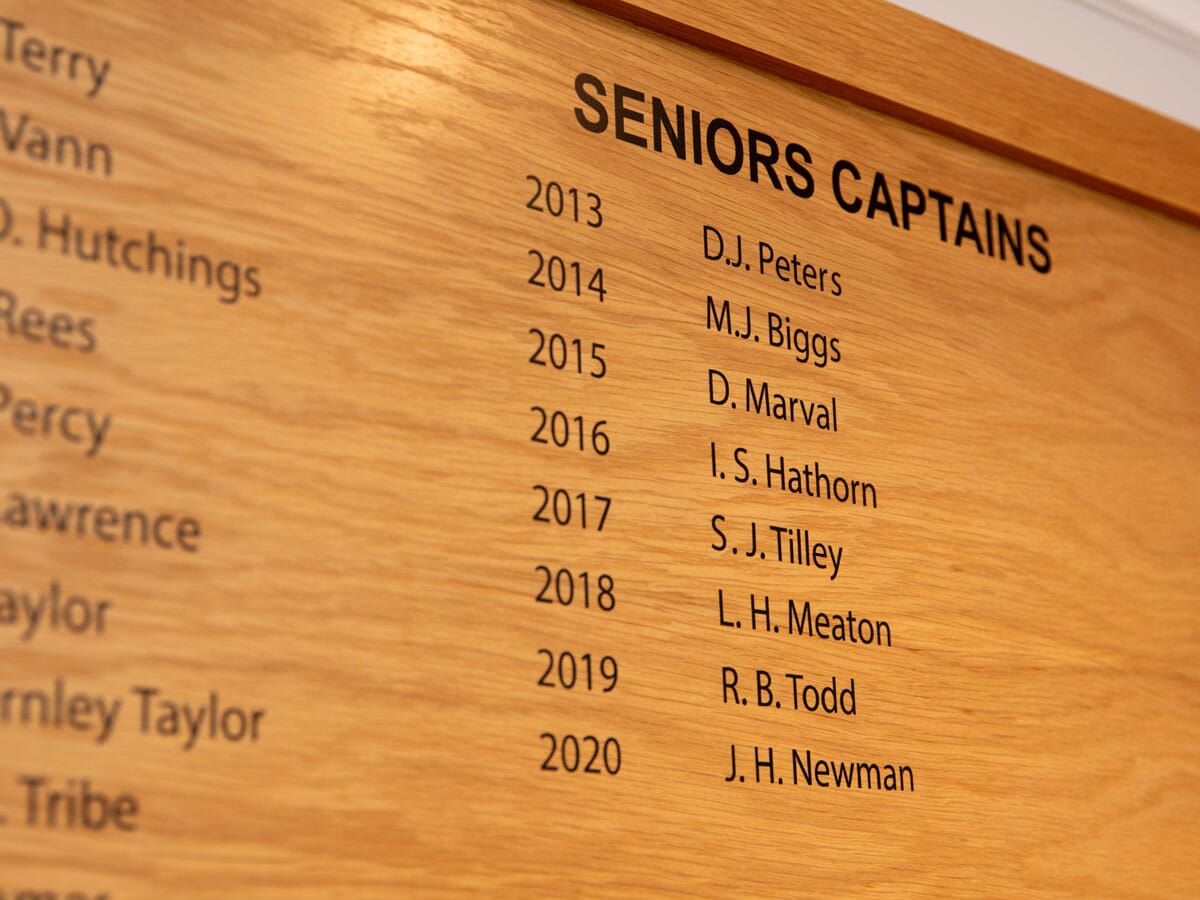 Honours Boards
Golf Club Honours Boards
What are honours boards and what purpose do they serve for golf clubs
Honours boards and honours board lettering are traditional ways for golf clubs to display the names of members who have won competitions or to remember persons who have played a particular role, like golf club captain.
They are usually made of wood and are hung in a prominent place in the clubhouse, such as the lobby or dining room. Honours boards can be customized to include the club's logo, colours, and other branding elements. They typically list the name of the competition, the date it was won, and the name of the winner. In some cases, honours boards may also include a photo of the winner or a short description of their accomplishment. Honours boards serve as a way to honour the club's members who have achieved success and to motivate other members to strive for similar accomplishments.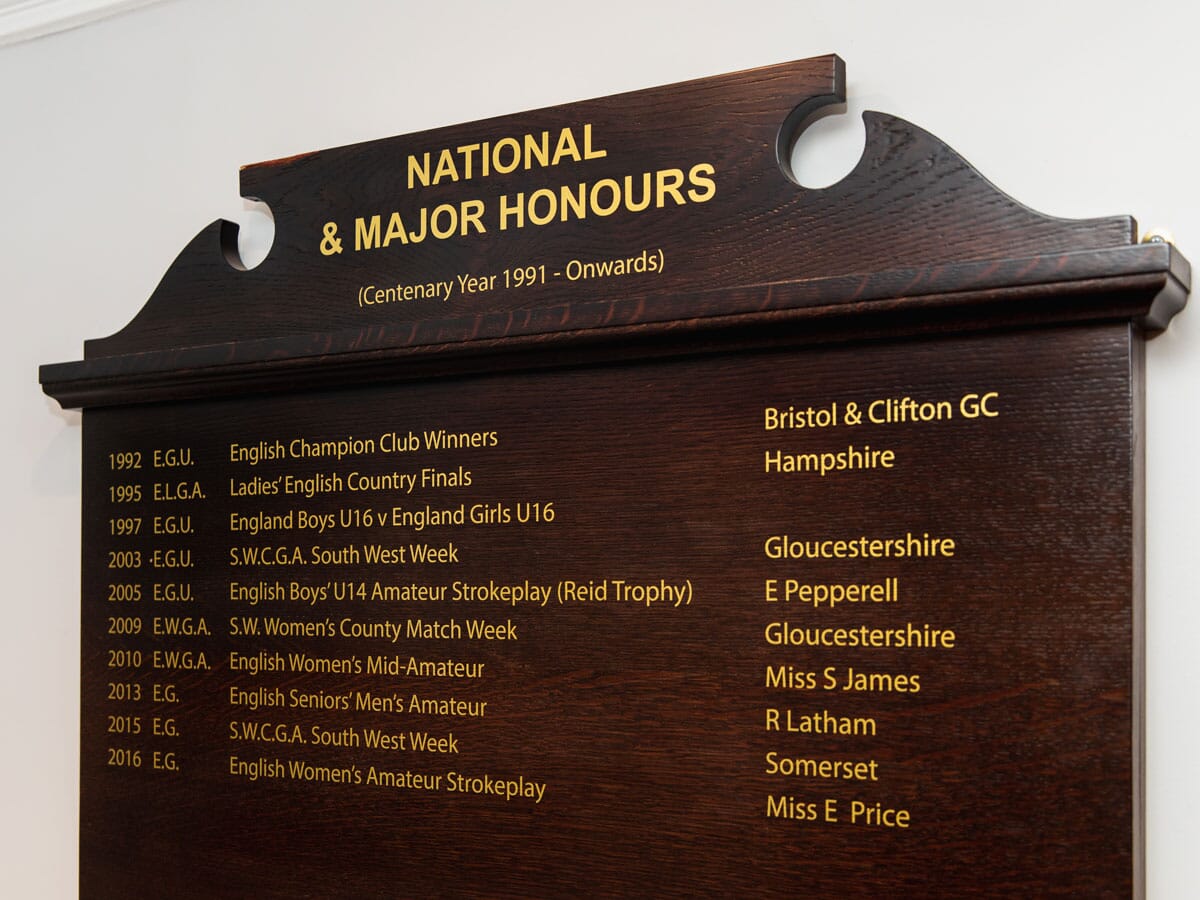 The different types of honours boards that are available
When it comes to honours boards, there are two main types: wooden and acrylic. Wooden boards are classic and traditional, with a warm and natural look that is perfect for formal settings. Acrylic boards are more modern and sleek, with a clean and professional appearance that is ideal for areas with an appropriate aesthetic. Both types of boards have their benefits and drawbacks, so it's important to choose the right one for your needs. Wooden boards are generally more expensive than acrylic boards, but they are also more durable. Acrylic boards are less expensive and easier to maintain, but they can look cheap and flimsy if not well-made. We use 8mm acrylic, which is plenty thick enough to provide a solid sheet for your honours board. Ultimately, the type of board you choose should be based on your budget, the style of your setting, and the look you want to achieve.
How to go about ordering a honours board for your golf club
If your golf club is thinking of ordering an honours board, there are a few things you need to bear in mind. Firstly, you need to decide what size board you require, we can help with this if you need.
The size will be dictated by how many names need to be fitted onto the board as well as the available wall space. Once you have the dimensions, you need to choose a material. An honours board can be made of wood or acrylic. Each has its own benefits and drawbacks, so it's important to choose the right one for your needs. Once you've decided on the material, you need to source a supplier. Many companies specialise in honours boards, and some hide the real price behind a list of ever-expanding options. An honours board is a great way to commemorate past victories and motivate future ones. So go ahead and order yours today!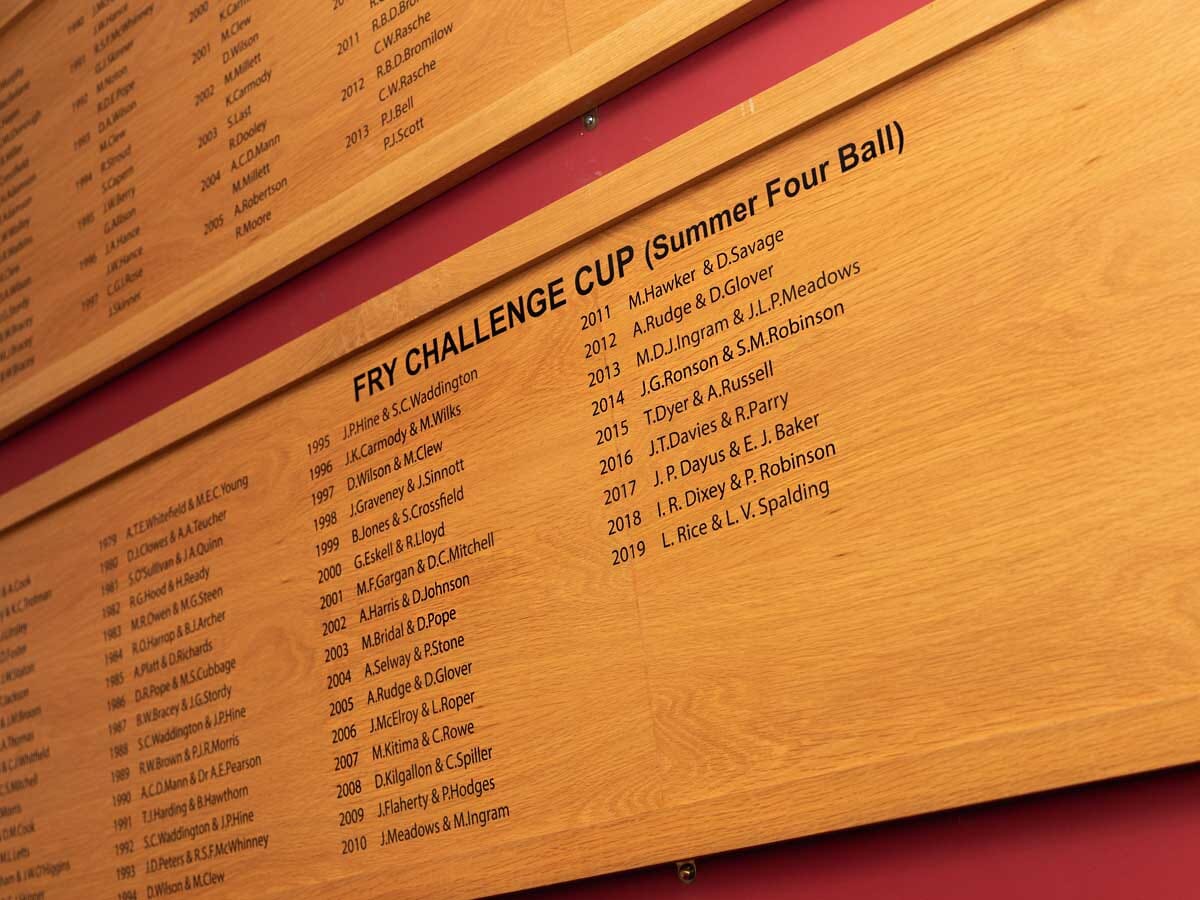 The benefits of having a honours board at your golf club
Honours boards are a common feature of golf clubs, and for good reason. They provide club managers with a way to track and view the historical information of past achievements of club members. This is especially useful for new members who may not be aware of the club's history or past achievements. Honours boards also help to build confidence and pride in the golf club's members by providing a visual display of the golf club's accomplishments. In addition, honours boards can also be used as a marketing tool to attract new members or sponsors. When potential members or sponsors see the achievements of the club's members, they are more likely to be impressed and want to get involved. As a result, honours boards can play an important role in the success of a golf club.
Some common mistakes that clubs make when it comes to their honours boards
A club's honours board is a special and treasured thing. It commemorates the successes of the club and its members and inspires future achievements. However, all too often, clubs make mistakes when it comes to their honours boards. The most common mistake is failing to check the spelling of names. This can be a particular problem with older boards, where the ink has faded or the lettering is unclear. Another common mistake is not keeping the board up to date. This can be due to a lack of resources or simply forgetting to add new names. Either way, it can be frustrating for club members to see their achievements ignored. Finally, some clubs neglect to include all of their honours on the board. This might be because they only have room for a certain number of names, but it can also be due to a lack of knowledge about the club's history. Whatever the reason, it means that vital pieces of the club's story are missing. By avoiding these common mistakes, clubs can ensure that their honours board is a source of pride and inspiration for all who see it.
We supply honours board lettering on tape ready to be applied to your board.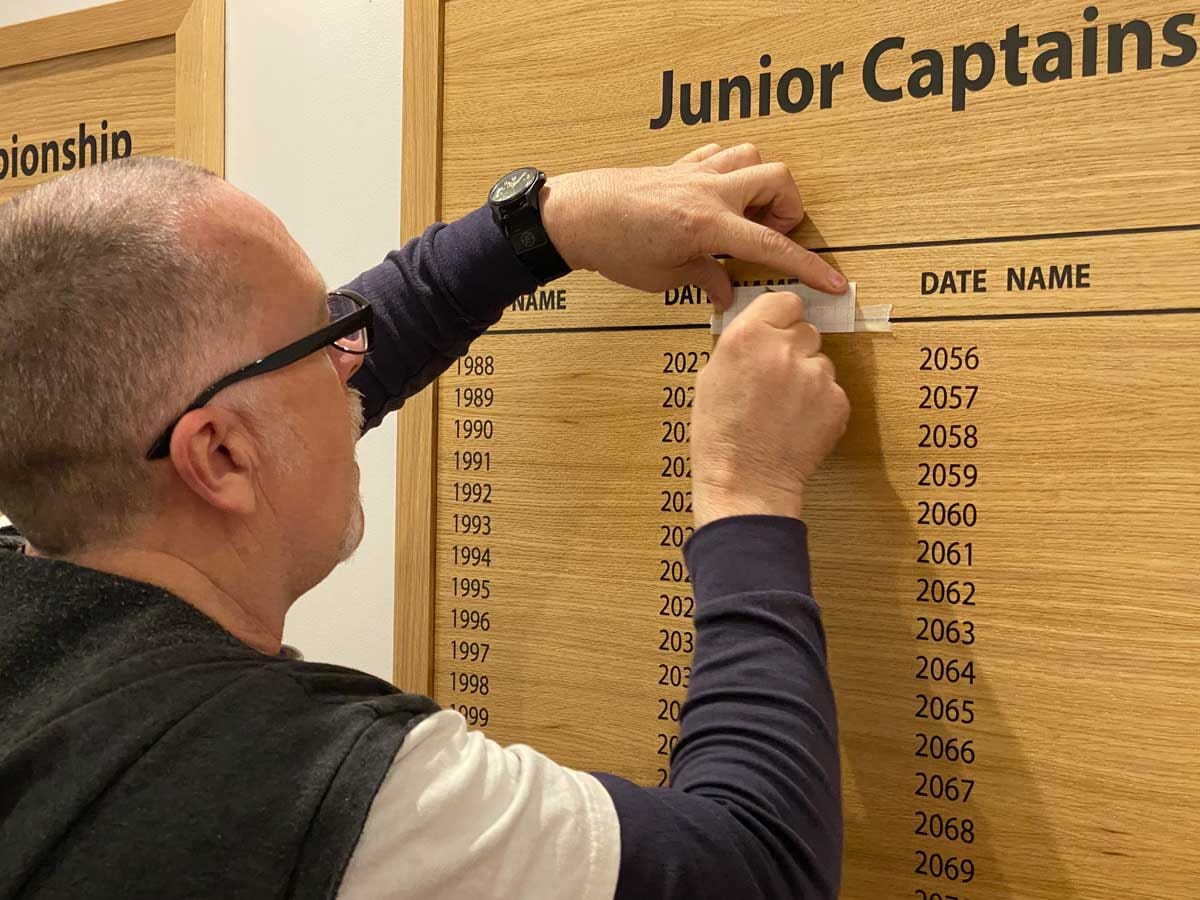 Conclusion
Honours boards are a great way to celebrate the successes of your golf club. They serve as a visual reminder of the achievements of your members and can inspire others to be honoured on the board themselves. There are many different types of honours boards available, so it's important to choose one that will best suit the needs of your club. Our team at Signet Signs is experienced in designing and producing honours boards for golf clubs and we would be happy to discuss your requirements with you.
Contact us today to find out more about ordering a honours board for your club.
Introduction to Cricket Club Honours Boards
Why Choose Our Honours Boards for Your Cricket Club? Since 1971, our family-run business has been at the forefront of […]
We'd love to hear from you
If you're looking to get started with a new project, or you want to discuss some options, get in touch with our friendly team:
Why choose Signet Signs?
We are a family run signage company, established in 1971, and are proud of our long standing reputation for exceptional customer service.
Whatever your signage projects requirements, we promise to provide a transparent experience and to keep you fully informed every step of the way.
Family run business
We specialise in the design, manufacture & installation of signs.
Highly experienced
Established in 1971, we're extremely experienced
Superbly equipped facilities
We use the latest machines & technologies, all in house