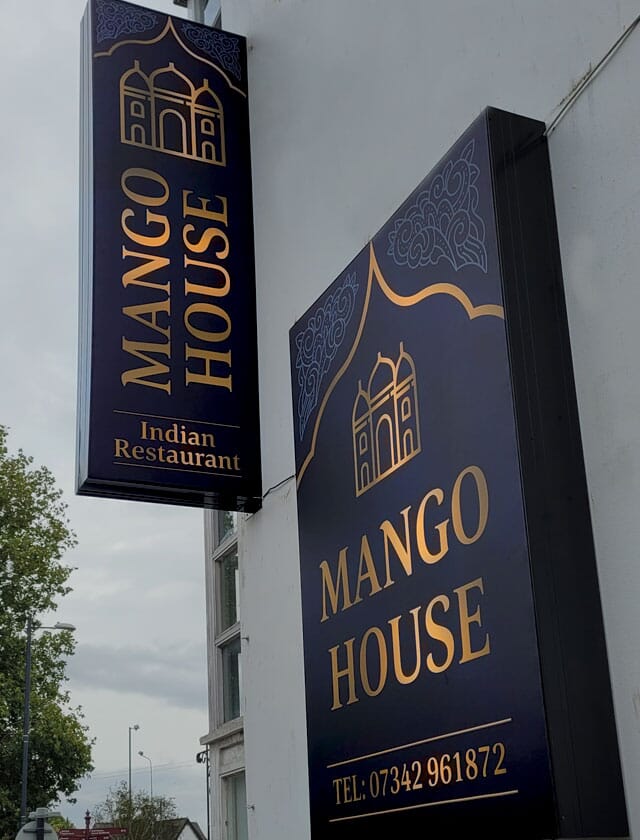 Backlit signage. A bright idea for your business.
Mango House, a popular restaurant in the heart of Chepstow, recently decided to update their signage to better attract potential customers and stand out in a crowded trade area. They enlisted our help, as a leading manufacturer and installer of backlit signage, to create a unique and eye-catching illuminated signage solution.
What is a backlit sign?
A backlit sign is a type of illuminated sign, typically external, that is designed to be visible in low light or dark conditions. It is created by placing a light source behind the sign or its letters, so that the light shines through and illuminates the sign's surface.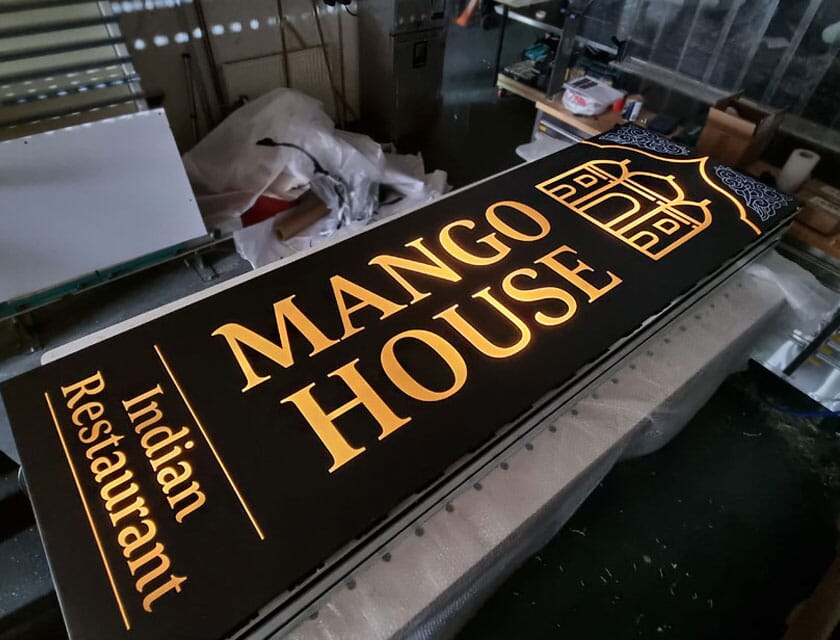 Backlit signage materials
Backlit signs can be made using a variety of materials and techniques, including traditional neon lighting, LED lighting, or other types of lighting sources.
Where are backlit signs used?
Backlit signs are often used in a variety of settings, including shop fronts, restaurants, bars, and other businesses that are open late or operate at night. They can also be used to highlight outdoor advertisements, wayfinding signs, or other types of directional or informational signage. In addition to increasing visibility, backlit signs can also create a visually appealing and professional appearance for a business or location.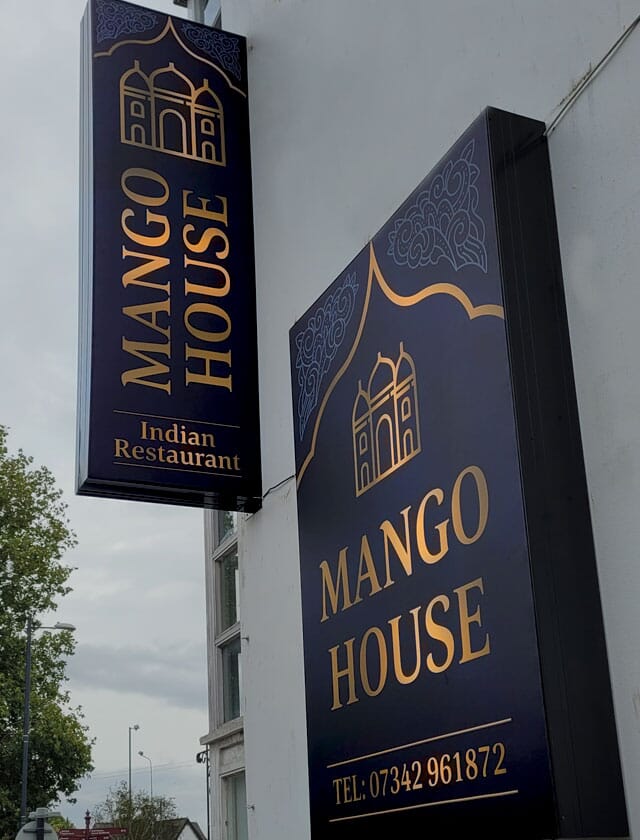 Backlit signage – Light up your sales with a spectacular design.
The design process for Mango House's illuminated signs involved careful consideration of the restaurant's branding and the materials to be used as well as it's location to other residential properties, businesses and the local community.
The goal of a sign.
The end goal is of course to attract new business through a combination of graphics, light and overall design to gain attention and thereby help increase sales, however consideration also needs to given to the local area and how the backit signage will fit in.
Range of options
The team at Signet Signs Ltd presented a range of options, including traditional neon and modern energy-efficient LEDs, all of which would provide a sign with backlit graphics, to stand out and grab attention of passers by.
Unfortunately a detailed explanation of the range of options for backlit signage  that we can manufacture is beyond the scope of this case study, but we would encourage you to get in contact with us so we can help with your requirements.
Mango House ultimately decided on a combination of LED lighting and a flex face sign, as it offered the desired visual impact while also being more cost-effective than neon and allowed for future changes at minimal cost.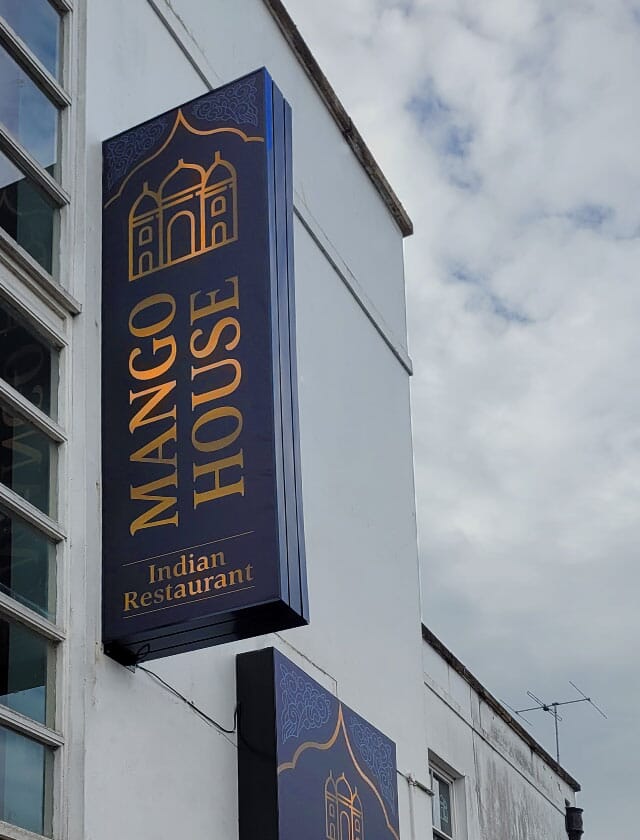 How do you make illuminated signs?
Once the design was finalised, Signet Signs Ltd began the process of manufacturing and installing the illuminated signs.
The backlit signage consists of an aluminium frame with reinforcemed sections inside. The entire frame is then power coated black.
Upon the sign frame, we then attached a printed 'skin'. If you imagine a drum skin with printed graphics on it's face you wouldn't be far wrong. The skin is then pulled tight on the frame and fixed in place. The clips which hold the skin in place are completely invisible once the sign is installed as they're hidden behind a metal place.
Benefits of this design of sign
However, this design means that the skin can be changed in the future with no need to replace the whole frame or the LEDs illuminating the sign. If our customer ever changes their logo or company branding it's not a problem. We can simply print a new skin and replace the old one.
Just one of the benefits of this backlit flex-face sign.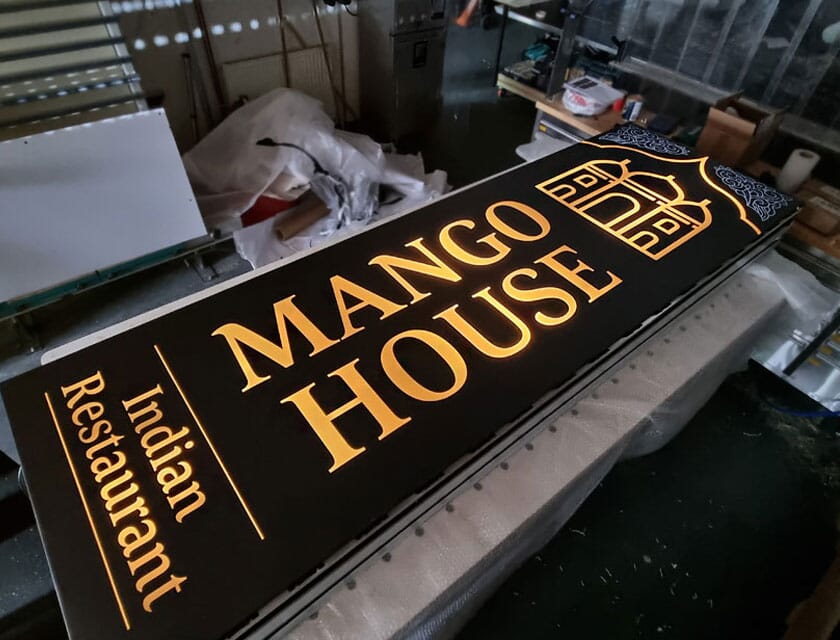 How we installed the backlit signage
The signs were securely mounted on the exterior walls of the restaurant, featuring backlit letters and graphics that highlighted the Mango House brand and logo. The signs were also designed to be visible at night which meant connection to an isolated fused spur was required.
Throughout the process, Signet Signs Ltd worked closely with Mango House to ensure that the illuminated signs met all of their needs and expectations and that we arrived on time on the day we said we would.
The team at Signet Signs were professional and responsive, addressing any challenges or issues that arose during the installation process.
Backlit signs illuminate the way.
The end result was a stunning set of illuminated signs that successfully attracted the attention of potential customers and enhanced the overall appearance of Mango House. The signs have proven to be a valuable investment for the restaurant, increasing visibility and driving sales. In addition to the practical benefits, the illuminated signs have also received positive feedback, contributing to Mango House's reputation as a professional and welcoming establishment.
The end result
Overall, the illuminated signs created by Signet Signs Ltd have been a valuable addition to Mango House's marketing efforts, attracting new customers and helping the restaurant stand out in a crowded trade area with a regular large crowd of people. The signs have proven to be a durable and effective way to illuminate the Mango House brand and create a memorable experience for customers.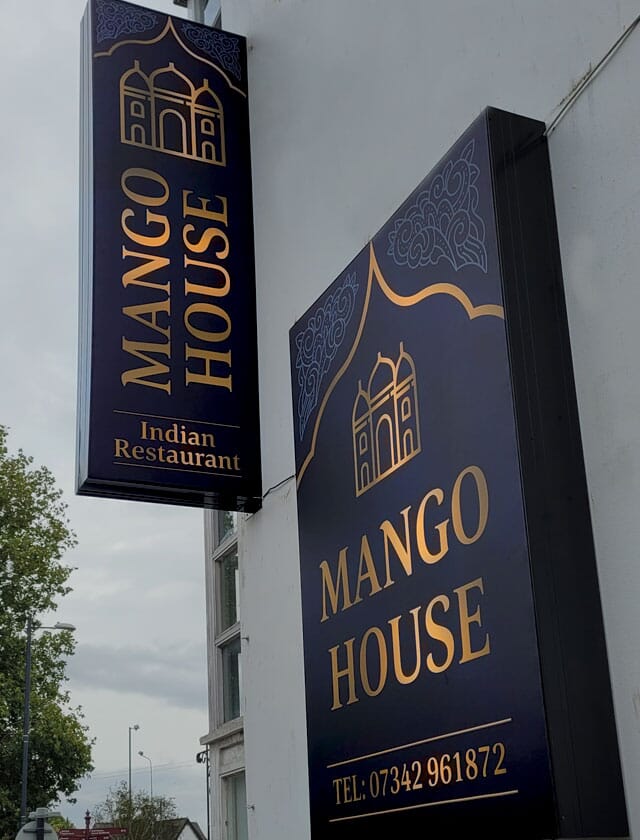 Don't Get Left in the Dark: Install Illuminated Signs Today!
Are you tired of being left in the dark when it comes to your business's signage?
Time to light up your life (and your sales) with Signet Signs Ltd!
Our top-notch backlit signage will make your business shine bright like a diamond (sign). Don't miss out on the chance to illuminate your brand and attract new customers!
Ok… ok… enough of the 'illumination' related title puns! We'd sincerely love to speak to you and discuss your backlit signage requirements. We're a friendly bunch with a genuine focus on great customer service and have been around since 1971 with a weath of experience for you to draw upon.
So contact us today and let us help you light up your world!
Sorry!
We'd love to hear from you
If you're looking to get started with a new project, or you want to discuss some options, get in touch with our friendly team:
Why choose Signet Signs?
We are a family run signage company, established in 1971, and are proud of our long standing reputation for exceptional customer service.
Whatever your signage projects requirements, we promise to provide a transparent experience and to keep you fully informed every step of the way.
Family run business
We specialise in the design, manufacture & installation of signs.
Highly experienced
Established in 1971, we're extremely experienced
Superbly equipped facilities
We use the latest machines & technologies, all in house