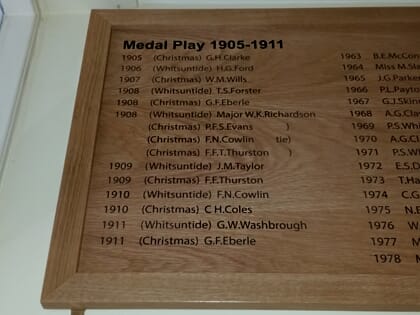 Uncategorized
The Ultimate Guide to Honours Boards
Honour Boards
We produce quality honours boards, both acrylic and wooden boards, to celebrate the accomplishments of the individual with the finest workmanship around.
Wooden honours boards are displayed in thousands of schools and sport clubs throughout the world, to commemorate service and achievement by former students / winners / performances. The three types of wood we use in their manufacture are Light Oak, Sapelle and Walnut American. We offer the honours board in standard sizes as well as bespoke, along with the option of solid oak mouldings (or other wood as appropriate). If you're looking for new boards but would like to form an idea of the options, price and standard sizes, please read on. We hope the information below is useful and gives you a clear idea of what options you have.
About us
Signet Signs Ltd is a family run British company that specialises in wood honours boards, honours board letters for your existing honour boards, acrylic honours boards and also sign services. Typical hardwood boards are supplied in a wide variety of sizes with solid oak moulding or veneer edge. We have many important items and also pride ourselves to provide custom designs and pricing for each customer. Honour boards are fully customizable with unlimited columns for dates and space for recognition of achievements / past scoring records etc.
Honours Board Wood Types
Light Oak honours board
Light Oak comes from Western Europe. It is recognised as being light in color and can be differentiated by its straight grain pattern. The surface is also much smoother than the other two types of wood prior to sanding. Black vinyl text is typically used to display the distinction, dates, winners etc. Gold vinyl text tends to get lost against the light colour of the wood and thus isn't recommended. The light coloured wooden board examples in our galleries hopefully give an idea of the type of boards we've recently produced to suit customer requirements. We keep this wood in house and can manufacture to any size or shape.
Sapelle honours board
Sapelle is deep reddish-toned hardwood with a stringy grain structure. It comes from Africa and is used for its strength and durability. When finished with a layer of clear laquer, the new honours board brings out a beautiful luster of colours making it a popular choice with gold vinyl graphics. We can also create your logos and apply them to the honour board. We are delighted to say that logos can be applied to any of the three wood types here.
Walnut American honours board
Walnut American comes from North America. It can be carved more easily than Sapelle and has a rich brown colour with an attractive grain. Gold vinyl text or, if you're looking for styles that are easily read, cream vinyl text looks superb against the darker background.
Do you need more help choosing?
Choosing which type of wood depends on personal preference. We price our honours boards at the same price no matter which wood you choose and if you need any help or support deciding which to go for… please phone us. We are literally just a phone call away and happy to help, 01275 463601, or if you would prefer to email us quotes@signetsigns.co.uk As a third option, our website has a lot of information and also has contact forms if that's preferable for you.
We guarantee our honours boards for up to 6 years!
We feel that our product's quality is superb. Our honours boards are individually made by hand at our premises. Each new honours board has a numbr of layers of lacquered finish applied to provide longevity With a range of wood types and quick turnaround times, you won't find better value or quality anywhere else!  We also guarantee them for up to 6 years normal use against any failings within the wooden frames.
Types of Honours Board
If it's an honours board, then we do it! Over the 50+ years we have been established we have produced honour boards for various countries, an embassy in London, five wicket hauls, hole in one boards, test matches, record of donations, top goal scorers, founders of a football stadium, as well as the many hundreds of boards on display in company dressing rooms, sports clubs, school halls and more.
We have lots of examples in the galleries if it helps provide ideas and inspiration.
Delivery or Installation?
How long is delivery?
Typically wood boards will be delivered within 3 weeks. Acrylic honours boards a little quicker. We haven't missed any deadlines yet, so please let us know if any dates are important to you. Delivery is possible across England, Scotland, Wales and Northern Ireland, essentially the United Kingdom. International shipping is also possible at additional cost.
Delivery of your new board
We despatch our honours boards via globally recognised couriers (not a man in a van!) direct to your home, club, site. Each board is individually packaged in a secure protective shell. Once your honours board is successfully delivered to you, all you have to do is install it on the wall with the mounting plates supplied.
Installation of your honours boards
If required, we would be delighted to install your new board for you. Our teams are fully DBS checked (carry photo ID) and have CSCS (construction skills certification scheme) qualifications as a minimum. We'll work with you to arrange a convenient date and time to complete the works, bringing the honour boards with them.
When they finish, their work looks immaculate. Please see our Google Review score for what people are saying about us.
How do I update my board?
We maintain an archieve of all the honours boards we have supplied in the past. Please contact us to discuss and we will retrieve the artwork for your existing boards from our archive. The boards are not hand painted, rather we supply the honour boards lettering on an easy to apply application strip at low cost. Prices depend on the number of names we're making, but it's a lot cheaper than getting a person out to sign write the wooden boards.
We keep the materials in stock, thus a quick turnaround is normal and once the lettering has been delivered to you it's easy to apply. Many sports clubs and schools choose this method but if you need any help we can talk you through the process or e mail some instructions.
When it comes to wooden honours boards, the traditional material that is used is mahogany . This has been tried and tested over time as being an excellent choice. It's natural beauty having a deep rich brown hue with golden oranges but can be stained any colour to match your decor. However, now
Additional information and FAQ section
Q: What size or shape honour boards do you manufacture?
A: We have a number of 'off the shelf' sizes and also have the capability to make any boards of any size to suit your requirements. The price for our standard sizes of wooden boards are shown here, on the main honour boards page.  Likewise acrylic boards & their price guide are detailed here.
Q: What colours are available? aka. Can you match the colour of my existing honour boards.
A: Yes, absolutely. Colour matching is a service we offer. The best possible solution is for us to have one of your existing boards here with us to create a colour match to. However we can also work from photographs. Good quality photographs are appreciated. Just please be aware that photographs may / may not give as close a match due to the sheer volume of things which can impact on the colour of the photo.
Q: What forms of payment do you accept or how do we pay for the board?
A: Payment can be made over the phone by credit / debit card. We can also issue invoices for your business manager, treasurer or accounts dept to pay against.
Q: I want to see an image of what the board will look like before you make it. Do you do this?
A: Yes. We always produce a proof showing exactly how the board will look and never proceed to manufacture until it's been approved.
Q: How do we get a quote?
A: If you're interested in finding out more about what Signet Signs Ltd can do for you & your sports club or school business, simply get in touch with our friendly team. We'll be happy to talk you through all of the options available and help make sure that you have exactly what's right for you.
We'd love to hear from you
If you're looking to get started with a new project, or you want to discuss some options, get in touch with our friendly team:
Why choose Signet Signs?
We are a family run signage company, established in 1971, and are proud of our long standing reputation for exceptional customer service.
Whatever your signage projects requirements, we promise to provide a transparent experience and to keep you fully informed every step of the way.
Family run business
We specialise in the design, manufacture & installation of signs.
Highly experienced
Established in 1971, we're extremely experienced
Superbly equipped facilities
We use the latest machines & technologies, all in house