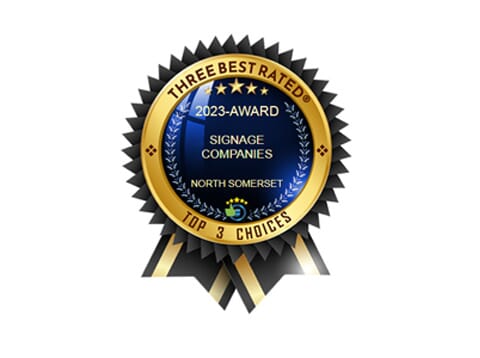 Awards
Best Signage Company in North Somerset!
We are filled with immense pride and gratitude as we announce that our company has been awarded the honour of being No.1 of the Top 3 Signage companies in North Somerset by the reputable Three Best Rated website. This accolade is a significant milestone in our journey and a testament to the dedication and hard work of our exceptional team.
The award, determined by Three Best Rated's rigorous 50-Point Inspection, is a validation of our commitment to delivering consistently high-quality services and our unwavering dedication to customer satisfaction. It is a reflection of our business ethos, which places quality, reliability, and innovation at the heart of everything we do.
At Signet Signs Ltd, we have always strived to set the benchmark for excellence in the signage industry. From the initial design to the final installation, our team approaches every project with a blend of creative flair and meticulous attention to detail. This recognition from Three Best Rated is not just an award to us—it is an endorsement of our leadership in the industry and the trust our customers place in us.
Our listing on the Three Best Rated website features a comprehensive overview of our services, including descriptions, pricing, and a list of specialties. It also showcases our awards, high-resolution photos, and a video that collectively highlight the scale and success of our operations. We invite our clients, both prospective and long-standing, to view the full listing to better understand the breadth and quality of our offerings.
This accolade from Three Best Rated is more than just an award; it is a beacon that underscores our prominence in the signage industry. It is a clear indicator to our clients that when they choose Signet Signs Ltd, they are choosing a Bristol company that is recognised for its excellence.
We are deeply honoured by this recognition and remain committed to upholding the high standards that have earned us this esteemed award. On behalf of Signet Signs Ltd, I extend our heartfelt thanks to Three Best Rated for this distinction and to our loyal customers for their continued support. We look forward to continuing to serve our community with the highest level of excellence in signage solutions.
We'd love to hear from you
If you're looking to get started with a new project, or you want to discuss some options, get in touch with our friendly team:
Why choose Signet Signs?
We are a family run signage company, established in 1971, and are proud of our long standing reputation for exceptional customer service.
Whatever your signage projects requirements, we promise to provide a transparent experience and to keep you fully informed every step of the way.
Family run business
We specialise in the design, manufacture & installation of signs.
Highly experienced
Established in 1971, we're extremely experienced
Superbly equipped facilities
We use the latest machines & technologies, all in house