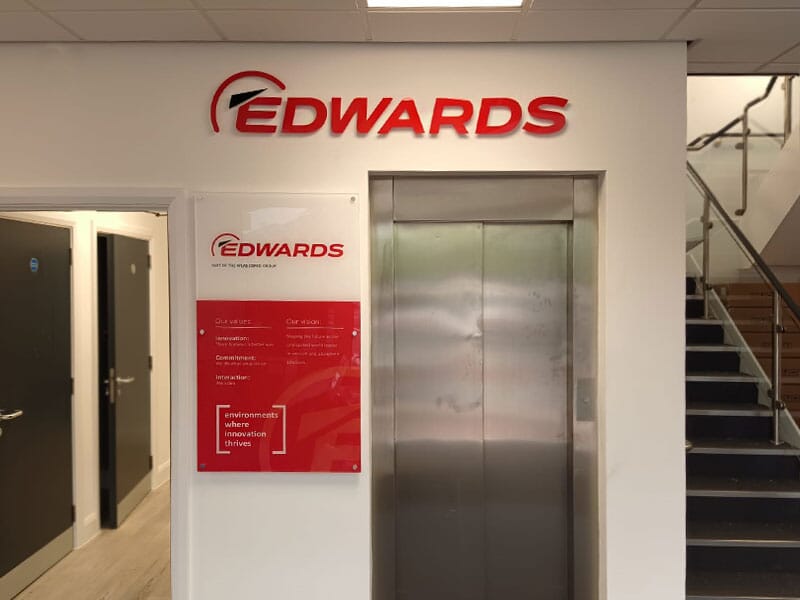 Signage Solutions For Your Business - A Case Study Of Edwards
At Signet Signs Ltd, sign maker, we understand that first impressions count. That's why we work with our clients to create bespoke signage solutions that reflect their brand identity and convey the right message to their customers / visitors. In this blog post, we'll be taking a look at a recent project we completed for Edwards who are a company which recently took on new premises.
Edwards are based on the edge of Bristol, in Clevedon, right next to the M5.  A very local company to us as we, a sign maker, are local to Bristol too.
We'll explore the different sign types used and how they benefitted the company, as well as outlining the process we went through in understanding their sign requirements and creating the perfect solution for them.
The Sign options we used.
For Edwards, we produced a range of signage which includes,
Folded tray sign
Acrylic letters are a popular choice for sign making, as they provide a high-quality, professional look. In this photograph, we can see how acrylic letters have been used to create a sense of depth. The sign is made up of two parts: the large white folded tray which is fixed to the wall, and the acrylic letters which are fixed to the face of the sign on locator legs. The whole sign was designed to meet the customers branding guidelines with care being paid to match the acrylic colours as closely as possible.  Material samples were shown at a meeting, discussed and approved before we proceeded to manufacture.
Reception sign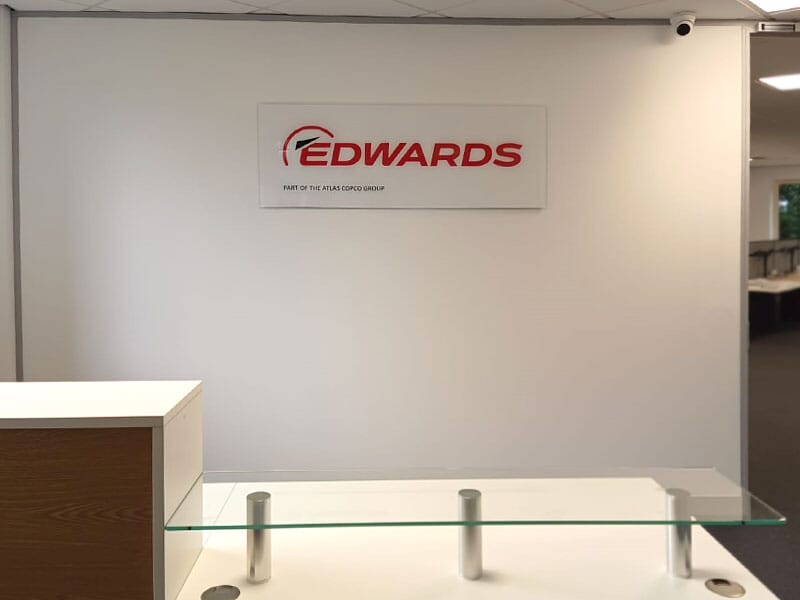 Reception signs are a great way to make a lasting impression on your visitors, and by incorporating elements of your brand identity (such as your logo), you can create a strong and instantly recognisable image that will stay in people's minds long after they've left your premises. This is an acrylic panel with the graphics printed onto the rear. This allows the face of the reception sign to be wiped clean without any risk of ever damaging the graphics.
Window graphics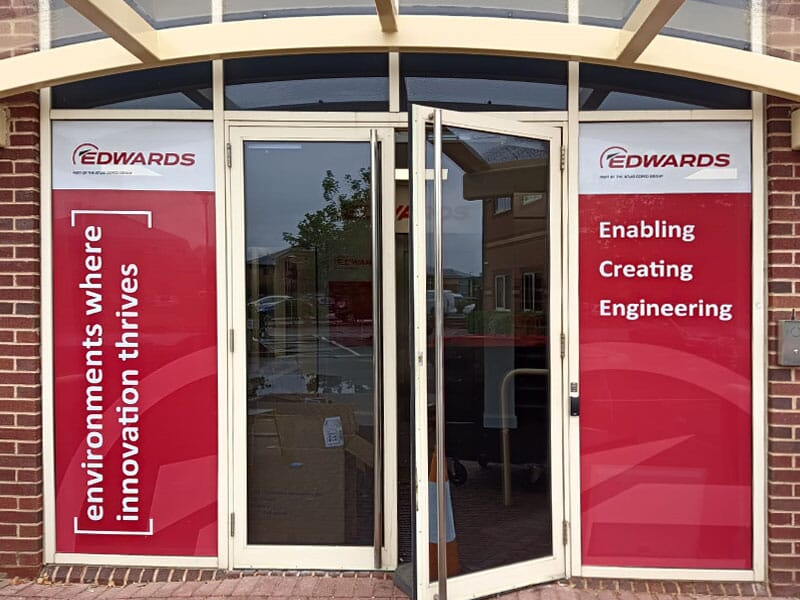 Window graphics are an effective way to add privacy and style to any window. Perforated window graphics are printed on a special material that has tiny holes throughout. This allows people to see out from the inside of the building, but not in from the outside. The holes also help to reduce glare and make it difficult to see inside the building.
Window graphics are applied to the window using a pressure-sensitive adhesive. They can be removed at any time without damaging the window.
When installing window graphics like these, we prep the window to remove all forms of dirt, grease and debris. This allows the vinyl to lay perfectly flat on the glass giving a very clean look.
Acrylic wall signs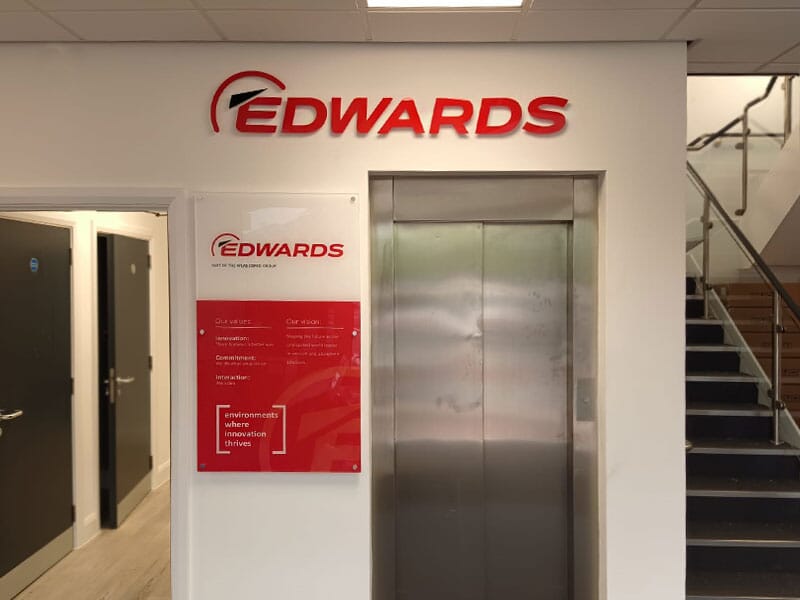 The first impression you give visitors as they enter your premises is very important and often long lasting.  The acrylic signs here help communicate important information and provide an aesthetically pleasing look.
But what are office signs made of? Many office signs are made from clear acrylic, with the graphics printed on the back of the sign. This provides a clean, professional look and because the graphics are printed on the back of the sign, they're protected from wear and tear. They're durable, professional, and easy to maintain and your corporate branding can easily be brought into the design to ensure a consistent theme carried throughout the building.
Sign Letters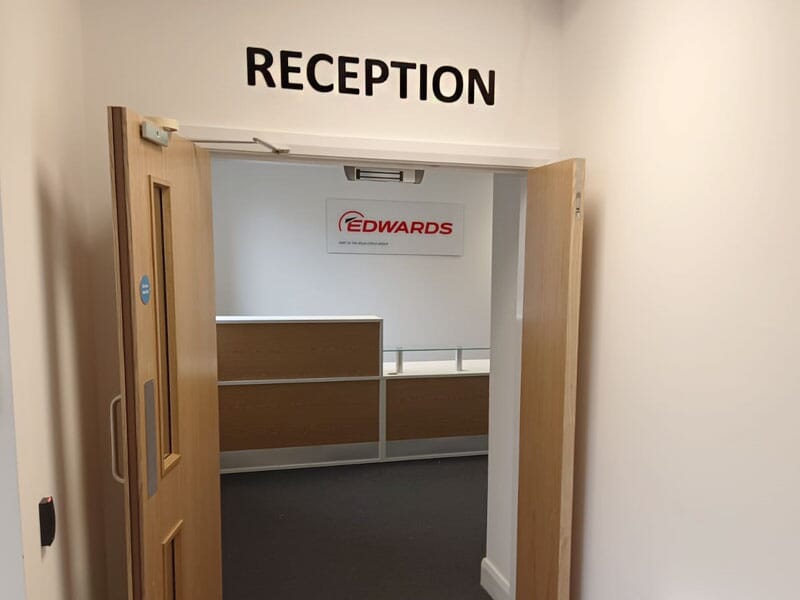 Sign letters are a great way to add visual interest to any business or office space. There is a wide range of colours and styles to choose from, and logos can be manufactured as well as letters. Signet Signs Ltd, a sign maker which covers Bristol, can create sign letters that are both stylish and professional. When choosing sign letters, it is important to consider the overall look of the space and the message you want to conveyed.  This type of signage can be a great way to make a statement and create an inviting environment for customers and clients.
The letters shown in the photo are 5mm thick black acrylic letters adhered directly to the wall.
Parking signs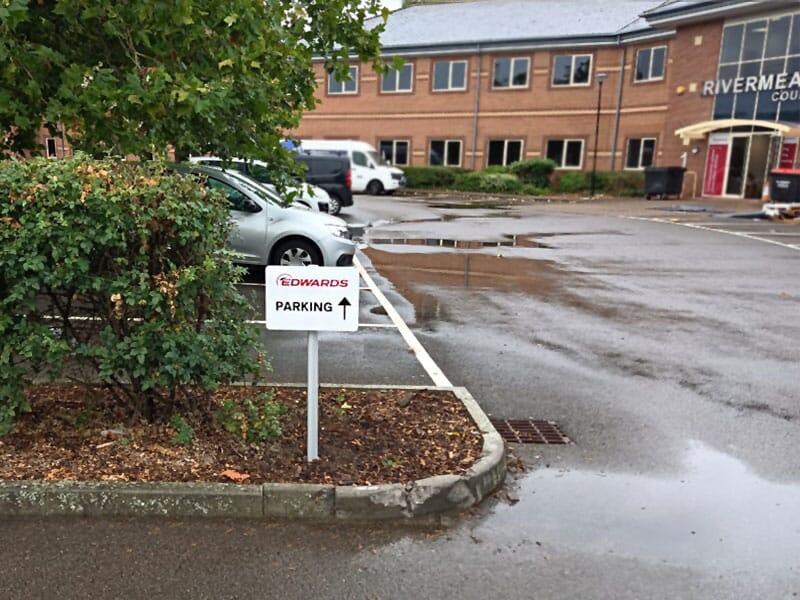 Parking signs are a common sight in parking lots and on streets, but they are also becoming increasingly common on industrial estates and business parks.
These signs serve an important purpose: they help to prevent people from parking in the spaces that are meant for businesses. This is important because parking spaces on industrial estates are often in high demand, and if people park in the wrong space, it can cause problems for businesses. For example, delivery trucks may not be able to park in their designated space, or customers may have difficulty finding a parking space. By preventing people from parking in the wrong space, parking signs help to keep businesses running smoothly.
For Edwards, we completed a site survey and presented a map which detailed where the signs would be installed and what would be displayed on each individual parking sign.
The Signage Solution Process
The first step in any signage project is understanding the client's requirements. This involves asking questions about their business, their brand identity, their target audience and what message they want to convey with their signage. Once we have a good understanding of the client's needs, we'll visit their premises to get a feel for the space and see what options are available to us.
From there, we'll produce design proofs illustrating the various options and allow the customer to choose what they want. Once the final design has been approved, it's simply a case of manufacturing and installing the signs – which we do all in-house to ensure the highest possible quality control.
Conclusion.
If you're looking for bespoke signage solutions for your business, then don't hesitate to get in touch with Signet Signs Ltd. We are a sign maker, based on the edge of Bristol and are right next to the M5 at Clevedon.  We're always completing work in Bristol and the surrounding areas. We'll work with you every step of the way to ensure you're happy with the end result – just like we did for Edwards. Remember – first impressions count!
We'd love to hear from you
If you're looking to get started with a new project, or you want to discuss some options, get in touch with our friendly team:
Why choose Signet Signs?
We are a family run signage company, established in 1971, and are proud of our long standing reputation for exceptional customer service.
Whatever your signage projects requirements, we promise to provide a transparent experience and to keep you fully informed every step of the way.
Family run business
We specialise in the design, manufacture & installation of signs.
Highly experienced
Established in 1971, we're extremely experienced
Superbly equipped facilities
We use the latest machines & technologies, all in house