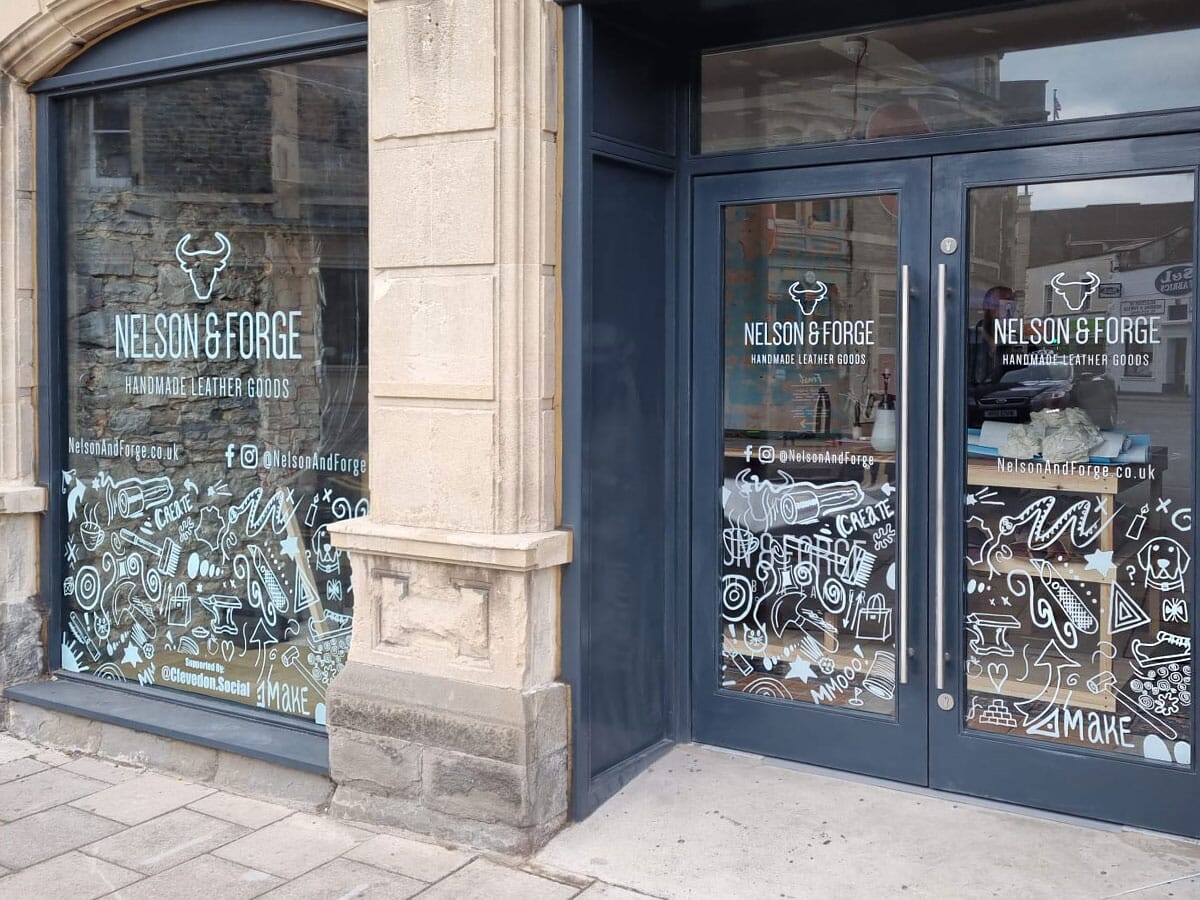 Creative Ways to Use Window Graphics in a Leather Shop
Signet Signs Ltd manufactures and installs cut vinyl window graphics for local shop
Recently, Signet Signs Ltd had the opportunity to work with a local shop owner (Nelson and Forge) to create and install cut vinyl window graphics. They were looking to add some visual interest to the windows of their store, while also allowing sight in / out of the shop.
After consulting with the shop owner, we determined that cut vinyl window graphics were the best solution for their needs.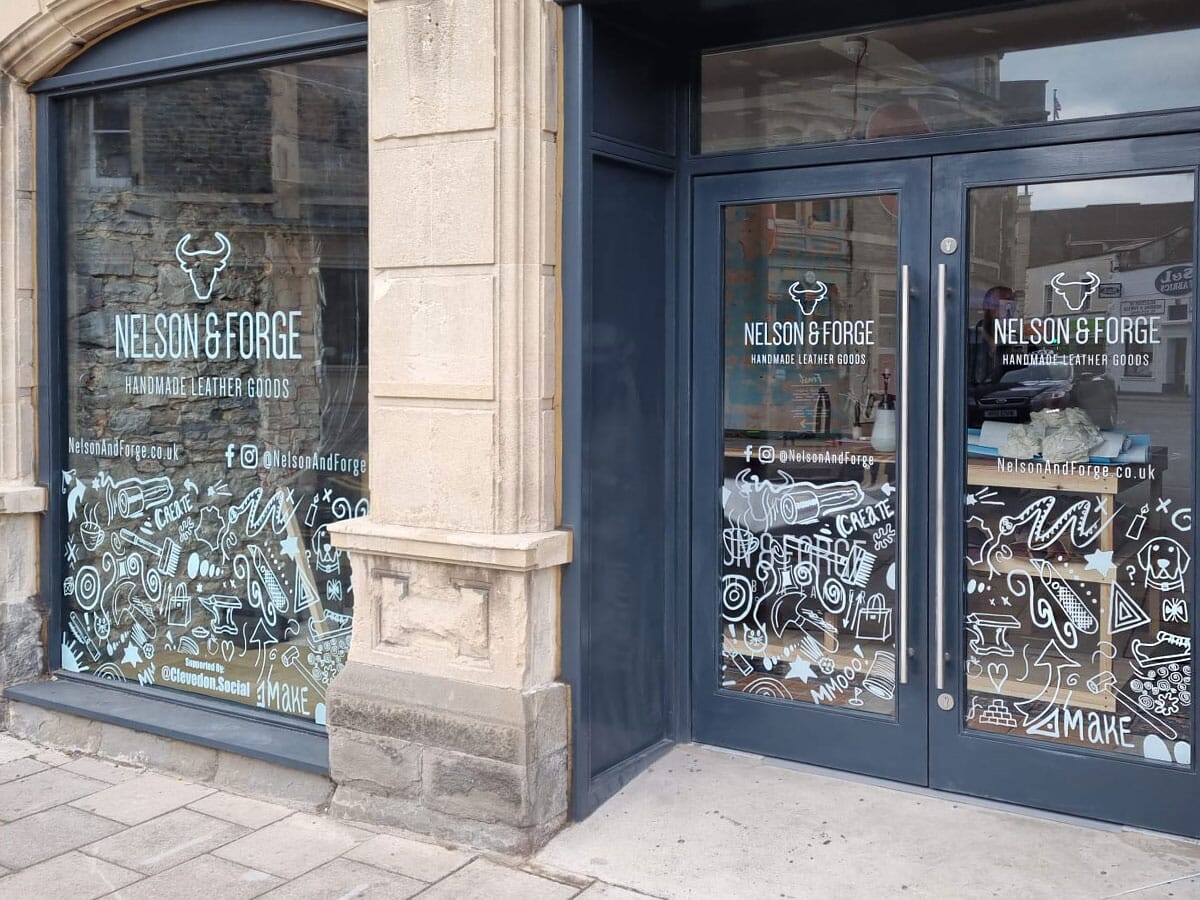 How we made the window graphics
These graphics are made by cutting shapes and letters out of vinyl and then applying them to the window.
We cut them in reverse and applied them to the inside face of the window. This allows them to be viewed from the outside, while also protecting the window graphics from unwanted attention if they were installed on the outside.
To create the graphics, we used high-quality vinyl and state-of-the-art cutting equipment to ensure that the final product would be precise and professional. We worked closely with Nelson and Forge to put their design into the available space and ensure it would be eye-catching and in line with their brand.
How the window graphics were installed
Once the graphics were finished and approved, we sent a team of experienced installers to the shop to apply them to the windows. The entire process was completed within a single day, and we're pleased to say the owner was thrilled with the final result. So much so, we've had another order for a new location.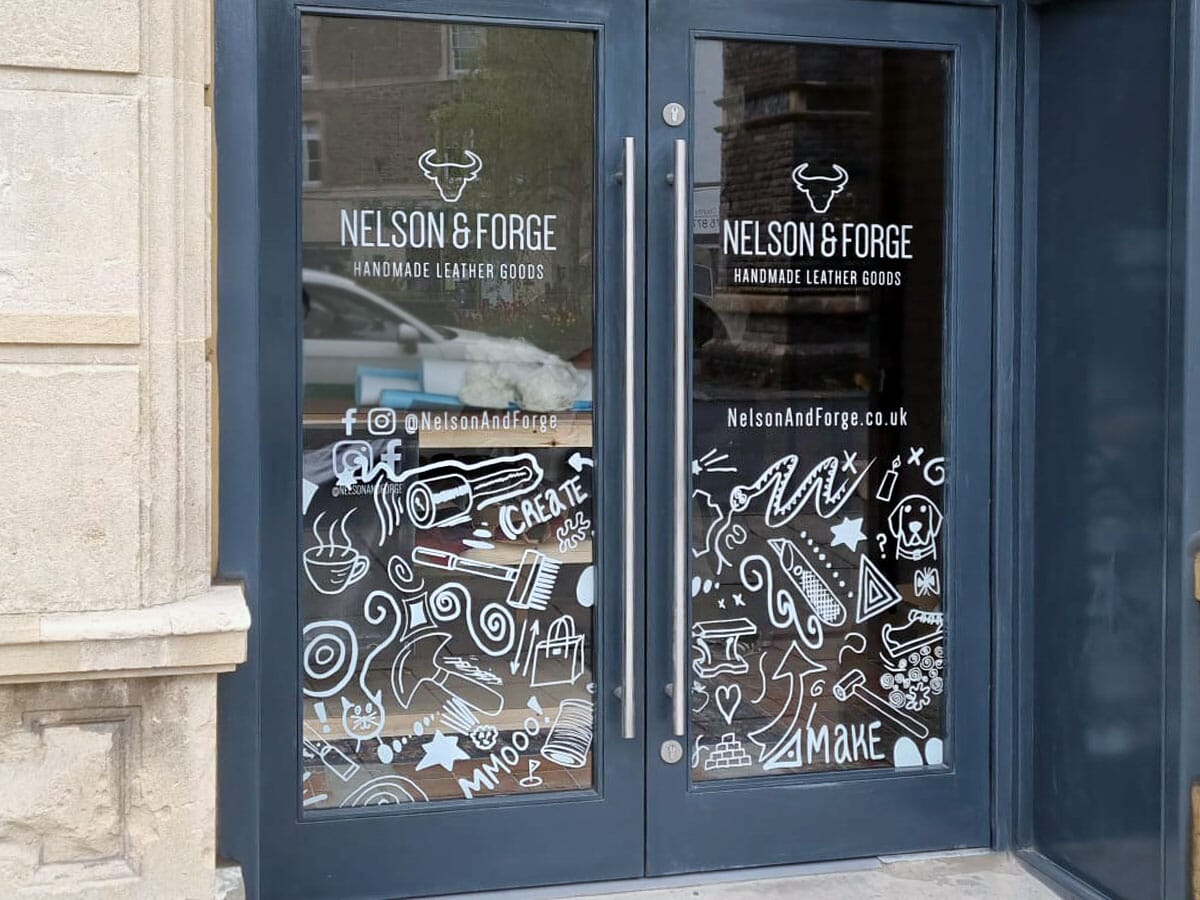 Why use shop window graphics?
Shop window graphics are a great way for store owners to attract the attention of potential customers and draw them into the store. They can be used to display information about sales and promotions, or to simply add some visual interest to the storefront. In addition to attracting customers, window graphics can also provide privacy through the use of one way vision films, or even to totally block the window via etched glass (frosted film) vinyls.
How to contact us
If you are a shop owner and are interested in adding window graphics to your storefront, we encourage you to get in touch with us. Our team of experienced professionals can help you design and install window graphics that will enhance the look and functionality of your store.
Contact us today to learn more about how window graphics can benefit your business.
We'd love to hear from you
If you're looking to get started with a new project, or you want to discuss some options, get in touch with our friendly team:
Why choose Signet Signs?
We are a family run signage company, established in 1971, and are proud of our long standing reputation for exceptional customer service.
Whatever your signage projects requirements, we promise to provide a transparent experience and to keep you fully informed every step of the way.
Family run business
We specialise in the design, manufacture & installation of signs.
Highly experienced
Established in 1971, we're extremely experienced
Superbly equipped facilities
We use the latest machines & technologies, all in house