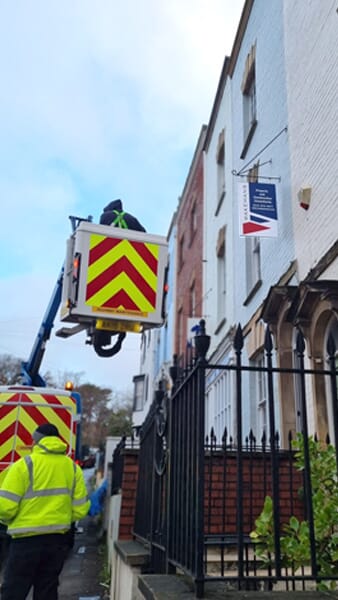 Bristol Company Wakemans Gets New Signs
Wakemans, a Bristol based company, moved premises. They needed a local sign company to remove their old signage and to install new at their new location in Redland, Bristol, BS6 6UJ.
..and that's where we came in.
We were selected by Wakemans to remove the old signage at their premises in Whiteladies Road, Bristol.  This was done to a specific date and time, to ensure that the hand over of the old building was completed correctly.
The new signage was then installed a short while later at their new location on Grove Road, Bristol.
The main issue for the new signage was access.
The new projecting sign is to be fixed above the entrance doorway. Which is perfectly safe and fine.
However the issue was a large drop the side of the entrance way which had spiked metal railings.  In the event of a slip or ladder failure the person installing the sign could be in a potentially life changing situation.
With a risk assessment completed, we established a safe method of access (powered access from a stable platform) and communicated our plan to Wakemans.
We then proceeded to complete the works during a time when we felt there would be minimal access required through the front door.
All ahead on the day and we're delighted to say that we installed the new sign without issues.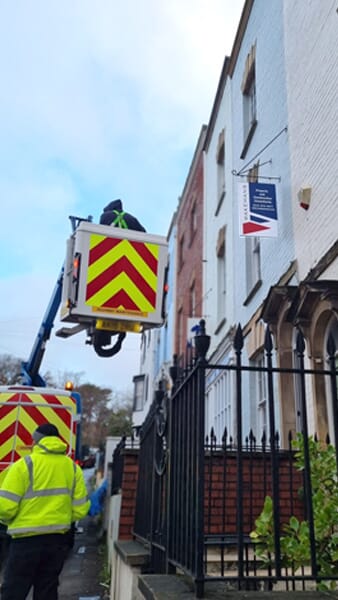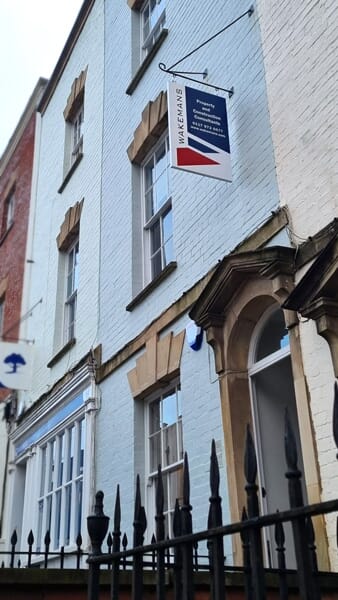 If you're looking for a signmaker in Bristol, please don't hesitate to get in contact with us and we'll be happy to help.
We'd love to hear from you
If you're looking to get started with a new project, or you want to discuss some options, get in touch with our friendly team:
Why choose Signet Signs?
We are a family run signage company, established in 1971, and are proud of our long standing reputation for exceptional customer service.
Whatever your signage projects requirements, we promise to provide a transparent experience and to keep you fully informed every step of the way.
Family run business
We specialise in the design, manufacture & installation of signs.
Highly experienced
Established in 1971, we're extremely experienced
Superbly equipped facilities
We use the latest machines & technologies, all in house