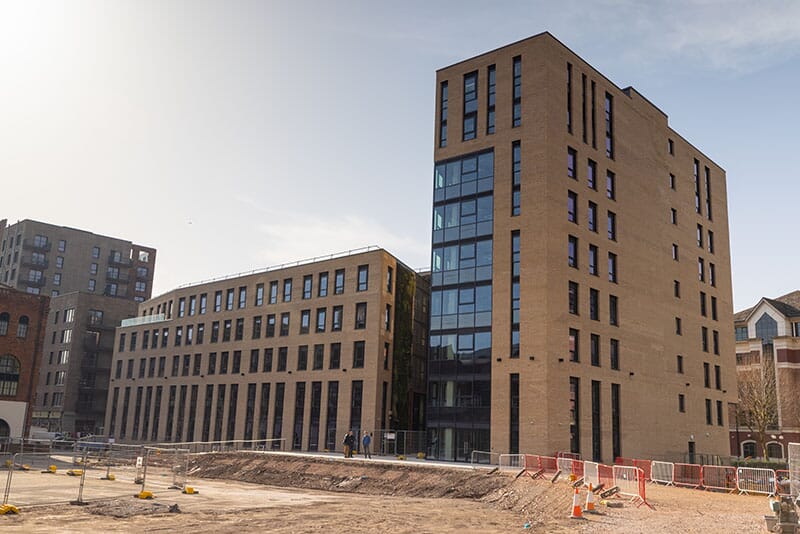 Hotel Signs - A full set of signage for Leonardos Hotel
Hotel Signs.
Standing at 9 floors tall and with over 1500 individual hotel signs to install, we needed to be organised and ensure communication was on point through out this project.
We started by compiling a list of every unique sign, framed picture and door numbers and assigning them a reference number.
Each room number was then assigned a list these reference number so that anyone could easily look at a room and see what items should be in that location. We are pleased to say this helped organise everything so much that we were weeks ahead of schedule and able to plan ahead & work around other contractors on site.
Room Numbers.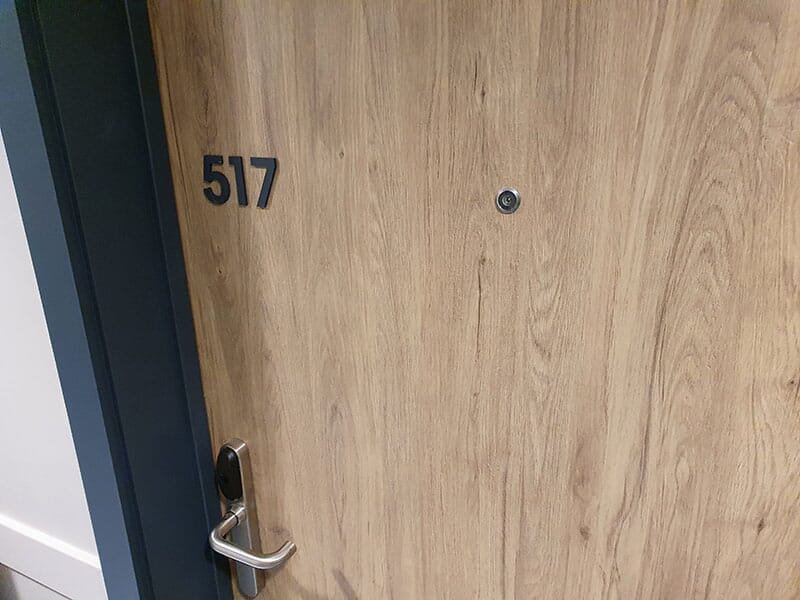 We thought we were being clever and matching the colour of the room numbers to the colour of the painted woodwork. We were being clever, the only hurdle was that we were trying to do this during a pandemic and it's a specialist material we needed to use. The production factory had closed and there were four sheets of this material left in the world, and those four sheets were in the United States of America. We didn't have any access to the material to check the colour was an excellent match, but the supplier assured us it was.
With confidence in our suppliers, and with the clients approval, we purchased the last few sheets and had them air freighted over to us as quickly as we could.
As you'll see from the above photo. The extra work was well worth it.
Laser cut plastic numbers with VHB tape to the rear bonding them onto the door faces.
We have a guide with more information and an indepth look at Flat Cut Sign Letters.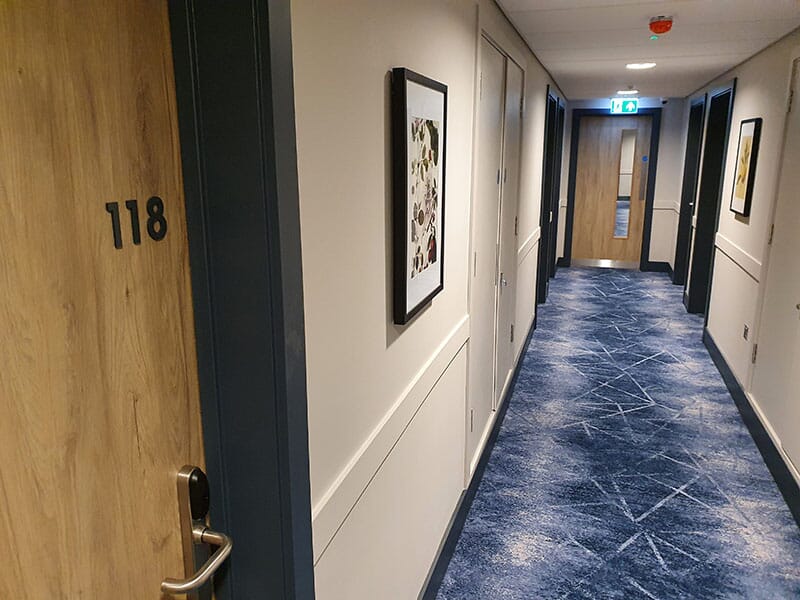 Framed Pictures.
With over 700 individual framed pictures spread over 9 floors and specific pictures needing to be in specific places we worked through each floor in teams of three. Fixing templates were used to ensure that the holes were drilled in the exact position we needed them to be in. This enabled the locking mechanism on the back of the frame to line up perfectly with the protruding screws, all whilst ensuring the frames are completely level.
Each framed picture comprised of a wooden frame, glass panel, internal white mount and a printed image. This was then sealed into the frame with a hardboard backing panel. The locking mechanism is fixed to the rear of the frame and once in place requires a specialist tool to unlock the frame from the wall.
Pictures were printed on our advanced digital printer in long rolls of 50m of print at a time. This was then fed onto our automated cutting table (Kongesberg X24) which then proceeded to cut out each picture automatically. By utilising these machines we dramatically cut down on the labour cost which enabled us to pass this saving onto our client.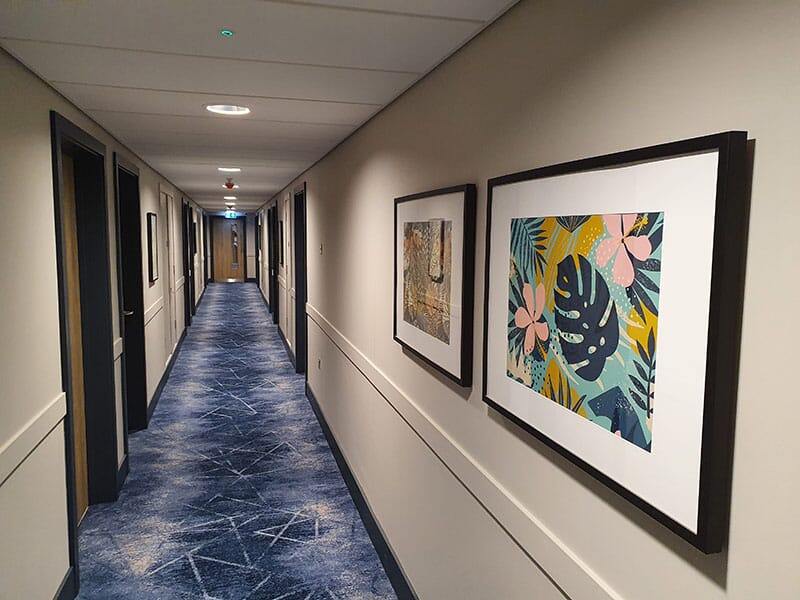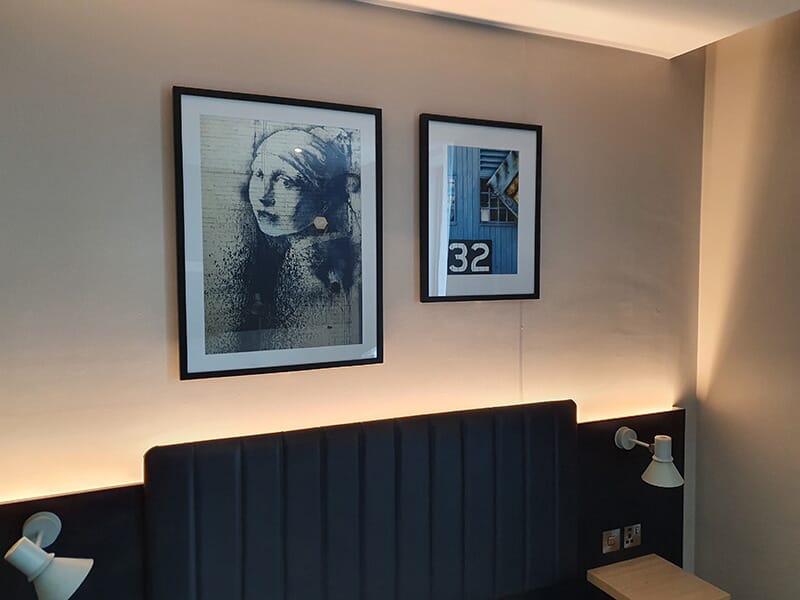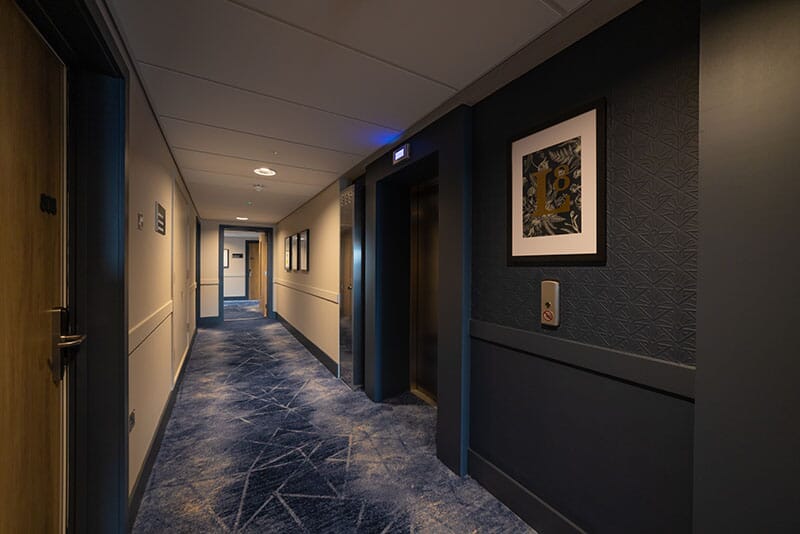 The End Result.
More shop front sign design ideas are available on our website.
Shop Window graphics & films can also be found with various examples.
We'd love to hear from you
If you're looking to get started with a new project, or you want to discuss some options, get in touch with our friendly team:
Why choose Signet Signs?
We are a family run signage company, established in 1971, and are proud of our long standing reputation for exceptional customer service.
Whatever your signage projects requirements, we promise to provide a transparent experience and to keep you fully informed every step of the way.
Family run business
We specialise in the design, manufacture & installation of signs.
Highly experienced
Established in 1971, we're extremely experienced
Superbly equipped facilities
We use the latest machines & technologies, all in house