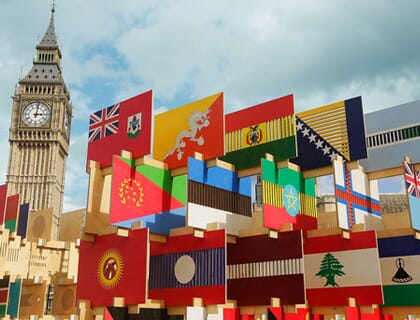 2012 London Olympics - A special project
We were chosen by AY Architects & Icon Display to print & deliver 206 plywood panels.
Each panel represents a flag of one of the 206 nations competing in the London 2012 Olympics.
The House of Flags was assembled on the southeast corner of Parliament Square, surrounded by the House of Parliament, Westminster Abbey and St. Margaret's, Portcullis House and the statue of Winston Churchill, among many others. 206 panels represent the flag icons of all nations participating in the 2012 Olympics and Paralympics. Combined they make a large building jigsaw, a united 'House'. The installation is designed by AY Architects in response to Greater London Authority's call for new design proposals in connection with the Olympic celebrations this summer.
House of Flags is a freestanding plywood structure measuring 17m long x 8m wide x 4.5m high. It is made of FSC certified Finnish birch plywood, sealed and fire protected, and supported on 42 pre-cast concrete foundational blocks. The flag panels measure 1.2 x 0.8m and three panels are cut from a standard plywood sheet to minimize material waste. CNC fabrication is used for cutting while each flag graphic is UV flatbed printed directly on the plywood surface. Each flag icon was graphically manipulated and, in a way, subtly redesigned in order to determine specific perforations on the material. This happened in such a way so that the top flags are more perforated and lighter than the bottom ones, which are more solid and therefore heavier.
Wood has a tendancy to absorb ink as its being printed, making the colours look faded. However, our OCE Arizona 350 GTWI is capable of printing, and drying, multiple layers of ink simultaneously. So we printed two layers of white ink before printing a layer of CYMK colour. This gave us a solid background of white ink on which to print and ensured colour retention was perfect.
The panels were despatched in multiple deliveries allowing our customer to start work on the next phase without waiting for all the panels to be completed.
We made sure each panel was individually bubble wrapped with its unique artwork reference on the outside. This allowed the installation team to operate without being forced to open every package to locate specific flags.
We'd love to hear from you
If you're looking to get started with a new project, or you want to discuss some options, get in touch with our friendly team:
Why choose Signet Signs?
We are a family run signage company, established in 1971, and are proud of our long standing reputation for exceptional customer service.
Whatever your signage projects requirements, we promise to provide a transparent experience and to keep you fully informed every step of the way.
Family run business
We specialise in the design, manufacture & installation of signs.
Highly experienced
Established in 1971, we're extremely experienced
Superbly equipped facilities
We use the latest machines & technologies, all in house