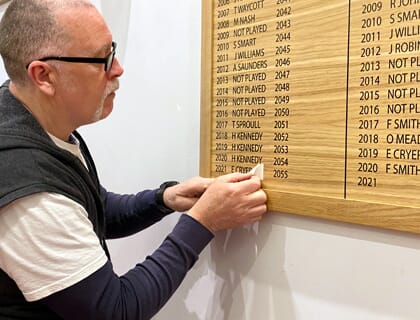 Uncategorized
How to apply honours board lettering.
An easy to follow guide for applying new information onto your honours board.
You may have to add new honours board lettering to your honours board every year. It's not a difficult or complex process, but if you've never completed it before, it might be intimidating. As you bear the burden of the world on your shoulders with only one chance to get it right!
If you've ordered your wooden honours board or acrylic honours board from us, then we'll have all the sizes, fonts and dimensions on file.  We just need to know what you want to go onto the existing boards, and if you've more than one board… we need to know which board the information needs to go on.  A spreadsheet is a fantastic way of getting this information to us.   For a small cost, we can then send you a set of lettering for you to apply onto each honours board. Not only is this a huge cost saving over paying a professional sign writer to do it for you, it's also quite an easy task to accomplish yourself.  Hopefully with even more confidence after watching the video below.
If you didn't get your honours board from us, then we're going to need to know a bit more information before we can send you lettering.   As much as we'd love to be able to identify sizes and fonts just from a single photograph, we need a few basic measurements & a clear good quality photo before we're able to assist.
Please see our page dedicated to honours board lettering, and don't forget that we're only a phone call or email away if you would prefer to discuss your clubs honours board over the phone.
So without further ado…
Please see the instructional video we've filmed especially for you. We hope it's useful and helps give you confidence.
The Ultimate Guide to Honours Boards
Honour Boards We produce quality honours boards, both acrylic and wooden boards, to celebrate the accomplishments of the individual with […]
We'd love to hear from you
If you're looking to get started with a new project, or you want to discuss some options, get in touch with our friendly team:
Why choose Signet Signs?
We are a family run signage & thermoplastic marking company, established in 1971, and are proud of our long standing reputation for exceptional customer service.
Whether its shop signs or thermoplastic playground markings we promise to provide a transparent experience and to keep you fully informed every step of the way.
Family run business
We specialise in sign & playground marking
Highly experienced
Established in 1971, we're extremely experienced
Superbly equipped facilities
We use the latest machines & technologies, all in house