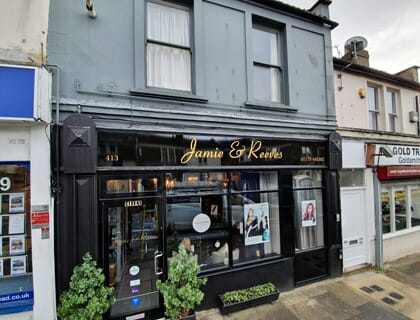 Shop Signs
Shop Signs (Part 1) - An informal look at flat panels.
Shop Signs – An informal look at Flat Panels.
You may already have a shop with a sign which needs replacing, or you may be starting out on an exciting journey with your first business.
Either way, we'll try and help you and answer a lot of the common questions we get asked and share some useful information.
Where to start?
It's essential to establish if your shop front is in good condition. It's rare, but it happens, that we turn up to remove an old sign and find out the fascia behind the sign is rotten. Obviously there is a limit to what you can check without removing the old sign, but it's a good idea to try and push a pen into the exposed wooden areas if possible. Good spots to check are be any section where rain water might collect or pool, ie: rain drops on the bottom of the fascia. Wooden areas which allow you to push the end of pen into the wood are clearly rotten and as such are not suitable for fixing a sign onto. In these instances further investigation is strongly advised.
Shop Front Signs
Having established the condition of the shop front, our focus turns to any existing shop signs you may have.
If you already have a flat panel sign there, it's useful to know if it's within a frame or screwed to the wall. If it's in a frame, it's usually possible to undo one end of the frame, slide the panel/s out and replace the panels with new ones. This style of sign frame is known by a wide range of names, Eurotrim or Panatrim to name two of the main ones. Typically the panel is acrylic with printed graphics.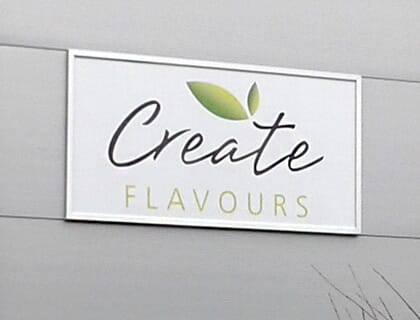 Shop Sign Frame Flat panels on the other hand are typically manufactured from aluminium composite. It's an external grade material 3mm thick, which has a recycled plastic core. Both faces are laminated in a thin sheet of aluminium.
What does this mean for you?
Lightweight – less strain on the fixings.
Durable – due to the mix of aluminium and plastic ACM offers excellent weather & stain resistance.
Wide variety of colours & effects as standard – If you want a bespoke colour, we can print it!
Low Cost – very economical. The beauty of flat panels is that they can exist as your entire shop sign, or they can simply form a background to the rest of the sign. If you're just starting out and your budget is restricted you may want to look at a panel with printed / vinyl graphics.
There is nothing wrong with this at all, and your sign can really stand out without spending thousands of pounds. A good example of this is Petite Hair (Clevedon, North Somerset) below. Great eye catching design.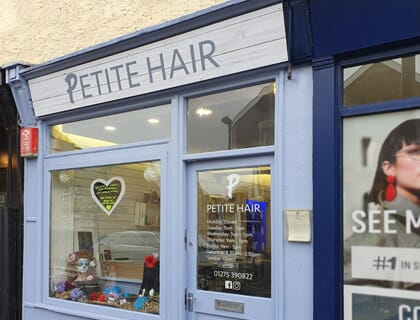 Likewise, James & Reeves have an exceptional look utilising just gold on black. Again, without spending thousands of pounds.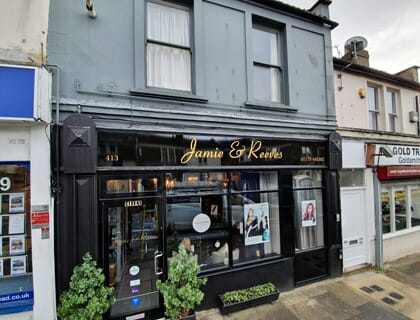 We have our own art dept here at Signet Signs Ltd and are happy to help with your shop front design if you wish.
Another option is to use the panel as a background and then mount other items to the face. An example of this would be Drunk Monkey.
The main logo of 'Drunk Monkey Tattoos' is laser cut from acrylic. The face of the acrylic is then flooded in external grade vinyls (purple and yellow). We ensure we're using cast vinyls so that shrinkage over time is less likely to occur, as opposed to cheaper calendared vinyls.
White yinyl window graphics were cut in reverse and then applied to the inside of the windows , keeping them safe from unwanted attention & weather whilst also allowing the outside window panes to be washed.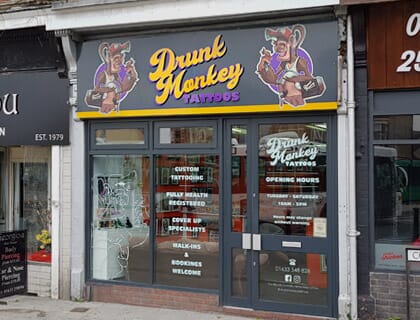 An Easy to Follow Guide for Totem Signs
If you are looking for an easy-to-follow guide on totem signage, look no further. This post will cover everything from […]
We'd love to hear from you
If you're looking to get started with a new project, or you want to discuss some options, get in touch with our friendly team:
Why choose Signet Signs?
We are a family run signage & thermoplastic marking company, established in 1971, and are proud of our long standing reputation for exceptional customer service.
Whether its shop signs or thermoplastic playground markings we promise to provide a transparent experience and to keep you fully informed every step of the way.
Family run business
We specialise in sign & playground marking
Highly experienced
Established in 1971, we're extremely experienced
Superbly equipped facilities
We use the latest machines & technologies, all in house